Found October 09, 2012 on Pirates Prospects:
Today was my first day covering the Fall Instructional Leagues this year. It turned out to be a good day to be at Pirate City, as top prospect Gerrit Cole was on the mound. Cole was going up against the Philadelphia farm system, and ended up throwing five innings of shutout ball.
I was bouncing back and forth between the two fields, so I didn't see every pitch Cole threw. I did see four strikeouts, with a few coming on the slider. His fastball was in the usual range, starting in the 96 MPH range, and moving up to the upper 90s as the start went on. He hit 99 MPH at least twice. Cole gave up a few hits, including a line drive right back to the mound to start off the game. The runner was erased when Elias Diaz gunned down a runner trying to steal second. Cole allowed two runners to reach third base in the start, both reaching with two outs, but he stranded them both.
On the opposite field, Jake Burnette, Adrian Sampson, and Joely Rodriguez combined for five innings while Cole was pitching, to give an idea of how Cole's start was a bit longer than the average outing. He was efficient in the start, needing only 56 pitches to get through five.
Other Player Notes
**Jin-De Jhang looks a lot slimmer than when I saw him at this time last year, and even compared to when I saw him about two months ago. The catcher connected for a home run to right field today. I was taking a picture of him while he hit it and started running to first. I wouldn't have known the ball was gone based on his reaction. He sprinted down to first and took a hard turn to second before the coaches told him to slow down to a home run trot. That's one thing that has always impressed me about Jhang. He's an all out player that's always running full speed.
**Right after Jhang homered, Dilson Herrera connected for a stand up triple to left field on the opposite field. Herrera hit a liner that went over the head and out of reach of the leaping left-fielder. The ball rolled to the wall and Herrera turned on the speed going from first to third, making it standing with an impressive display of speed.
**Today was the first day I saw John Kuchno, who was drafted in the 18th round and given $125,000. He's a very tall, very big pitcher that looks bigger than his listed 6′ 5″, 210 frame. He was advertised as throwing up to 95 MPH in the draft, and I saw him working 93-94 today with good movement on the pitch. He had a quick inning, so I didn't get to see too many pitches.
**This was also the first day I saw Adrian Sampson. He was mostly sitting 90-91 MPH, with good movement on his pitches. He also threw a few good breaking pitches, including a low 80s slider. He had good strikeout numbers in State College this year, but I didn't see much today that made him stand out. It was only two innings, and he was throwing at the same time as Cole, so my attention was split. He has been inconsistent in the past, throwing 87-91 at times, and throwing 90-94 at other times, so this could have been chalked up to one of the poor outings.
**Joely Rodriguez has always been one of my favorite pitchers to watch. The left-hander has a ton of movement on his pitches, and throws with some decent velocity. He was 90-91 MPH today, and was throwing an 86 MPH changeup that looked the same as his fastball coming out of the hand. There wasn't a lot of difference in speed between his fastball and change, but his change had a good cutting movement. He also threw a low-80s slider which he used for a strikeout to end his one inning. The slider was sharp and caught the backdoor to get the batter looking.
**Cesilio Pimentel, one of the guys brought up from the Dominican leagues, threw an inning. He has an erratic delivery, which could add deception, with a lot going on during his wind up. He was mostly upper 80s with his fastball.
**Jordan Steranka, who was drafted in the 21st round but didn't play this year due to mono, was playing first base. Steranka had some nice speed for a guy his size, legging out a triple on a line drive to the right-center field gap. On the other field, Stetson Allie was playing first base. I only saw a few swings by Allie, and the plate patience issues were still there.
**Anthony Norman, who spent the last two years with Altoona, is back in the system as a coach.
Original Story:
http://feedproxy.google.com/~r/Pirate...
THE BACKYARD
BEST OF MAXIM
RELATED ARTICLES
Yesterday Baseball America released their top 20 prospects for the 2012 Eastern League season. Only one Pirates prospect made the list, with Gerrit Cole coming in third place. The list can be seen here, and scouting reports can be seen here by subscribers.Cole ranked third behind Manny Machado and Zack Wheeler, in that order. The scouting report was similar to the Florida State League...
Baseball America continued with its Top 20 prospect rankings and put out their list for the Eastern League (Double-A). Gerrit Cole was the lone Pirate on the list, coming in at #3 behind Manny Machado and Zack Wheeler.After a mid-season promotion, Cole started 12 games for Altoona and posted a 2.90 ERA and a 60:23 K:BB ratio over 59 innings.Baseball America does list Jameson Taillon...
Baseball America released their 2012 Florida State League Top 20 Prospects today and it included a surprise addition.Gerrit Cole and Jameson Taillon both appeared on the list ranked #2 and #3, respectively. At the #20 spot, shortstop Gift Ngoepe appeared.Cole started 13 games for Bradenton in his first taste of pro ball before a mid-season promotion to Double-A Altoona, and finished...
Baseball America released their Florida State League top 20 prospects today, and three Pittsburgh Pirates prospects were on the list. Gerrit Cole, Jameson Taillon, and Gift Ngoepe were all named to the list. The list can be seen here, and scouting reports can be seen here for subscribers. Cole and Taillon were ranked second and third respectively. Baseball America noted Cole's...
The Pittsburgh Pirates finished the 2012 season three games below .500 (79-83) to extend their losing streak to 20 consecutive seasons. Those 79 wins tie the 1997 season for the best record during the losing streak. "You look at the pitching rotation, the pitching overall has continued to evolve in a much better fashion," Manager Clint Hurdle said on the positives of the season...
The Pittsburgh Pirates backstops saw no lengthy injuries during the 2012 season, and they needed just two catchers for the entire season for the first time since 2000 (Jason Kendall and Keith Osik). The Pirates in 2011 used eight. Rod Barajas and Michael McKenry connected for 23 long balls. Only three National League teams had more home runs from their catchers this season: Colorado...
The 2012 Arizona Fall League begins Tuesday, with the Scottsdale Scorpions playing their first game at 12:35 PM MST (3:35 PM EST).  The Pittsburgh Pirates have seven players on the Scorpions this year.  Matt Curry, Gift Ngoepe, and Adalberto Santos will represent the Pirates on the offensive side of the game, while Vic Black, Brandon Cumpton, Kyle Kaminska, and Tyler Waldron will...
Today we started the 2012 recaps of the individual positions, focusing on the 2012 season and a look ahead at future seasons and the prospects in the organization. The first position was a spot that will probably lead to a lot of discussion over the off-season, and that was the catching position. In the writeup, Kristy noted that Michael McKenry could get the starting job next year...
By Kevin Creagh and Steve DiMiceliWhat does a team with a high WAR for hitters look like?  Why does it seem like the Pirates can just never measure up with the rest of the National League in terms of WAR for batters?Steve DiMiceli and I sifted through the WAR data from 2008 to 2012 (using Fangraphs' WAR) for all the NL Teams.  The five years of data makes for a good representative...
I've been on the road a lot the last two days, so no updates over the weekend. I'm in Florida right now, and will be reporting from instructs this week, while getting the final content needed for the 2013 Prospect Guide. The Pirates play at home tomorrow, which usually means one Triple-A game and one Double-A game. You can follow my Twitter feed (@timwilliamsP2) for updates from...
Scottsdale lost to Phoenix 4-3 today in the opening of the 2012 Arizona Fall League season. Matt Curry was the only Pirates prospect to get a start, going 1-for-4 as the starting first baseman. Curry had an RBI, which was the only one of the day for Scottsdale. Gift Ngoepe came on as a pinch runner in the eighth inning, replacing Curry and ending his day.
If you've been watching the playoffs, it's impossible to avoid seeing former Pirates thrive. They're everywhere. Here's a quick breakdown…if you can stomach hit. I don't mind rooting for some of these guys, but it really is ridiculous (and often very frustrating) to see so many former Bucs doing so well all of a sudden. Orioles Nate McLouth. Sigh. McLouth was beyond...
Pirates News

Delivered to your inbox

You'll also receive Yardbarker's daily Top 10, featuring the best sports stories from around the web. Customize your newsletter to get articles on your favorite sports and teams. And the best part? It's free!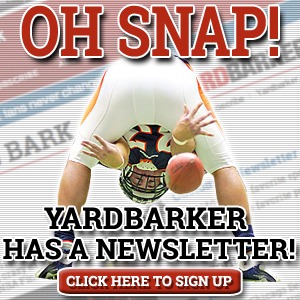 Latest Rumors
Best of Yardbarker

Today's Best Stuff

For Bloggers

Join the Yardbarker Network for more promotion, traffic, and money.

Company Info

Help

What is Yardbarker?

Yardbarker is the largest network of sports blogs and pro athlete blogs on the web. This site is the hub of the Yardbarker Network, where our editors and algorithms curate the best sports content from our network and beyond.