Found April 12, 2012 on Croix De Candlestick:
PLAYERS:
Tim Lincecum
,
Brandon Belt
,
Brett Pill
,
Barry Zito
,
Melky Cabrera
,
Jonathan Sanchez
,
Nate Schierholtz
,
Pablo Sandoval
,
Buster Posey
,
Bruce Bochy
,
Ramon Hernandez
TEAMS:
San Francisco Giants
,
Colorado Rockies
Well.  That was weird.  Tim Lincecum got lit up in the Coors-iest Coors game that ever did Coors.  The Giants briefly overcame a six run deficit.  Brandon Belt was benched twice in one game.  Brett Pill's two errors in one play reduced the official scorer to weeping pile of jelly.  And most importantly, our much-lauded pitching staff once again didn't earn their lauds, making this day two of the dystopian fugue state that is Barry Zito assuming the mantle of "ace." Oh Timmy. (Doug Pessinger/Getty Images) There were some bright spots to be taken from this game though.  Melky Cabrera is really making us not miss Jonathan Sanchez, Nate Schierholtz continued to hit home runs at Coors Field like it was his job or something, Pablo Sandoval is still awesome, and Buster Posey is almost de-shingle-fied.  Really though, Bruce Bochy continues to make no damn sense. Point in case: the first double-switch of the game saw Brandon Belt make an appearance in the third inning.  After two at-bats where he looked positively functional, he was double-switched out on the same boat he came in on for none other than error-machine Brett Pill.  Then the Rockies scored somewhere around 30,000 more runs and the game was effectively over. But the real weird didn't come about until Ramon Hernandez singled up the middle with two men aboard in the fifth inning.  If you were keeping score at home, the play went at as follows: 1B, 8-E3-2-1-5-E3-5-6.  Translated from scorebook speak: single, throw by center-fielder, deflected by first baseman for an error, recovered by the catcher, baserunner caught in rundown, throw to pitcher, throw to third baseman, throw to catcher deflected by first baseman for error, recovered by third baseman, throw to shortstop at third base, hitter safe at third base.  Annnd breathe.  Everyone got all that?  Good, because in attempting to figure all that out MLB Gameday went up in flames trying to decipher the Yakety-Sax of it all. And that was only the first half of the game.  What followed was something of a bloodbath, and not the good kind.  Because there's totally a good kind.  But for now, we can take solace in the fact that it's still very, very early.  We're only five games in with plenty more to play and the Giants are turning my sense of reality upside down.  At this point I'm not sure what to believe in anymore, be it a higher power or Tim Lincecum's Mission Impossible: Ghost Protocol haircut. For now there's not a whole lot more to do but to hope that tomorrow is the day that our pitchers remember that they are in fact really really good at the game of baseball.  It's either that or we start to construct darkly disturbing hypotheticals where our pitching staff fails to meet our lofty expectations, and quite frankly my delicate psyche can't handle that kind of stress.
Original Story:
http://www.croixdestick.com/?p=954
THE BACKYARD
BEST OF MAXIM
RELATED ARTICLES
Tim Lincecum is known as much for his long locks as he is for his nasty pitches, but at some point the hair had to be tamed. Sometime between his first and second starts of the season, Lincecum decided to take several inches off his flowing hair that was well beyond shoulder length a week ago. As you can see from the photo above on the right, the hair is still long — just not...
Something is wrong with Tim Lincecum. After giving up five runs in his first start this year, things got worse for him last night. In just 2.1 innings, Lincecum allowed six runs on nine hits while walking two and striking out only one batter. While it's usually not smart to make conclusions based on just 7.2 innings, Lincecum has already shown some reasons for folks to be concerned...
  Photo Courtesy of Jesse Montellano The San Francisco Giants were able to start the season off with four starting pitcher because of yesterdays off day that was built in the schedule. This gave Ryan Vogelsong time to recover from his back injury, and get another rehab start under his belt.   Vogelsong made his last rehab start for the Fresno Grizzlies last night, and is ready...
Tim Lincecum's ERA is hovering around 13.00, the Boston Red Sox have one win, and the St. Louis Cardinals are better without Albert Pujols?  One week into the season and the apocalypse has struck.  When the Braves started 0-4, their worst start since 1988, as a Braves fan I was close to throwing in the towel. But as fans do, we overreact.  Boston is still reeling from their...
Through a combination of quirky work/gym schedules, early start times and overall malaise on my part, my partner Thomas Todd has been a trooper at cranking out these postgame wraps in my absence. I offered to finally write my first tonight; 5:40 pm start, so I figured I could watch the game, jot down some notes, and still have a pretty nice little Wednesday. I was going to go to...
The Colorado Rockies' up-and-down offense has contributed to a shaky start, and their defense hasn't been much better. They'll likely need improvement in both facets of the game to cool off the Arizona Diamondbacks in a three-game series starting Friday night at Coors Field. The Rockies (2-4) totaled 10 runs during a 1-3 start, but chased Tim Lincecum and pounded out...
Just some thoughts before the Home Opener: -Brandon Belt is not in then lineup for the fourth consecutive game. Three of those four games have been against right-handed pitchers, so it's not like Belt is just sitting against lefites. Bochy has found myriad reasons to sit him- Schierholtz needs a start, Pill needs a start, Belt is pressing- even after committing to him in the preseason...
The Colorado Rockies' up-and-down offense has contributed to a shaky start, and their defense hasn't been much better. They'll likely need improvement in both facets of the game to cool off the Arizona Diamondbacks in a three-game series starting Friday night at Coors Field. The Rockies (2-4) totaled 10 runs during a 1-3 start, but chased Tim Lincecum and pounded out...
Carlos Gonzalez tripled twice, drove in four runs and scored three times Wednesday night, leading the Colorado Rockies to a wild 17-8 win over Tim Lincecum and the San Francisco Giants that recalled the pre-humidor days at Coors Field. The Rockies collected 22 hits - half of them for extra bases - on a cool, sometimes damp evening, their best offensive output since a 22-hit game...
It was aces galore around Major League baseball on Wednesday. If you had Wednesday's starting pitchers as a poker hand in a high stakes game against the Devil, you'd say confidently, "I bet my soul on this hand." Unfortunately, he'd pull a royal flush out of his goat ass and you'd burn for eternity. What a rube you are, trusting the Devil. Matter of fact, I'...
I can never pretend to understand the mind of Bruce Bochy.  From a managerial standpoint, the guy is rooted in old-timey gritty hard-nosed nicknamey baseball of the past.  He's often referred to as a "player's manager," sticking with his "proven" veterans against the tide of public pressure no matter how poorly they play.  His complete aversion to playing anyone under...
I believe by definition, that the first 7 games of this season have been a mixed bag. We've been swept, we've been embarrassed, we've been disappointing.But simultaneously, we've been exciting, we've been heroic, and we've been promising.Only with the Giants could such contrasts hold so much value at the same time.I mean, we've got Tim Lincecum on one...
MLB News

Delivered to your inbox

You'll also receive Yardbarker's daily Top 10, featuring the best sports stories from around the web. Customize your newsletter to get articles on your favorite sports and teams. And the best part? It's free!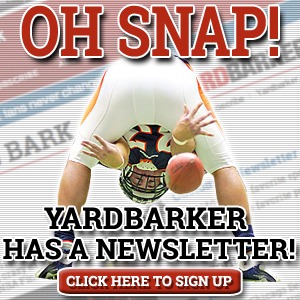 Latest Rumors
Best of Yardbarker

Today's Best Stuff

For Bloggers

Join the Yardbarker Network for more promotion, traffic, and money.

Company Info

Help

What is Yardbarker?

Yardbarker is the largest network of sports blogs and pro athlete blogs on the web. This site is the hub of the Yardbarker Network, where our editors and algorithms curate the best sports content from our network and beyond.