Posted October 23, 2012 on AP on Fox
PLAYERS:
Marco Scutaro
,
Matt Holliday
,
Hideki Matsui
,
Albert Pujols
,
Kevin Youkilis
,
Cody Ross
,
Ryan Vogelsong
,
Matt Cain
,
Brian Sabean
,
Bruce Bochy
,
Barry Zito
,
Pete Kozma
TEAMS:
San Francisco Giants
,
St. Louis Cardinals
,
Tampa Bay Rays
,
Los Angeles Angels
,
Chicago White Sox
,
Boston Red Sox
,
Detroit Tigers
,
Oakland Athletics
Fans labeled Marco Scutaro a super-sub in Oakland for all his fill-in roles. Others called him a Colorado castoff in July, and his new San Francisco Giants teammates nicknamed him ''Blockbuster'' for the often overlooked trade-deadline move. Now he has a new title: NLCS MVP. Scutaro tied the league championship series record with 14 hits to earn the honors, capping off his remarkable run with three singles and a walk in San Francisco's 9-0 victory over the St. Louis Cardinals on Monday night in the decisive Game 7. After several stops and bumps along the way, the 36-year-old has finally found a place where fans will know his name for years to come. ''As soon as you get traded, you kind of start thinking where you're going to live, your family, you have to pack,'' Scutaro said. ''I kind of thought I had a really good opportunity to make the playoffs with this team. We just started playing good, and here we are in the World Series.'' In a fitting ending to a series that saw Scutaro absorb a hard and an admitted late slide from Matt Holliday that strained the second baseman's left hip, Scutaro caught Holliday's popup through the pouring rain for the final out. He batted .500 with two walks, scored six runs and drove in four. Hideki Matsui (2004 Yankees), Albert Pujols (2004 Cardinals) and Kevin Youkilis (2007 Red Sox) also had 14 hits in an LCS. And Scutaro's 10-game hitting streak ties Cody Ross and Alvin Dark for the longest in Giants postseason history. Starting Wednesday night in San Francisco, he'll have a chance to break that mark when the Giants host the Detroit Tigers in Game 1 of the World Series. ''It took him a couple days to adjust to us, but he really has been a leader since he got here,'' said pitcher Ryan Vogelsong, who won Games 2 and 6. ''He's played great. He's played great defense. He's a true professional. He knows the game. He does all the little things right. Everything you'd lay out on a table for a guy to do, he does.'' The Giants acquired the Venezuelan native at the trade deadline. It turned out to be one of baseball's best moves, and easily one of its most overlooked. While the rival Dodgers' spending spree made headlines from coast-to-coast, the Giants took on just $2.1 million of Scutaro's salary from Colorado in exchange for minor leaguer Charlie Culberson. All Scutaro has done since is make opponents pay - and he earned a $75,000 bonus for winning NLCS MVP honors in the process. ''That's the best thing that's ever happened so far,'' said Giants ace Matt Cain, who threw 5 2-3 innings of five-hit ball in the clincher. ''That's why it's `The Blockbuster.''' He had a major impact even before October, batting .339 after the All-Star break to power the Giants' playoff push. Scutaro has delivered in the biggest moments in the postseason, and in many ways, has become the 2012 version of Ross. The Giants plucked Ross off waivers in August two years ago and watched him capture MVP honors in the NLCS against Philadelphia and help lead them to the first World Series title since moving from New York in 1958. And just like in 2010, general manager Brian Sabean's move made the biggest noise at the most key time. Scutaro became just the fifth midseason acquisition to win a postseason MVP award. ''When we acquired Scutaro, a great job by Brian Sabean, making that blockbuster deal, as we say, that's his nickname,'' Giants manager Bruce Bochy said. ''I knew he was a good player. But to see him day in, day out, you really appreciate the talent that this guy has. I don't know if it was possible for him to raise his game, that's how well he's played, his level. But he did after that slide.'' Scutaro was hurt on Holliday's slide in the first inning of Game 2. Scutaro got even a few innings later with his own big blow that helped the Giants even the series and end an 0-3 home slide in the postseason when he singled home two runs in San Francisco's four-run fourth inning. Another run scored on the bases-loaded hit when Holliday misplayed the bouncing ball in left field. Scutaro left after the fifth of that 7-1 win because of his damaged hip on a play Bochy felt was illegal. Scutaro never missed a game, and he never stopped playing all-out, either. His sliding stops were part of a spectacular defensive effort that backed Barry Zito in San Francisco's 5-0 Game 5 victory. He even threw his arms in the air after grabbing Pete Kozma's spinning hopper in the fourth inning of Game 7. He also delivered a two-out, two-run double to highlight a four-run second inning in the Game 6 win. And even in the Game 1 loss, Scutaro's single to left leading off the fourth was San Francisco's first hit off 18-game winner Lance Lynn. He spent four seasons across the bay with the Oakland Athletics from 2004-07, filling in wherever he was needed in the infield - and, on occasion, in the outfield. Scutaro, who turns 37 on Oct. 30, also played for the Mets (2002-03), Toronto (2008-09), Boston (2010-11) and 95 games with Colorado this season. No matter what happens now, he will always be remembered in San Francisco. --- Antonio Gonzalez can be reached at: www.twitter.com/agonzalezAP
Original Story:
http://msn.foxsports.com/mlb/story/Gi...
THE BACKYARD
BEST OF MAXIM
RELATED ARTICLES
At this point the slide may be forgotten.  In Game Two of the National League Championship Series, Matt Holliday of the St. Louis Cardinals slide hard into the San Francisco Giants' Marco Scutaro.  The slide caused Scutaro's body to bend at an awkward angle and looked as if it may have hurt his right left.  It turned out, Scutaro had injured his hip.  He had tried to...
The heavens opened up during the bottom of the 9th as the San Francisco Giants completed their comback from down 3-1 to take the NLCS over the St Louis Cardinals. As the rain came down, Fox captured this great slow motion image of Marco Scutaro enjoying it. Great work, folks. Filed under: Baseball, MLB
The Giants are headed to the World Series after winning a record six straight elimination games.Matt Cain had taken the role as the ace of the Giants staff so it was fitting that the team had him on the mound in a decisive Game 7 at AT&T park.Not only was Cain helping the Giants cause on the mound but he also contributed with his bat in the second inning. Cain singled in Gregor...
Nobody is having more fun in the postseason than San Francisco Giants second baseman Marco Scutaro. He'll turn 37 soon. He's playing on his sixth team. He's going to his first World Series. "I'm just enjoying this moment, man," he said. "When things are going really good, you've got to enjoy it, right?" Scutaro was named MVP of the NLCS...
Tonight, all eyes of the baseball world will be focused on Game 1 of the 2012 World Series, as the San Francisco Giants and the Detroit Tigers clash in the next installment of the Fall Classic at AT&T Park in San Francisco. While the focus for many baseball enthusiasts will be on the two teams, fans residing in [...]
Marco Scutaro looked up through the pouring rain, caught Matt Holliday's popup for the final out and punched his ticket to the World Series for the first time at age 36.
SAN FRANCISCO -- Marco Scutaro looked up through the pouring rain, caught Matt Holliday's popup for the final out and punched his ticket to the World Series for the first time at age 36. In an NL championship series that saw Scutaro absorb a hard and admitted late slide from Holliday that strained the second baseman's left hip, what a fitting ending. Scutaro...
Generally speaking, players not named Carlos Beltran don't turn into different players come playoff time. That wouldn't make any sense — it's still regular baseball, and the things that apply in September still apply in October. Players might become slightly less effective in the playoffs, due to the increased quality of competition, but a strike-thrower will probably stay...
SAN FRANCISCO (AP) -- Marco Scutaro looked up through the pouring rain, caught Matt Holliday's popup for the final out and punched his ticket to the World Series for the first time at age 36. In an NL championship series that saw Scutaro absorb a hard and admitted late slide from Holliday that strained the second baseman's left hip, what a fitting ending. Scutaro tied the...
The San Francisco Giants beat the defending World Series champion St. Louis Cardinals 9-0 Monday night in Game 7 of the NL Championship series.Matt Cain pitched his second clincher as the Giants won their sixth elimination game of the post season. Marco Scutaro matched an LCS record with 14 hits in the series while Pablo Sandoval drove in a run for his fifth straight game.The Giants...
Hollywood movies are written with certain things in mind.  One of the big ones?  Resolve all the storylines.  Don't leave things hanging. So it was perfectly written that the National League Championship Series ended with Matt Holliday popping up to Marco Scutaro.  In the rain.  And the Cardinals' season ended on an infield fly. Baseball Gods?  Maybe.  But all was right...
SAN FRANCISCO -- Ryan Vogelsong and the San Francisco Giants saved their season once more, pushing St. Louis to a winner-take-all Game 7 in the NL championship series. It turns out the defending champion Cardinals aren't the only team that's tough to put away in October. Vogelsong struck out a career-best nine in another postseason gem, and the...
MLB News

Delivered to your inbox

You'll also receive Yardbarker's daily Top 10, featuring the best sports stories from around the web. Customize your newsletter to get articles on your favorite sports and teams. And the best part? It's free!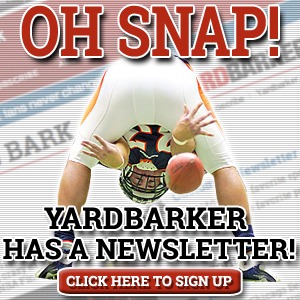 Latest Rumors
The Backyard

Today's Best Stuff

For Bloggers

Join the Yardbarker Network for more promotion, traffic, and money.

Company Info

Help

What is Yardbarker?

Yardbarker is the largest network of sports blogs and pro athlete blogs on the web. This site is the hub of the Yardbarker Network, where our editors and algorithms curate the best sports content from our network and beyond.