Found November 20, 2012 on The Southpaw:
Asked . . . And Answered.Martin's most recent post posed the question - What next?Bob Elliot believes he has the answer. The return of John Gibbons as Toronto Blue Jays manager. According to Elliot, the Jays will introduce Gibbons as their hire on Tuesday. An excerpt from the article:It's not Cito Gaston 2.0, but John Gibbons 2.0. Gibbons, who managed the Blue Jays for parts of five seasons from 2004 to 2008, will be introduced Tuesday morning as their next manager. At the general managers meeting in Indian Wells, Calif., Blue Jays general manager Alex Anthopoulos said he was "looking for someone he could work with, someone his staff could work with, someone who was good for the city, good for the whole country.And: . . . under J.P. Ricciardi. Anthopoulos and Gibbons were close friends, working well together. Anthopoulos and Gibbons were spotted dining in Yorkville Sunday night. Just my personal opinion - I LOVE it. I always liked Gibby when he was here before, and was not in favor of his dismissal. He's not perfect but no manager is. But he brought more of the qualities I like in a manager than most, by far. I've been jokingly tweeting, on occasion, "Bring back Gibby!" - not because i wasn't seriously interested but because i had no clue the Blue Jays would every actually consider it, let alone do it.If I'm to watch this team make a run deep into September as a contender, even make the playoffs - I'd much rather see Gibby get the chance to enjoy that success than, say, Mike Hargrove or Tim Wallach. I may have a certain emotional bias but that's okay.All that said, I want to see Manny Acta as 3B (or Bench) coach. We need what he brings to the staff, without having to worry about whether he's actually well suited to be a manager.Is it spring yet?
Original Story:
http://thesouthpawbaseball.blogspot.c...
THE BACKYARD
BEST OF MAXIM
RELATED ARTICLES
Is the power shifting in the American League East? If the amount of news generated by the Blue Jays in November is any indication, perhaps it is. While the Red Sox quietly try to figure out and dig out of last year's fiasco and the Yankees, the richest team in the world, suddenly shop at K-Mart, the Blue Jays have made headline after headline culminating with naming John Gibbons...
The Blue Jays, reaching back for a familiar name, have hired John Gibbons as their new manager, according to a major-league source. Gibbons, who managed the Blue Jays from Aug. 2004 to June 2008, replaces John Farrell, whom the Jays traded to the Boston Red Sox at the end of last season. Jays general manager Alex Anthopoulos was assistant GM during part of Gibbons' tenure and...
John Gibbons described it as a "shock" that "came out of nowhere." That sounds about right. Meet the new Toronto Blue Jays manager, same as the old Blue Jays manager: Gibbons, cashiered midway through the 2008 season with a 305-305 career record, is back again. The Toronto vacancy had been the subject of intense speculation over the past several weeks. Almost...
The Toronto Blue Jays have decided to bring back John Gibbons as manager. Gibbons is returning to the club where he served as manager from 2004-2008. Blue Jays General manager,Alex Anthopoulos said he had no misgivings re-hiring Gibbons, "Things I've regretted the most have been decisions on what the optics might be, perception might be," Anthopoulos said. "With Gibby the...
The Toronto Blue Jays are ready to go back to the future. John Gibbons, who managed the team from 2004-08, will be re-hired as the Blue Jays' manager on Tuesday morning, the Toronto Sun reported late Monday night. Gibbons would take over for John Farrell, whom the Blue Jays traded to the Red Sox last month. In his only previous major league managerial stint, Gibbons guided...
The Toronto Blue Jays hired John Gibbons as their manager for a second time.
I'M LIKE A BIRD
Reports out of Toronto indicate that the Blue Jays have re-hired John Gibbons to be the team's next skipper and an official announcement is expected Tuesday.
            The Toronto Blue Jays surprisingly announced the return of former manager John Gibbons (2004-2008) after talk had former MLB managers Manny Acta and Mike Hargrove as favorites. I threw my two cents in yesterday when I suggested Jim Riggleman, who apparently never got a call. CLICK TO READ MY ENDORSEMENT OF RIGGLEMAN     Since 1961, 30 managers have managed...
Watch out Toronto, another storm could be blowing through there next year.   Not anything on the scale of Hurricane Sandy, mind you. Much less severe, thankfully. And also thankfully, those who follow the comings and goings of the local major league baseball team will be better prepared this time.   John Gibbons is back in town.   For those not so familiar with...
Many didn't see it coming, but the Toronto Blue Jays have come to a decision about the manager position left open by John Farrell. Farrell took the job with the Red Sox after the firing of Bobby Valentine. General Manager, Alex Anthopoulous, began the search for a new manager in late October, but wasn't in a real hurry according to SI.com, saying: "You can't hurry the process...
For all the new faces sure to be around the new-look Blue Jays in 2013, the team's manager won't be one of them. Toronto has hired John Gibbons as the team's skipper, according to the team, marking his second go-round in the dugout for the Jays. He previously managed the team from 2004 to 2008, going 305-305 over that time for a .500 winning percentage. Blue Jays general manger...
MLB News

Delivered to your inbox

You'll also receive Yardbarker's daily Top 10, featuring the best sports stories from around the web. Customize your newsletter to get articles on your favorite sports and teams. And the best part? It's free!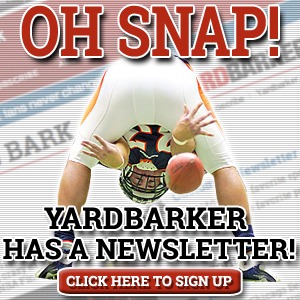 Latest Rumors
Best of Yardbarker

Today's Best Stuff

For Bloggers

Join the Yardbarker Network for more promotion, traffic, and money.

Company Info

Help

What is Yardbarker?

Yardbarker is the largest network of sports blogs and pro athlete blogs on the web. This site is the hub of the Yardbarker Network, where our editors and algorithms curate the best sports content from our network and beyond.