Found October 27, 2012 on Pro Sports Daily:
New York Yankees manager Joe Girardi requested that the team's public address announcer not mention Alex Rodriguez's name when he was pinch-hit for during the American League Championship series, according to CBSSports.com. Typically, announcements include the pinch hitter and the player he is replacing in the lineup. Girardi reportedly called the press box when Eric Chavez pinch hit for Rodriguez in Game 1 of the ALCS against the Detroit Tigers. The New York Post, however, later reported the call came when Raul Ibanez pinch hit for Rodriguez in Game 3 of the series. Yankees general manager Brian Cashman confirmed that Girardi made the call so Rodriguez would not be further embarrassed by being removed. Rodriguez said Girardi had "built up a lot of equity with him," despite being pinch-hit for and benched in another game. Rodriguez went 3 for 25 at the plate in the playoffs. That included 0 for 18 with 12 strikeouts against right-handed pitching.
Original Story:
http://www.prosportsdaily.com/article...
THE BACKYARD
BEST OF MAXIM
RELATED ARTICLES
CALL IN A FAVOR
In order to not bruise his slugging superstar's already-deflated ego, Joe Girardi reportedly called the Yankee Stadium PA announcer to ask him to not mention Alex Rodirguez's name when he was being pinch-hit for.
Can you pretend you are Yankees GM Brian Cashman for a second?  Brian Cashman (Photo credit: Wikipedia) Ok not literally, but say you had his job and you were just named the new GM for the New York Yankees. And your first order of business is deciding is deciding who gets to live another day in pinstripes, and who will get handed their walking papers. A few things to keep in mind...
The New York PostOctober 21, 2012 SundayDear EditorAfter the Yankees lost to the Tigers, Alex Rodriguez was quoted as saying, "I'll be back." I hope he meant for Old-Timer's Day. JOHN BUONAGURA Stewart Manor, N.Y.
END OF THE ROAD?
Yankees general manager Brian Cashman said that the legendary closer "doesn't know what he is doing yet" as it relates to whether or not he'll return next season.
It's no secret that Alex Rodriguez struggled mightily throughout the 2012 postseason, but the common refrain was that at least he was saying the right things and acting like a good teammate amid all the attention. At least, of course, until that little incident where A-Rod apparently hit on a fan behind the Yankees' dugout, which called into question his focus and intensity...
The New York PostOctober 21, 2012 SundayDear EditorI have never been more embarrassed in my life to be a Yankees fan. I can only hope the Steinbrenners and Randy Levine issue a public apology to the fans, because we're owed one. We're also owed a new manager, new hitting coach (goodbye Kevin Long!), and a large chunk of new players. This postseason has been a complete...
Mariano Rivera vowed some months ago that despite tearing his ACL, he would return to pitch again in the major leagues. Now, it appears that he's not so sure. Yankees general manager Brian Cashman spoke with ESPN.com's Andrew Marchand on Friday, and he indicated that Rivera still hasn't decided on his future. "He wasn't certain on what he is...
I know this is blaspheme, but for once, let's not be cheerful and optimistic: Does anybody really expect Mariano Rivera to come back in 2013 and pitch an entire season at the level that befits his career? Because I sure don't. I think there's a better chance of Ann Coulter winning a sportsmanship medal at the Special Olympics. When Mariano shredded his knee last spring...
It's not a feat that's accomplished much, but the 1996 New York Yankees were in fact the last team to rally from what looked like a catastrophic 0-2 deficit to win the World Series. So, yes Detroit, this can happen. … Continue reading →
Blame it on A-Rod. That's the default position for all postseason losers, isn't it? If Alex Rodriguez and the Yankees had extended the Tigers beyond four games in the American League Championship Series, then maybe the Tigers would have been sharper in the World Series. That's one theory, anyway. The Tigers had a wide range of opinions on the impact of their five-day...
MIAMI -- If embattled Alex Rodriguez needs any advice, an avid New York Yankees supporter welcomes A-Rod to call him. That fan would be LeBron James. In an interview Friday with FOX Sports Florida, the Miami Heat star talked about the surprising drop-off and benching experienced by Rodriguez in the postseason and offered his assistance. "If he wanted to reach out to me, I...
MLB News

Delivered to your inbox

You'll also receive Yardbarker's daily Top 10, featuring the best sports stories from around the web. Customize your newsletter to get articles on your favorite sports and teams. And the best part? It's free!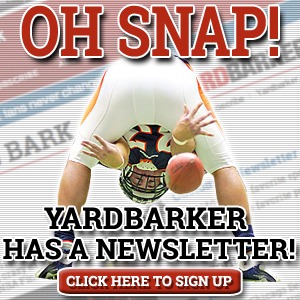 Latest Rumors
Best of Yardbarker

Today's Best Stuff

For Bloggers

Join the Yardbarker Network for more promotion, traffic, and money.

Company Info

Help

What is Yardbarker?

Yardbarker is the largest network of sports blogs and pro athlete blogs on the web. This site is the hub of the Yardbarker Network, where our editors and algorithms curate the best sports content from our network and beyond.