Found August 24, 2012 on New England Sports React:
It now rests in the hands of Red Sox upper management where two of their star players will ultimately end up. According to a report from ESPN ScoreCenter, both first baseman Adrian Gonzalez and pitcher Josh Beckett were claimed off waivers by the Los Angeles Dodgers, leaving the Sox to either trade them, allow them to leave, or retain them. They are also apparently trying to shop Carl Crawford to L.A. as well, eliminating the two free-agent signings which excited Boston sports fans nationwide. It will be a shame if this deal does go through given Gonzalez's and Crawford's still obvious talent, but it would be a move for the best. Clearly these guys are nothing but trouble given the way they're all being hung out to dry, so why would we want to keep negative energy in a losing clubhouse? Get rid of it and cover up the holes leftover. As I said before, a great hitter can be replaced by two or three solid hitters. And an above-average outfielder can be replaced by a call-up or a free agent of equal ability. Like the other two, an average starting pitcher is also fairly dispensable. While I was at first taken aback by the boldness of this move, I wholeheartedly support it. Let's start to get this team on the right track before the end of the season, hopefully leading into a fairly progressive offseason. This move should certainly give the team a rise, and while these players may not have been the only problem they are certainly large enough of one to be dealt. This could be the start of new beginnings for the Red Sox, and I could not be more ready to embrace them. -Ryan Hartley
Original Story:
http://nesportsreact.com/gonzalez-and...
THE BACKYARD
BEST OF MAXIM
RELATED ARTICLES
I just said that it would be a dream scenario for the Dodgers to take Josh Beckett alongside Adrian Gonzalez in any sort of trade.  Well, Sean McAdam just confirmed that the dream could become a reality. Beckett has also been claimed by the Dodgers off of the waiver wire. Disgruntled Sox fans can already be heard celebrating but before we continue this fiesta, let's remember...
Sean McAdam is reporting via Twitter that the Boston Red Sox have placed Adrian Gonzalez on waivers. You may remember that several days after the July trade deadline passed word broke that the Dodgers had attempted to connect with the Red Sox on a possible A-Gon trade. Of course talks didn't last very long, with time not on their side the Dodgers moved on. Now that Gonzalez is...
Josh Beckett, like many major leaguers this time of the year, has been placed on waivers, according to a report. CBSSports.com's Jon Heyman reports via Twitter that the Red Sox have placed the veteran right-hander on waivers, but he's not expected to be claimed. Josh Beckett is on trade waivers now. Competing execs don't expect him to be claimed. #redsox — Jon Heyman...
According to Bill Shaikin (@BillShaikin) a baseball columnist of the LA Times, tweeted that on Friday afternoon, the LA Dodgers were awarded Red Sox first baseman Adrian Gonzalez on a wavier claim. The Sox placed Gonzalez on waivers a few days ago and could possibly move him and his loaded contract. The two biggest problems [...]
The fact that the Dodgers claimed Adrian Gonzalez off of trade waivers is not that big of a deal.  The Sox were likely just seeing what teams might be interested before pulling him back.  The fact that the Dodgers also claimed Josh Beckett is big news.  This has to signal a package deal with Gonzo and Beckett heading to LA.  It is very unlikely that the Dodgers would take Beckett...
BOSTON -- Adrian Gonzalez wanted no parted in discussing his status on waivers Friday afternoon. "Do you have baseball questions?" Gonzalez asked. "Waiver questions? I'm not talking about that." With no questions other than ones about the Dodgers claiming him on waivers, Gonzalez walked away from reporters and disappeared into the back of the clubhouse. But...
The trade that sent Adrian Gonzalez, Carl Crawford, Josh Beckett and Nick Punto to the Los Angeles Dodgers was surely a shock to Red Sox Nation. Now, just imagine if you were a member of that clubhouse and counted the foursome among your teammated over the last six months. That clubhouse was still trying to sift through and make sense of the trade by the time it was announced, and...
Pedro Ciriaco will be batting leadoff for the third straight game as Jacoby Ellsbury continues to hit out of the No. 2 hole. While the Red Sox offense continues to struggle, Adrian Gonzalez will get the night off in the field at least as he'll be DHing out of the No. 4 hole for Boston. Mauro Gomez, who has been back and forth between Pawtucket and the big club a few times this...
Have you heard about the insane baseball trade between the Red Sox and the suddenly loaded with cash Dodgers? Carl Crawford, Adrian Gonzalez and Josh Beckett to L.A. for James Loney & some other guys! Here's the headline in the Boston Herald: 'Bums Away.' The Dodgers are also going to cover most of the $250 million owed to the big three. In NFL news, Russell Wilson is,...
One of the major questions as Adrian Gonzalez and Carl Crawford headed out of town was why they weren't a good fit for the Red Sox. Former Red Sox great Jim Rice and general manager Ben Cherington gave their thoughts Sunday afternoon, a day after the trade went down. They talked about what it takes to play in Boston, with Cherington saying it's often "a lot easier to...
"In Boston, there is always a novel -- in here they never talk about baseball; it's always the same.  That's one of the reasons why I almost never talk to the press here. Very few times they ask me about baseball. But most of the time it's about gossip, rumors, plots, well ... a soap opera.  When they talk to me about baseball, I'm available. But that does...
MLB News

Delivered to your inbox

You'll also receive Yardbarker's daily Top 10, featuring the best sports stories from around the web. Customize your newsletter to get articles on your favorite sports and teams. And the best part? It's free!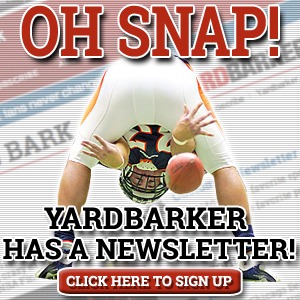 Latest Rumors
Best of Yardbarker

Today's Best Stuff

For Bloggers

Join the Yardbarker Network for more promotion, traffic, and money.

Company Info

Help

What is Yardbarker?

Yardbarker is the largest network of sports blogs and pro athlete blogs on the web. This site is the hub of the Yardbarker Network, where our editors and algorithms curate the best sports content from our network and beyond.