Found May 26, 2013 on The Rhino and Compass:
PLAYERS:
Pedro Hernandez
,
Caleb Thielbar
,
Chris Colabello
,
Miguel Sano
,
Vance Worley
,
Oswaldo Arcia
,
Chris Parmelee
,
Aaron Hicks
,
Brian Dozier
,
Jamey Carroll
,
Joe Benson
,
PJ Walters
,
Liam Hendriks
,
Kyle Gibson
,
Chris Herrmann
TEAMS:
Minnesota Twins
,
Texas Rangers
The Twins have made severa; roster moves in the midst of a panic inducing plummet through the standings while on a 10 game winning streak. Which moves were the best? Which were the worst? Let's rate them! Sending Pedro Hernandez to Rochester: Hernandez, more or less, was a place holder until he started to falter. Nobody expected him to do much better than he did, I don't think. In the old phrase about shuffling deck chairs on the Titanic, Hernandez is one of those chairs. Grade: C Recalling Caleb Thielbar: Caleb Thielbar is thought to be an arm that could bolster the Twins bullpen for years to come. In the short term, the bullpen has been worked to the bone, and could have used some bolstering. It was a situationally and staff appropriate move.Too bad it was just a bullpen move. Grade: A Recalling Chris Colabello: Colabello is a good story, having spent much of his career playing independent ball, making a name for himself in his first season in the Twins organization and the World Baseball Classic. Colabello isn't going to be a long time member of the team, but he is a fun path for now. Besides, after Plouffe, the only real 3b in the organization is Miguel Sano, and that isn't happening yet. Grade: B- Sending Vance Worley to Rochester: You know my thoughts on Worley. He will eventually be fine, and his lack of success is attributable to some terrible luck. Of course, if he keeps the ball down a bit better, he can do a little bit to change his fortunes, so there is something mechanical to work on. Credit to the staff and the front office to bite the bullet and sent their prized off-season acquisition to the minor leagues, but I think Worley working things out at the major league level wouldn't have been the worst thing in the world. Grade: C Calling up Sam Deduno: Deduno is unlike any of the other pitchers in the Twins rotation, in that he throws the ball hard and isn't entirely sure where the ball is going to go. Deduno proved that he can pitch in big moments at the World Baseball Classic (say what you will about the WBC, but for many international players, the event is a HUGE deal). Deduno might be a wild card when he goes out there, but even interrupting the train of thought in a series for the opposition by tossing Deduno out there could be an asset for the organization. I'm higher on Deduno than most people. Grade: B. Demoting Oswaldo Arcia: What. What the hell. Sure, Arcia hit a rough patch, but he was still one of the better players on the team, offensively this year. Instead of Arcia, why wouldn't you send down Chris Parmelee, who isn't a natural outfielder, or Aaron Hicks, who continues to be less than stellar, or Brian Dozier who has seen playing time usurped by Jamey Carroll anyway? Bad, unpopular move. The reason this isn't an F is because the case could be made that they want to get Arcia more at-bats. Grade: D Replacing Joe Benson on the 40 man roster with PJ Walters, resulting in Benson being claimed by the Rangers: PJ Walters, like Pedro Hernandez should be regarded as a place holder arm. Why was it so important to get him on the roster? Benson was once a top prospect, and since that injury, he has been dreadful, so I am less surprised that he was dropped from the 40 man, and more surprised that it was used for Walters. Liam Hendriks is on the 40 man roster already, if they wanted another of those deck chairs. Kyle Gibson is still in Rochester, and is setting the world on fire. I was initially more upset by this move, but Walters has been better than I thought and Benson has sucked out loud. Still, it feels weird to let got of a former top prospect to sheepishly. Grade: C Calling up Chris Herrmann: Oh good, we have another light hitting catcher on the roster. The Twins take liberties with roster spots because there is so much talent on the roster, especially offensive talent. The only reason this isn't an F is because Herrmann isn't Butera. Grade: D- Allegedly, there are more moves to come tonight. There has to be one to get Herrmann on the roster, and word is it might be Brian Dozier going to Rochester. Baffling. The roster moves started well, and now it all just reeks of panic and thinking a bit too much.
Original Story:
http://ryanhenning.com/?p=6085
THE BACKYARD
BEST OF MAXIM
RELATED ARTICLES
For the second time in a week, the Minnesota Twins had to put a player on the 7-day concussion disabled list. Outfielder Wilkin Ramirez was put on the 7-day DL after Sunday's game in Detroit. Ramirez collided with left fielder Josh Willingham on Saturday and left the game. On Wednesday, third baseman Trevor Plouffe landed on the 7-day DL when he was hit in the head while sliding...
The Minnesota Twins recalled right-handed starter Samuel Deduno on Friday and will get the start Friday against the Detroit Tigers. To make room on the active roster, the Twins have decided to option outfielder Oswaldo Arcia to their Triple-A Rochester minor league affiliate. Deduno has been solid, but nothing spectacular in the minors this year so don't expect him to set anything...
Minnesota Twins first baseman Justin Morneau is in the final year of his current contract with the team. He's off to a decent start, as he's at least been able to remain healthy so far. Still, Morneau and the Twins have yet to discuss a contract extension, according to Darren Wolfson of ESPN 1500. A source close to Twins first baseman Justin Morneau said this week...
Finally, the Minnesota Twins' never-ending losing streak came to a close. One night after nearly getting no-hit by Anibal Sanchez, the Twins snapped a 10-game losing streak with a 3-2 win Saturday over Doug Fister and the Detroit Tigers. Minnesota's recent losing streak matched the fourth-longest losing streak in team history. Before the losing streak began on May 14, Minnesota...
Minnesota Twins manager Ron Gardenhire has been ejected from Saturday's game at Detroit while arguing a call at second base. The Twins had men on first and second with nobody out in the third inning when Justin Morneau hit a grounder to first baseman Prince Fielder. He threw to second to start a 3-6-1 double play, which the Tigers turned - but Joe Mauer, who had advanced to...
The Minnesota Twins and Milwaukee Brewers both continue to struggle, worsening records that were already two of the worst in baseball. But each team's star Joe Mauer and Ryan Braun have done anything but struggle in recent meetings against each other's team. Each will look to get their respective clubs back on track Monday as Minnesota and Milwaukee meet in a four-game...
The Minnesota Twins have called up right-hander P.J. Walters from Triple-A Rochester to start Saturday against the Detroit Tigers. The Twins optioned outfielder Oswaldo Arcia to Rochester after Friday night's loss to the Tigers. The 28-year-old Walters hasn't pitched in the majors this year. He went 2-5 with a 5.69 ERA in 12 starts for Minnesota in 2012. Arcia, a rookie...
DETROIT (AP) -- Minnesota Twins center fielder Wilkin Ramirez left Saturday's game against the Detroit Tigers after a scary collision on a fly ball. Omar Infante lifted a fly to left-center in the sixth inning Saturday, and Twins left fielder Josh Willingham was under it when Ramirez came speeding over to try to make the play. Ramirez did catch the ball, holding onto it for...
More bad news for the Minnesota Twins, as outfielder Wilkin Ramirez' initial diagnosis of a sore jaw after colliding with teammate Josh Willingham during Saturday's win against the Detroit Tigers has been re-diagnosed as concussion-like symptoms. The change of diagnosis has placed Ramirez on the 7-day disabled list, joining infielder Trevor Plouffe on the sidelines with...
Some Minnesota Twins news and notes: To put Chris Colabello's feat into proper perspective one must realize he is only the 38th player in the 21 seasons since Independent Baseball started up to break into the professional game at the non-affiliated level and climb all the way the major leagues. But not a single one of the 37 before Colabello, who got his long-awaited chance Wednesday...
By ANDREW GRUMAN FoxSportsWisconsin.com MILWAUKEE -- In the grand scheme of things, Kevin Correia's start was very ordinary. Three runs in six innings is defined as a quality start, but usually isn't described as anything more than average. But the way the starting rotation has pitched for the Minnesota Twins, Correia's outing Monday in Milwaukee was much needed. Giving...
The Milwaukee Brewers and the Minnesota Twins are not happy with the way their seasons have started. Both teams have struggled get good starting pitching, while the offenses haven't consistently scored runs. The two used to meet twice a year with at least three games at Miller Park and three more at Target Field. With the format of Interleague play changing this season, the...
MLB News

Delivered to your inbox

You'll also receive Yardbarker's daily Top 10, featuring the best sports stories from around the web. Customize your newsletter to get articles on your favorite sports and teams. And the best part? It's free!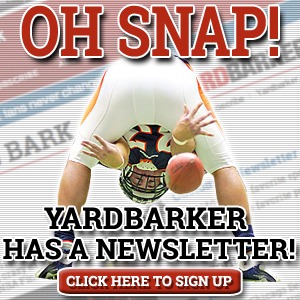 Latest Rumors
Best of Yardbarker

Today's Best Stuff

For Bloggers

Join the Yardbarker Network for more promotion, traffic, and money.

Company Info

Help

What is Yardbarker?

Yardbarker is the largest network of sports blogs and pro athlete blogs on the web. This site is the hub of the Yardbarker Network, where our editors and algorithms curate the best sports content from our network and beyond.