Found February 06, 2013 on Monkey with a Halo:
The February 6th, 2013 edition of daily news for the Los Angeles Angels of Anaheim including Callaspo finalizes his new contract, Keith Law ranks Kaleb Cowart the 23rd best prospect and much more... The Story: Alberto Callaspo finalized his two-year contract that will pay him $4.1 million this year and $4.875 million in 2014. The Monkey Says: Beto was out of the country and had to wait to take a physical before the deal was complete. With these numbers now finalized, the Angels are commited to just shy of $151 million in payroll this year BEFORE their pre-arb contracts are counted, which should push it up another $5 million or so. They also are now on the hook for $133 million in guaranteed money in 2014. Hooray for regional sports network valuation bubbles! The Story: Keith Law ranked Kaleb Cowart as the 23rd best prospect in baseball. The Monkey Says: This is the first list on which I remember seeing Cowart crack the top 40. I suspect Law is ahead of the curve here though. My sense is that others have been a little reluctant to believe in Cowart because he really only has one good year of performance under his belt. I've said all along that his stock would skyrocket if he is able to replicate the same kind of success he had last year. The Story: Could Mike Trout and/or Bryce Harper usher in an era of MLB stars with prominent endorsement careers? The Monkey Says: Honestly, I don't think baseball is cool enough to have their players hit it big with Madison Avenue. If someone is going to do it, I don't think it will be Trout since he just doesn't really have the personality for it. Maybe Harper has that kind of charisma/edginess that advertisers like, but I don't think it will overcome the general perception that baseball is the sport of and older, whiter generation. The Story: Meet Young (and Li'l) Hank Conger. The Monkey Says: I... I don't even... I'm not sure what that even was. The Story: David Eckstein was ranked the ninth-best acquisition in Angels history. The Monkey Says: Yeah, but on a pound-for-pound basis, he blows away the rest of the field. The Story: A look at the Angels' depth chart at second base entering training camp. The Monkey Says: The shame of the lack of depth behind Howie is that there is no possibility of Kendrick being put in a unique platoon situation where he sits against groundball pitchers. Not that Scioscia was ever going to be progressive enough to try something like that, but at least I could've dreamt about it. The Story: A look at the performances of prospects Luis Jimenez and Manny Correa. The Monkey Says: I'm not sure Correa actually qualifies as a legit prospect and I fear that Lucho is destined to become a Quad-A guy. [follow]
Original Story:
http://www.monkeywithahalo.com/2013-a...
THE BACKYARD
BEST OF MAXIM
RELATED ARTICLES
The off-seasons is filled with the news of signings. As such, MLB Rumors never gets shut down on this computer. Some of those signings bring a stir of interest as a team will sign a budding star to a contract to avoid arbitration or an interesting free agent that might make the team out of Spring Training. But an awful lot of them are of the kind that leave you simply making a mental...
   By Brian Waller, AngelsWin.com Writer Although it's fun to see what former Angel greats like Tim Salmon, Jim Edmonds, or Chuck Finley are up to these days, I actually enjoy following up on the lesser known players that once wore an Angel's uniform; players who weren't mega stars but still made key contributions to the big club. I tend to think back to the championship...
By Ellen Bell - AngelsWin.com Columnist I'm a Spring Training Veteran. For the past 11 years, I haven't missed a March in Tempe. Every year holds special memories, but last year was different.  Last year was epic. It was no longer the lazy, laid-back collection of afternoon games in the desert sunshine.     Albert Pujols was was in town and the stakes had gone through...
The Angels hagve spent the last few off-seasons pursuing superstars and signin some of them, but even with the wallet open, they cannot fill every position in that manner. Prior to the 2011 season, one of their primary targets was Adrian Beltre, who ended up going to Texas. The Angels got revenge by taking C.J. Wilson and Josh Hamilton away, but I would imagine the Rangers are not...
Lost in all the hullabaloo of last week's Super Bowl was the fact that Head & Shoulders named their MLB "Mane Man" for the upcoming season.And that guy...none other than Los Angeles Angels pitcher, friend of The Hall, C.J. Wilson."Head & Shoulders is an iconic brand that I trust to take care of my hair and scalp so I can concentrate 100 percent on and...
How does one man go from untradeable to a forgotten player on the bench to prime trade bait back and then back to a critical starter at a premium defensive position all in one calendar year? Let's take a look at the year that was and the year that will be for Peter Bourjos to find out. 2012 Stats: 195 PA, .220 AVG, .291 OBP, .315 SLG, 27 R, 3 HR, 19 RBI, 3 SB, 1 CS, 44 K...
The February 5th, 2013 edition of daily news for the Los Angeles Angels of Anaheim including Law ranks Angels' farm system dead last, tickets go on sale February 23rd and much more... The Story: Keith Law ranked the Angels' farm system as the worst in the majors. The Monkey Says: Welp, I can't really say it any better than Law did. Hopefully the Halos can at least...
In our 2012 Fantasy Baseball Draft Guide, we listed Mark Trumbo as a $2 player in auction league's with a projected PSR of 1.10. We thought that he'd struggle to find playing time for the Angels with Albert Pujols manning first base, Torii Hunter, Mike Trout, and Vernon Wells roaming the outfield, and Kendrys Morales standing in as the team's DH. Combined with a drop in per...
The February 7th, 2013 edition of daily news for the Los Angeles Angels of Anaheim including Keith Law's top ten Angels prospects, Mike Trout is now an answer on Jeopardy and much more... The Story: Keith Law unveiled his top ten Angels prospects. The Monkey Says: The most notable part is that he is so high on Taylor Lindsey. I like Lindsey a lot too, but rating him second...
By Ellen Bell - AngelsWin.com Columnist He was nine years old. Even though I'm only 5'3, I could rest my arm on his shoulder. His red hair was trimmed in a neat, military buzz cut and his eager face was covered with freckles.  We were on a quest. It was 2003. The Angels were World Series Champions and we couldn't wait for another season to start. So we boarded an airplane...
He's no Dan Haren, heck he may not even by Ervin Santana (although that might be a good thing) but he is the first of three new starters in the Angels rotation. He even has extensive experience in the AL West as a bonus! Let's take a look at Jason Vargas has in store for us in his first and possibly last season in Anaheim. 2012 Stats: 217.1 IP, 15-11, 3.85 ERA. 4.69 FIP...
MLB News

Delivered to your inbox

You'll also receive Yardbarker's daily Top 10, featuring the best sports stories from around the web. Customize your newsletter to get articles on your favorite sports and teams. And the best part? It's free!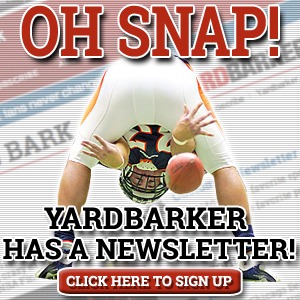 Latest Rumors
Best of Yardbarker

Today's Best Stuff

For Bloggers

Join the Yardbarker Network for more promotion, traffic, and money.

Company Info

Help

What is Yardbarker?

Yardbarker is the largest network of sports blogs and pro athlete blogs on the web. This site is the hub of the Yardbarker Network, where our editors and algorithms curate the best sports content from our network and beyond.