Found January 23, 2013 on Monkey with a Halo:
PLAYERS:
Mike Trout
,
Jim Bowden
,
Lance Armstrong
,
Josh Hamilton
,
Miguel Olivo
,
Buster Olney
,
Alberto Callaspo
,
Arte Moreno
,
Paul McAnulty
TEAMS:
Los Angeles Angels
,
Seattle Mariners
,
Los Angeles Dodgers
The January 23rd, 2013 edition of daily news for the Los Angeles Angels of Anaheim including the Angels need to give Mike Trout an extension now, projecting Hamilton based on swing and contract rates and much more... The Story: Jim Bowden thinks the Angels should extend Mike Trout right now. The Monkey Says: He also thinks that water is wet, that murder is bad and that Lance Armstrong might have done PEDs. I tell ya, that Jim Bowden is one controversial dude! The Story: Attempting to project Josh Hamilton's 2013 by looking into his swing and contact rates. The Monkey Says: When the name Miguel Olivo is invoked, you won't be able to help but tremble all the way to the core of your soul.  I do agree though that no matter what we see from Hamilton, his career and talent level or so unique that he is essentially unprojectable.  Still, MIGUEL OLIVO! The Story: Buster Olney thinks the 2013 Angels outfield could eventually crack this list of the best ten outfield trios ever. The Monkey Says: No pressure, Petey.  It isn't like you are the weak link or anything. The Story: Alberto Callaspo deserves your love. The Monkey Says: I know a certain dormant commenter who surely has to have some comments about this.  For the record, while I am quoted in this piece, I actually do like (but not love) Callaspo.  He is perfectly adequate and I suspect that fans don't appreciate him because they don't realize what a fine defender he is.  Either that or it simply boils down to MOAR DINGERZ! The Story: The Dodgers have a deal with Time Warner to launch their own TV network. The Monkey Says: The deal is reportedly worth nearly $8 billion.  This is another big blow to Arte Moreno and his aspirations to take over the LA baseball crown.  Not only will the Dodgers be making a ton more money, but they now also have the cache of having their very own network while the Halos are stuck as a tenant of Fox Sports, sharing their channel with other more lowly LA sports teams.  I can't help but think that this will only further prompt Arte to explore moving the Angels to downtown LA so that they can be taken more seriously as an elite sports franchise and not the pesky little brother of the Dodgers. The Story: Long-time Angel coach/front office guy Marcel Lachemann is hoping his third stint as a coach for the US at the WBC will be the charm. The Monkey Says: I really don't like the injury risk of the WBC, so I'm just glad that Lach hasn't been able to coax any of the Halo players into joining him on the team. The Story: A look at the season of prospect Eswarlin Jimenez, a guy you should definitely start following. The Monkey Says: Paul McAnulty is included in there as well, presumably for comedic purposes. The Story: An early candidate for the worst Angels-related article of the year. The Monkey Says: I know it is only January, but I think this one is going to win running away.  I'm not even sure if we should bother accepting other entries. [follow]
Original Story:
http://www.monkeywithahalo.com/2013-a...
THE BACKYARD
BEST OF MAXIM
RELATED ARTICLES
Interview conducted on January 23, 2013 by David Saltzer, AngelsWin.com Senior Writer  Whenever I go to a meeting, I hope to get just one bit of useful information in order to call the meeting a success. Sometimes that doesn't always happen, but I am always hopeful. Yesterday I met with Jerry Dipoto, the General Manager for the Los Angeles Angels of Anaheim. I hoped to ask...
This is a question that doesn't deserve to be dignified with an answer. C'mon now, shouldn't Josh Hamilton really be batting 2nd in the Angels' lineup come 2013? The answer is so obvious, who wouldn't want to see a Trout-Hamilton-Pujols-Trumbo lineup? That is easily the deadliest 1-4 in all of baseball within recent memory. I haven't been a fan of baseball as...
By Gregory Bird - AngelsWin.com Columnist In our first two articles we looked in depth at Torii's performance last year batting second. We also examined the candidates to replace him. But it's still unclear, so we ask again: Who goes in the two-hole in 2013? Of course, we all want a lineup—billed as the most prolific of our era— to live up to expectations and carry the...
The January 24th, 2013 edition of daily news for the Los Angeles Angels of Anaheim including Wells not likely to be traded, wondering if Luis Jimenez could be a breakout candidate and much more... The Story: Thanks to Delmon Young signing in Philadelphia, it now appears "likely" that Vernon Wells will not be traded before Opening Day. The Monkey Says: Delmon Young...
While Los Angeles Angels outfielder Vernon Wells has been involved in several trade rumors this offseason, it is "very" likely that he remains with the Halos, according to Alden Gonzalez of MLB.com. Source said last week it's "very" likely Vernon Wells starts season on #Angels. Chances even greater now w/ #Phillies signing Delmon Young. — Alden Gonzalez...
Few people benefitted more from this offseason (indirectly) than Erick Aybar. Assuming he holds down the second spot in the Angels stacked lineup like MLBDepthCharts.com projects, it's virtually impossible for him to score fewer than the 85 runs we project. Josh Hamilton and Albert Pujols might be baseball's best 3-4 duo, and if they're not it's only because Detroit has the...
Ben and Sam answer listener emails about pitcher injuries and pitching prospects, hitter BABIPs (specifically Mike Trout`s), and whether they boo baseball players.
     Watching Howie Kendrick hit has always been a joy for me.  The way he sprays line drives all over the field is simply fun to watch.  When a hitter is consistently able to square the ball up no matter the location, they are pretty special.  Kendrick falls into this category when he is going well, as he is extremely tough to get out and seems to hit everything.  Angel...
The January 22nd, 2013 edition of daily news for the Los Angeles Angels of Anaheim including Trout accepts RoY award, the 2002 Angels bullpen one of the best ever and much more... The Story: Mike Trout formally accepts his AL Rookie of the Year award. The Monkey Says: Public speaking is not one of his five tools.  I'm a bit disappointed in him for not taking a jab at...
The MWAH prospect countdown marches on with this year's catching prospect du jour.  Maybe this one will actually work out. Zach Wright Position: C  Highest Level: Low-A Bats: Right Throws: Right  Height: 6'1" Weight: 205 lbs. Age: 23  Born: 1/10/90 2012 Season Stats Low-A: 214 PA, .268 AVG, .385 OBP, .419 SLG, 7 2B, 1 3B, 6 HR, 23 RBI, 38 SO, 1 SB...
Courtesy riceweevil.com Ruben Amaro has done it once again. In a market where Josh Hamilton gets $125 million and Cody Ross gets $24 million, he had to be patient and wait for the big catch. Finally on January 22 the Phillies landed their righthanded power bat. Well-done, Ruben. The hole...
     I'm sure there is a better way to do this, and I'll try to figure it out, but I wanted to get my hitter rankings and projections out there for the viewing public.  I know a lot of die hard fantasy baseball players are already in full gear with their rankings and mock drafts so this should help.       The way I did my rankings this year was a little different...
MLB News

Delivered to your inbox

You'll also receive Yardbarker's daily Top 10, featuring the best sports stories from around the web. Customize your newsletter to get articles on your favorite sports and teams. And the best part? It's free!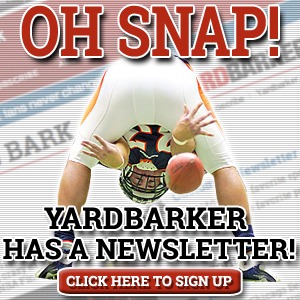 Latest Rumors
Best of Yardbarker

Today's Best Stuff

For Bloggers

Join the Yardbarker Network for more promotion, traffic, and money.

Company Info

Help

What is Yardbarker?

Yardbarker is the largest network of sports blogs and pro athlete blogs on the web. This site is the hub of the Yardbarker Network, where our editors and algorithms curate the best sports content from our network and beyond.