Found March 30, 2012 on Fantasy Baseball 365:
Key Stats: Since 2006, Hanley Ramirez's first year in baseball (minus the 2 PA's in '05), he has averaged a .301 AVG, 22 HR, 103 R, 72 RBI and 36 steals. Toss out the 92 game 2011 season caused by injury, and his numbers turn into a .313 AVG, Â 25 HR, 112 R, 78 RBI and 39 steals. Hanley is an elite talent and depending on your skills preference is arguably the best shortstop in baseball. Of course Hanley isn't playing SS, this year, he's playing 3B, but he gets to keep SS eligibility in your league, so now he is that much more valuable.
Skeptics Say: Hanley is a little hot headed, and sometimes he lets his emotions get in the way of his game. He isn't totally satisfied with being pushed to 3B, so I do have some concern about his stability there. Is he going to let that get in the way of his production? He has two seasons in the last 6 years where he batted less than .300. One was his rookie year, the other was last year. Last year of course he was injured, experiencing leg and back pain. If he was trying to play through that it can easily explain his sub par (understatement) average.
Peer Comparison: We all know Han Ram is playing third base this year. How many third basemen can you name that have stolen 39 bases in one season, let alone averaged that for their career? It's been done eight times since 2000, by two players. Han Ram did it twice, Chone Figgens did it the other 6. Last I checked Han Ram contributed quite a bit more across the board than Figgens did. It's obvious that Hanley is better than Chone. The point is that the extent of Hanley's across the board production is something the position hasn't seen for a really long time, if ever. 
Lineup Outlook: If healthy, Hanley could be prime for a career year. Ozzie likes to run, so we may see an uptick in steals that puts him back over the 30 mark, and from what I have read the Marlins new park favors hitters much more than Sun Life did. Reyes at the top of the order will give him plenty of RBI opportunities and guys like Gaby Sanchez and Logan Morrison are capable of driving him. He also has some dude named Giancarlo batting behind him, which is pretty good protection.
Projection: Assuming Han Ram doesn't let any ego driven things get in his way, I see this being one of his best seasons yet. If you have a late 1st/early second round pick. I can't fault you for taking him there, which is where he has been going in the drafts I've been a part of.
.300 AVG, 28 HR, 90 Runs, 100 RBI, 30 steals, .360 OBP, .840 OPS in 570 AB's 
Original Story:
http://www.fantasybaseball365.com/art...
THE BACKYARD
BEST OF MAXIM
RELATED ARTICLES
THE KEY WORD IS 'TASTEFUL'
Yes, that is Marlins outfielder Logan Morrison pictured above. And yes, he's dressed as a mermaid on the cover of the Miami New Times. And though, that picture is weird enough in itself, the outtakes are even weirder. Trust us. Via Miami New Times
In his final start before the regular season, Josh Johnson was in mid-season form striking out nine Washington Nationals' hitters in a 3-2 Miami Marlins loss on Friday night.   The Marlins now have only three games left before Opening Night with two of those coming at Marlins Park.     For the Spring, the Marlins sit at 10-12. Johnson finishes the Spring with a 2-2 record...
The Miami Marlins have released outfielder Aaron Rowand according to Joe Frisaro of MLB.com. The Marlins signed him back in December 2011. Rowand hit .233/.274/.347 with 4 HR's and 21 RBI's in 331 AB's with the Giants in 2011 before he was released in September. The 34-year old is a career .273/.330/.435 hitter with 136 HR's and 536 RBI's in 4374 AB's throughout...
JUPITER, Fla. (AP) -- Mark Buehrle allowed three earned runs in his final exhibition tuneup, and the Miami Marlins beat the New York Mets 6-5 Saturday. Buehrle gave up seven hits and four runs overall in 5 1-3 innings. He finished his first spring training with the Marlins with a 6.62 ERA. Miguel Batista, who learned Friday he had made the team as a long reliever and spot starter...
25-year old right-handed reliever Jose Ceda is out indefinitely due to an elbow sprain. Ceda, who was making a run to be a middle reliever in the Miami Marlins' bullpen, will likely require Tommy John surgery. The surgery, as most people know, takes around a year to recover from. Ceda is a 6'4", 280 LB rookie, has pitched 5 games (7.1 IP) this Spring, sporting a 1...
Read the methodology behind the ratings here. Remember that the grading scale is 20-80, with 50 representing league average. 2012 Organizational Rankings #30 – Baltimore #29 – Houston #28 – Oakland #27 – Pittsburgh #26 – San Diego #25 – Minnesota #24 – Chicago White Sox #23 – Seattle Miami's 2011 Ranking: 17th 2012 Outlook: 53 (14th) The biggest strength for the...
From the CPL The Morehead City Marlins have officially launched their new website and catchphrase in advance of the highly anticipated 2012 season.  The Marlins have teamed up with PrestoSports, a Maryland based sports web design company, for a fresh new and interactive page design, so fans may now easily navigate in style.  "PrestoSports is very excited to be partners...
JUPITER, Fla. (AP) Anibal Sanchez put to rest any questions about the Miami Marlins' rotation. Sanchez allowed a run in five innings, including Carlos Beltran's second homer, and the Miami Marlins beat the St. Louis Cardinals 3-1 Thursday. Sanchez had been limited to three starts this spring because of a sore shoulder. He gave up two hits and a walk. Matt Holliday walked...
Mark Buehrle allowed three earned runs in his final exhibition tuneup, and the Miami Marlins beat the New York Mets 6-5 Saturday. Buehrle gave up seven hits and four runs overall in 5 1-3 innings. He finished his first spring training with the Marlins with a 6.62 ERA. Miguel Batista, who learned Friday he had made the team as a long reliever and spot starter, allowed a solo homer...
Giancarlo Stanton and Logan Morrison returned to the lineup for the Florida Marlins, who lost to the Washington Nationals 3-2 Friday night. Stanton, who had not played since March 11 because of wrist and knee injuries, went 0 for 2 with a walk. Morrison was out with troublesome knee since March 13. He had an RBI single in three at-bats. Ian Desmond homered to left on the first...
Summer is coming. MLB wants to remind everyone that Opening Day (for 28 of 30 teams) is right around the corner, so it's teaming up with HBO's Game of Thrones in a cross-promotion effort that will give you gooesbumps. Footage from the 2011 season is interspersed with shots from HBO's drama complete with a classical score to set the tone. The video features highlights...
By popular request, and by that I mean one person, here's my 15-team NFBC team: 1.12 Carlos Gonzalez - outsmarted myself asking for the 13th or 12th pick and intending to take Hanley Ramirez who went 11th. In fact, eight picks into the draft Jose Bautista, Ryan Braun and Ramirez were still in my queue. All three went, and I actually had to think about my first pick for...
Marlins News

Delivered to your inbox

You'll also receive Yardbarker's daily Top 10, featuring the best sports stories from around the web. Customize your newsletter to get articles on your favorite sports and teams. And the best part? It's free!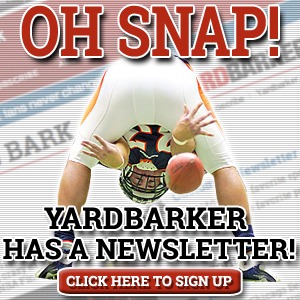 Latest Rumors
The Backyard

Today's Best Stuff

For Bloggers

Join the Yardbarker Network for more promotion, traffic, and money.

Company Info

Help

What is Yardbarker?

Yardbarker is the largest network of sports blogs and pro athlete blogs on the web. This site is the hub of the Yardbarker Network, where our editors and algorithms curate the best sports content from our network and beyond.