So, I woke up this morning and went to Google to look something up (which I do all too regularly), and I saw their logo altered with Jackie Robinson included. Thankfully, they always have an explanation as to why by hovering over it with the cursor. That's how I found out on this date, all the way back in 1919, the ultimate trail blazer was brought into this Earth, as the late Robinson would have turned 94-years-old today. Once seeing that, I knew I immediately had to pay him a tribute. As an avid baseball fan, I obviously know the significance of Robinson's Major League Baseball career, and have the opportunity to salute him every time I walk into the rotunda at Citi Field to watch the Mets play. However, even though he's most well-known for breaking the color barrier in baseball, what he did on the field sometimes gets lost in the shuffle (rightfully so, as what he did off the field was much more important). So, I wanted to take a moment to honor the former Brooklyn Dodger for what he was able to accomplish between the lines in 10 MLB seasons while facing plenty of scrutiny. Defensively speaking, Robinson was a good enough athlete to play multiple positions throughout his career, but the majority of his time was spent manning second base at Ebbets Field. Due to the color barrier not being broken before he courageously did so in 1947, Robinson didn't break into the MLB until he was 28 years old. He made his wait well worth it, winning the 1947 NL Rookie of the Year honors by posting a .297/.383/.427 line with 12 homers, 48 RBI, 125 runs scored, ans 29 stolen bases in 151 games played. The rest of his career went in line with his superb rookie season; he was named to six All-Star teams, won the 1949 NL MVP Award and batting championship, and posted a career triple slash of .311/.409/.474. Although he did have some power (averaged 16 HR and 86 RBI per season), his claim to fame was getting on base and using his legs. In 1,382 games played, Robinson scored 947 runs, drew 740 walks, and stole 197 bases while only getting caught 30 times. He played in six World Series, which were all against the Yankees, and despite usually getting his heart broken, he was able to win a championship in 1955 when they beat the Bombers in six games. In 38 postseason games, he hit a less than impressive .234, but was still able to have a significant impact, posting a .335 OBP. Since his MLB career wasn't as long as other legends, he doesn't show up much in the all-time ranks, but it's clear he was a force to be reckoned with. He led the league in WAR for position players three times, while enjoying six seasons of 30+ doubles, and 12+ stolen bases nine times. With the glove, he led the league in fielding percentage twice, and nobody turned more double plays at second base than he did from 1949-52. Even with all he accomplished both on the field and off it, he just barely squeaked into the Hall of Fame in his first year of eligibility. He appeared on 77.5% of the ballots in 1962, allowing him entrance into Cooperstown. Like I said last week about Willie Mays' election to the Hall, how is it possible these men weren't on every single ballot?! Not only that, but Robinson was only a few votes away from NOT getting in on the first try…which would have been a real shame. Either way, he is a legend that will forever live on in baseball history. There will be a movie hitting the theaters this Spring documenting Jackie's life, called 42. I'll definitely be seeing it, especially after watching this trailer. Thanks for reading! To Follow Matt's posts at On The Way Home and Rising Apple, you can follow him on Twitter: @mmusico8. If you'd like to join On The Way Home as a staff writer, you can contact Matt at matt.musico8@gmail.com. The post Happy Birthday to Jackie Robinson appeared first on On The Way Home.
Original Story:
http://feedproxy.google.com/~r/wordpr...
MORE FROM YARDBARKER
MLB News

Delivered to your inbox

You'll also receive Yardbarker's daily Top 10, featuring the best sports stories from around the web. Customize your newsletter to get articles on your favorite sports and teams. And the best part? It's free!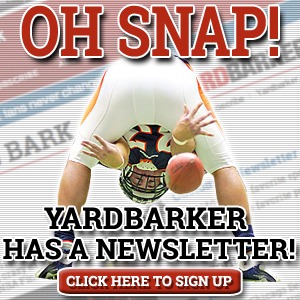 Latest Rumors
Best of Yardbarker

Today's Best Stuff

For Bloggers

Join the Yardbarker Network for more promotion, traffic, and money.

Company Info

Help

What is Yardbarker?

Yardbarker is the largest network of sports blogs and pro athlete blogs on the web. This site is the hub of the Yardbarker Network, where our editors and algorithms curate the best sports content from our network and beyond.