Found February 15, 2013 on ChadMoriyama.com:
Dodgers starter Josh Beckett is one of many high-risk, high-reward types of players coming into 2013, and at the time of his acquisition, he was seen as somewhat of a throw-in. This was partially because of his contract, but the fact is that both the statistics and the scouting reports matched up to say that he looked more like a #5 than a #1. The velocity he once had (as high as 94.7 mph in 2006) is now generally gone (91.4 mph in 2012), so my primary concern was whether or not he was going to be able to adjust to not having his go-to gas anymore. Given his reputation as a hard-head in Boston, the fact that he gained a reputation for pumping fastball after fastball into the strike zone (as high as 69%/top 5 in MLB), and that his fastball performed so miserably in 2012, I had my doubts about whether he was even willing to adjust, much less able to make the transition successful. However, recently during Spring Training, he acknowledged his loss of velocity and that he's been working on adjusting to his new reality. Instead, as Beckett has learned in recent years, he must do things differently. His velocity has declined, so he's throwing more cutters and curveballs, fretting more about location than at any point before. "I think velocity is something that leaves you at some point in your career," Beckett said. "It's a game of adjustments anyway. We all have to make 'em. I think I have to rely more on location instead of trying to throw it through a wall. That's something where you have to set your ego aside. You still have the same mentality. You go about it the same way. But there are certain times where you think, 'I'm going to throw this ball by this guy.' Then you think, 'Wait a minute, I can't do that. All right, I'm going to throw the ball off the corner and have it work just off the corner.'" I found this interesting because: 1) he specifically mentioned putting ego aside to do the right thing for success and 2) he seemed aware that some type of adjustments were necessary, which made me take a look at his pitch distribution. *Click To Enlarge* Basically, how he attacks hitters has been a work in progress since at least 2010, which is when his fastball usage came down to about league average. Granted, that's not all positive, as he's had up and down results in spite of his efforts, posting FIPs of 3.63, 4.54, 3.57, and 4.15 over the last four years. The promising thing though is that I don't think getting him to mix pitches will be as significant of a task as I originally thought because it's clear he has already bought in. Thus, if he can stave off further fastball regression, and given the success of his curve in 2012, I feel a lot more comfortable with him potentially achieving his #3 starter type upside, or at the minimum remaining a solid rotation piece, either of which is what the team really needs from him due to the ticking time-bomb in Chad Billingsley's right elbow.
Original Story:
http://feedproxy.google.com/~r/ChadMo...
THE BACKYARD
BEST OF MAXIM
RELATED ARTICLES
Power is one of the most coveted tools in baseball. Not everyone can hit 40 home runs a season. Hell, not everyone can even get to 30 these days. Some players are solely known for it while others develop through their development. Either way, it's usually the last tool to develop fully. I mean, we're still waiting for James Loney to hit 20 home runs in a season. The...
In Mike Piazza's new autobiography Long Shot, the former Dodgers catcher has done the unthinkable: he's taken legendary Dodgers broadcaster Vin Scully to task. Piazza blames Scully for turning fans against him heading into the 1998 season, his final contracted year with the Dodgers before hitting free agency. Piazza wanted a seven year, $105 million contract from Los...
Mike Piazza ventured into a territory generally considered off limits when he criticized iconic Dodgers announcer Vin Scully in his new book, "Long Shot." Piazza's book was released this week, and news outlets have been sharing various excerpts from the autobiography. Many of the reviews have been positive, such as when it was revealed Piazza began taking karate lessons to...
HOW DOES HE REALLY FEEL?
Carl Crawford, now a member of the Los Angeles Dodgers, bitterly recalls his time with the Boston Red Sox, referring to the environment as "toxic."
I suppose this is like a Valentine's Day gift to myself even though this purchase occurred at some point in the second half of 2012. That's right, it was so long ago I don't even know the month it became mine. Nevertheless, it was a card I instantly had to have and knew I would end up spending way more money on than I should because of its sheer awesomeness.Where to start...
On this episode of "Dugout Blues," Jared Massey (L.A. Dugout) and I somehow talk for more than an hour despite almost no news in Dodger land. We examine both MLB.com's Top 20 and Keith Law's Top 10 (subscription required) Dodgers' prospects. MLB.com's has some curious rankings, thus we spend more time talking about it.. We also touch on the Mark Lowe...
Every year I like to look at the pitch values given by PitchF/X. There are lots of ways to look at how valuable pitchers are (or aren't). There is WAR, FIP, and a few others that are in vogue for finding such value. But I like pitch value because it tells you what pitchers use and how successful they are at using it. I like using PitchF/X instead of Fangraphs pitch value data...
Carl Crawford turned out to be one of the worst Boston Red Sox signings in team history, and there are a number of reasons why. For starters, it seemed like he was never healthy after signing a whopping seven-year, $142 million contract with the team. Whether or not he could have played through more pain than he did is a matter of personal opinion, but it seems fairly obvious that...
Larry Lucchino is in Fort Myers and met the press today. Videos courtesy of Mike Petraglia.
We all knew that Carl Crawford didn't handle Boston well. Sure, some of his struggles were injury related, but you could see it in his performance and body language that it just wasn't working. Today Carl talked a little more about it to Dylan Hernandez of the LA Times: One of only a handful of position players to already report to camp, Crawford is slowly rebuilding his...
Nobody should be shocked that Carl Crawford basically told the LA Times that his time with the Red Sox was miserable. In an interview, he opened up about his experience in Boston, and he did not hold back. Labeling it as "the toughest two years . . . by far" he continued to be truthful in the interview. He did not necessarily criticize Red Sox Nation, but essentially...
Months of speculation here at Dodgers Rumors about putting Chase Headley into Dodger Blue. Two weeks ago the Padres agreed to a one-year $8.575MM deal with Headley avoiding arbitration. Most fans and MLB execs expected the Padres to work hard to lock up Headley in a multi-year extension this winter. Though that hasn't worked out very well at all. San Diego GM Josh Byrnes recently...
Dodgers News

Delivered to your inbox

You'll also receive Yardbarker's daily Top 10, featuring the best sports stories from around the web. Customize your newsletter to get articles on your favorite sports and teams. And the best part? It's free!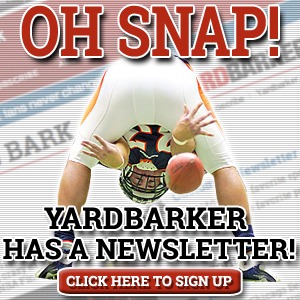 Latest Rumors
Best of Yardbarker

Today's Best Stuff

For Bloggers

Join the Yardbarker Network for more promotion, traffic, and money.

Company Info

Help

What is Yardbarker?

Yardbarker is the largest network of sports blogs and pro athlete blogs on the web. This site is the hub of the Yardbarker Network, where our editors and algorithms curate the best sports content from our network and beyond.