The Yasiel Puig experience has been quite a ride for the Dodgers and their fans, and Mike Petriello already said part of what I wanted to say about the ups and downs of his debut thus far (primarily ups). However, I did want to focus on the part of the equation that focuses on his recent trend of striking out on soft stuff away. To be clear, any criticism of him at this point is utterly ridiculous given the circumstances, but I wanted to look at one recent common complaint I'm hearing about Puig: that he's too far away from the plate. —– In all honesty, when I started this exercise, my initial hypothesis was that this was a complete fabrication. That the fans were seeing negative results and were matching what they saw with the outcome with no actual change. Results-based analysis, essentially. After all, this is the MLB and people adjust, especially since this is the Padres second look at him. I figured it was nothing. However, taking a closer look at their critique, I found that it did indeed have merit. *Click To Enlarge* *Click To Enlarge* *Click To Enlarge* These are Yasiel Puig's setups at the plate from his debut, the last series of the homestand against the D-Backs, and from the recent Padres series, respectively. Don't focus so much on the batter's box and all that noise, but rather the distance his feet are from home plate. It's not a significant gap, but by both the eye test and after being measured by pixels*, he is indeed standing further away. Specifically, he used to average about 52-53 away from home plate, but now he's in the 73-75 range, and during one PA, he was 87 away. *Normalized for image size/camera angles/whatever else. Remember though that he has never crowded the plate, and I think it's for good reason. His weaknesses at the moment are hard stuff in on his hands and quality breaking balls away. Breaking balls away are discipline related, but getting busted in is more about how he swings than anything else, as he can be long to the ball. Like Matt Kemp and Mike Piazza and a host of other great hitters, he loves to let the ball travel and get his arms extended and go to right field, and he has the power to hit it out to any part of the park. Thus, he has always sacrificed plate coverage to combat getting busted in. The thing on trial here is the extent to which he's now doing that. Perhaps more importantly, there's a difference in his approach at footstrike. *Click To Enlarge* *Click To Enlarge* Noticeably, he's not diving over the plate as much as he used to. Combine setting up further away from the plate with not diving into the plate as much, and yeah, there's naturally going to be less plate coverage for him. I'm a big fan of "if it ain't broke don't fix it … yet", so if this was a purposeful change, it strikes me as a silly one. Now is it the reason he's not killing the ball? Of course not, he wasn't going to BABIP .600 all year, he was always going to swing and miss some at breaking balls away, and there's always an adjustment period. MLB players and coaches aren't at that level for no reason, and while Puig is special, they've seen this story before (like with Matt Kemp). As such, if you told me to guess why his OPS has dropped 200 points in the last week, I would still say the main culprit is simple regression to the mean, not anything to freak out about. That said, there has certainly been a noticeable change in his approach recently, and I think it has relevancy and bears watching. Whether this change indicates intentional adjustments, that he's currently uncomfortable at the dish, or maybe that he moved back after getting hit in the face, we don't quite know yet.
Original Story:
http://feedproxy.google.com/~r/ChadMo...
MORE FROM YARDBARKER
Dodgers News

Delivered to your inbox

You'll also receive Yardbarker's daily Top 10, featuring the best sports stories from around the web. Customize your newsletter to get articles on your favorite sports and teams. And the best part? It's free!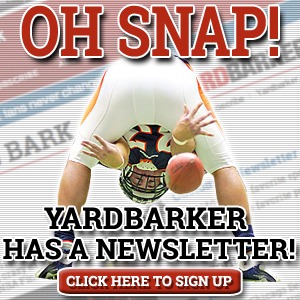 Latest Rumors
Best of Yardbarker

Today's Best Stuff

For Bloggers

Join the Yardbarker Network for more promotion, traffic, and money.

Company Info

Help

What is Yardbarker?

Yardbarker is the largest network of sports blogs and pro athlete blogs on the web. This site is the hub of the Yardbarker Network, where our editors and algorithms curate the best sports content from our network and beyond.