The Phillies announced, this evening, that they've claimed Ezequiel Carrera off waivers from the Cleveland Indians.  In the always dismissive, overly elusive world of the Phillies brass, this early season pick up can be interpreted as an admission that there  just might be some issues in the outfield. But, lets not get overly hopeful about the acquisition, it's not as if they offered up some semi-serious cash and fixed what wasn't broken a year ago.  Carrera is a far cry from Hunter Pence, who's hit just one less dinger in the last twenty-four hours than Carrera hit in his forty-eight starts in Cleveland, last season.  He's also no Shane Victorino, who's already made front page news in Boston this week, being heralded as "The Yankee Killer." Nope, instead we've thrown chump-change at what Chuck Manuel calls, "an experienced backup outfielder who is improving as a hitter."  The words "what the ******* spring to mind. Allow me to digress (sorta) for a moment.  Are the staff at TPB the only people in the Phillies Nation who are well aware that Domonic Brown is not a major leaguer?  We're starting to think so.  It seems as though, once again, D-Brown has everyone fooled; everyone but major league pitchers.  He had  a solid showing this spring, there's no disputing that, but spring training stats are often juiced numbers.  In fact, the numbers he put up in the Grapefruit League are comparable to the stats he's consistently put up in Lehigh over the past few seasons, and there's good reason for that.  Spring training is a time for every minor league pitcher to show the big clubs what they've got, before boarding a one-way Greyhound to *******, Wisconsin.  In two weeks, when big league pitchers get back to keeping close tabs on their opponents, they'll all be pitching Brown high and tight. Why? Because he just doesn't have the hands to get around on smart, quality major league pitching. In an effort to keep the animal rights activists off my back, I'll avoid beating a dead horse by discussing Dom Brown's defensive contributions. Instead, I'll let his opening night, abortion of a performance in left field speak for itself.  Does anyone recall the few occasions, two seasons ago, when Chase "Cool Breeze" Utley ripped into Brown for his lackluster performances and for nearly killing him on a couple routine, shallow shots to right?  Is Brown playing left field this season because Mayberry and Nix can't? Maybe, but more than likely not. I'm imagining a conversation last week that went something like this… Charlie:  Ut, listen.  The brass want Domonic in the outfield on opening night? They've invested too much to let him go. Utley:  No ******* way.  You keep that mess away from me.  He's a liability and he just might kill someone, one of these days. Charlie:  I knew you'd feel that way so I adopted a dog in Jen's honor and I've convinced the Rubes to let me hide him in left. Utley:  Well, he might kill Jimmy one day too, but at least Jimmy's got a music career to fall back on…sorta.   Beyond Brown Town, things don't get much better.  Ben Revere could help the Phils maintain a, just above, 500 season, but beyond that things get questionable.  Between JMJ, Laynce Nix, and even a possible Darin Ruf resurrection, there's not much to hang the proverbial hat on.  Short of a mid-season, Ruben surprise, things in green grass are looking rather bleak, early on. Relax though Phillies fans, it's not all doom and gloom at the Blunt. We're trying this whole new optimistic approach, and there is a silver lining… An angel in the outfield…  A hero waiting in the wings…  An overweight, out of shape, lazy-ass, Delmon Young is scheduled to make appearances in extended spring training games, this week. SW – Kevin Anderson  
Original Story:
http://feedproxy.google.com/~r/thephi...
MORE FROM YARDBARKER
MLB News

Delivered to your inbox

You'll also receive Yardbarker's daily Top 10, featuring the best sports stories from around the web. Customize your newsletter to get articles on your favorite sports and teams. And the best part? It's free!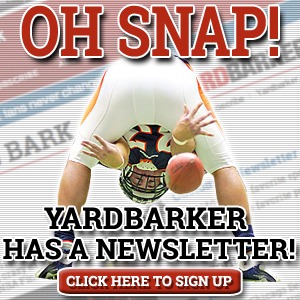 Latest Rumors
Best of Yardbarker

Today's Best Stuff

For Bloggers

Join the Yardbarker Network for more promotion, traffic, and money.

Company Info

Help

What is Yardbarker?

Yardbarker is the largest network of sports blogs and pro athlete blogs on the web. This site is the hub of the Yardbarker Network, where our editors and algorithms curate the best sports content from our network and beyond.