Found June 02, 2013 on Baseball Hot Corner:
Albert Pujols is a three-time MVP, a future first ballot Hall of Famer and one of the greatest right-handed hitters of all time. He led the St. Louis Cardinals to two World Series, and has since moved on to the American League to anchor the Angels' offense. However, after a subpar season in 2012 (by his standards) and an even worse 2013, Pujols simply just does not look the same. Is this simply a slump caused by nagging injuries, or have we seen the end of dominant Pujols? It is hard to criticize a man who went .285/.343/.516 with 30 home runs and 105 RBI a season ago, but it took a hot second half of the season, which endeared him more to daily fantasy sports fans than to those who held on to him in season long leagues, to make those numbers look respectable. To help illustrate just how good he has been from the beginning, last season was the only time the first baseman finished outside the top 10 in MVP voting. Now in his age 33 season (or maybe later, depending on if you believe ...
Original Story:
http://baseballhotcorner.com/have-we-...
THE BACKYARD
BEST OF MAXIM
RELATED ARTICLES
If you look up and down the MLB.com Top 20 prospect list for the Los Angeles Angels organizations, or Keith Law's top 10 organizational prospects for the Angels, you won't find Efren Navarro's name on either list.  But after you look at his stat line, you may ask yourself why is he not on those list. Navarro was a 50th round (1,450th overall) selection by the Angels in the...
The June 3rd, 2013 edition of daily news for the Los Angeles Angels including Scioscia defends moving Trout back to LF, Hamilton gets testy with reporters and much more... The Story: Mike Scioscia defends his decision to move Trout back to left field once Peter Bourjos returns. The Monkey Says: I agree with the move but disagree with some of his comments. Scioscia was clearly...
By Scott Stedman, AngelsWin.com Staff Writer -  1. Sherman Johnson, 2B/3B, Burlington Bees Past 10 Games: 12/36 (.336), 3 Doubles, 1 Triple, 0 HRs, 10 Runs, 4 RBIs, 0 SB Overall: .246/.359/.339 with 0 HRs and 6 SB What's Up: If you thought Chris Iannetta was the only one that could walk an ungodly amount of times, think again.  Sherman Johnson, AngelsWin's #12 prospect...
Los Angeles Angels outfielder Peter Bourjos (hamstring) is due to start a rehab assignment at Class A Inland Empire on Monday and could be back with the big league club within a week. MLB.com's Austin Laymance reports that Bourjos has been stepping up activity, including running the bases and catching fly balls. Angels manager Mike Scioscia is expecting Bourjos' legs to...
By Joe Haakenson, AngelsWin.com Contributor -  JUNE 2, 2002 GAME 53 - ANGELS MINNEAPOLIS -- The Angels and Minnesota Twins finished their weekend series with nothing lost and nothing gained, other than maybe a little respect for each other. The Angels held on for a 5-4 win Sunday afternoon before 18,657 at the Metrodome to gain a split in the four-game series against the...
By Glen McKee, AngelsWin.com Staff Writer -  So I'm sitting here "watching" the Angels lose to the Astros one more time.  I'm at work so the watching is via ESPN's gamecast, about the only thing ESPN does well anymore (unless they want to advertise onangelswin.com, in which case everything about ESPN is aces!).  Since I don't have a broadcast to listen to I have...
By Joe Haakenson, AngelsWin.com Contributor -  JUNE 3, 2002 GAME 54 - RANGERS AT ANGELS ANAHEIM – Garret Anderson had two hits, including his 10th home run of the season, and Ramon Ortiz gave up only four hits in 6 2/3 innings as the Angels beat the Texas Rangers, 5-2, before 15,619 at Edison Field. Anderson's homer leading off the bottom of the second inning got the...
By Joe Haakenson, AngelsWin.com Contributor -  JUNE 1, 2002 GAME 52 - ANGELS AT TWINS MINNEAPOLIS -- Technically, the difference in the Angels' 4-2 loss to the Minnesota Twins Saturday night at the Metrodome was Cristian Guzman's two-run homer off Angels starter Kevin Appier in seventh inning. In reality, the difference came on the pitch immediately before that...
Good teams are not supposed to lose regularly to bad teams. The Atheltics own the Astros with a 9-0 record. Ditto for the Rangers with a 5-1 record. Not our Angels, no sir. The Angels have a losing record to the lowly 'Stros having dropped four of seven to the celler dwellers. Why does this happen? How can a team so bad routinely look so good agains our boys. Perhaps it's...
Bud Norris never started a game against Los Angeles prior to this season. After three outings this year, the Angels have seen more than enough of the Houston Astros' right-hander. Norris dominated the Angels' high-priced lineup again with six innings of four-hit ball and Chris Carter hit a two-run homer in the seventh against Jerome Williams, leading the Astros to a 2-0...
What the hell was that? How is it that Bud Norris can look like Cy Young against our beloved underachievers? Do you realize that he has beaten the Angels three times giving up one run in the process? How is that possible when facing such a vaunted lineup? Oh yeah, forgot, the Angel bats have gone silent again. So after winning 8 in  row, the Angels have given most of that back in...
Remember how this past winter every Angel fan was salivating at the thought of being able to eat up the Houston Astros? We should be used to the fact that as Angel fans nothing will come to us as expected. Following that trend, the Angels have been absolutely pathetic against the Houston Astros this season and this afternoon's game was no different. Near fantastic starting pitching...
MLB News

Delivered to your inbox

You'll also receive Yardbarker's daily Top 10, featuring the best sports stories from around the web. Customize your newsletter to get articles on your favorite sports and teams. And the best part? It's free!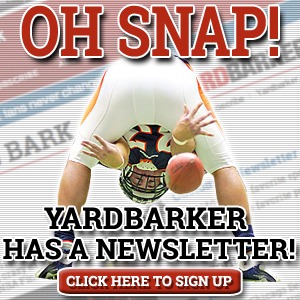 Latest Rumors
Best of Yardbarker

Today's Best Stuff

For Bloggers

Join the Yardbarker Network for more promotion, traffic, and money.

Company Info

Help

What is Yardbarker?

Yardbarker is the largest network of sports blogs and pro athlete blogs on the web. This site is the hub of the Yardbarker Network, where our editors and algorithms curate the best sports content from our network and beyond.