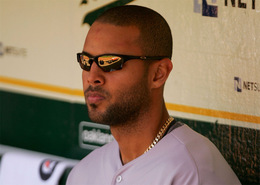 Say what you want about Hawk Harrelson's homerism with the White Sox, but in some cases, his bluntness is completely justified. That was the case on Friday night in Chicago, when first base umpire Angel Hernandez blew yet another call. This one wasn't nearly as dreadful as his ignorance of the replay rule in Cleveland a couple of weeks ago, but it was pretty awful. In the bottom of the tenth, Alex Rios of the White Sox hit a slow roller to short with the bases loaded. Adeiny Hechavarria flipped to Derek Deitrich for the second out of the inning, and Dietrich threw over to first baseman Nick Green for the inning-ending third out. However, it was pretty clear to anyone watching live (not even with the benefit of replay) that Rios was safe. Harrelson's reaction was perfect, acting as if someone ran over his dog. "OH NO! NO! NO! NO! [...] He is SAFE, and ANOTHER blown call by Hernandez!" Even Steve Stone sounded angry in the booth next to Hawk. This is one of those rare cases where
Read the rest of this story...
MORE FROM YARDBARKER
MLB News

Delivered to your inbox

You'll also receive Yardbarker's daily Top 10, featuring the best sports stories from around the web. Customize your newsletter to get articles on your favorite sports and teams. And the best part? It's free!