Found August 31, 2012 on Pirates Prospects:
HECTOR LUNA

THIRD BASEMAN

Born:
February 1, 1980
Height:
6'1″
Weight:
190
Bats:
Right
Throws:
Right
Signed:
Int'l Free Agent, 1999 (Indians)
How Acquired:
Minor League Free Agent
Country:
Dominican Republic
Agent:
N/A
WTM'S PIRATE PLAYER PROFILES
Luna worked his way steadily up through the Indians' system as a shortstop prospect.  Cleveland evidently wasn't all that high on him and he got taken in the Rule 5 draft in two consecutive years.  The second time he stuck with St. Louis and played well for the Cards for one season and parts of two others as a utility player.  After that he bounced around, spending most of his time in AAA and not hitting as well again in the majors as he did with St. Louis.  He started his career as a player who hit for average with sometimes-decent plate discipline but not much power, and who showed good speed. He eventually slowed down and became a corner utility player, but did add solid power starting in 2008-09.
2000
R+:  204/306/244, 201 AB, 5 2B, 1 HR, 27 BB, 35 K, 19-23 SB
A-:  316/350/421, 19 AB, 2 2B, 1 BB, 3 K
Luna debuted in advanced rookie ball and didn't hit much, although he did show some speed.  At this point he was strictly a shortstop.
2001
A:  266/339/361, 241 AB, 8 2B, 3 HR, 3 HR, 23 BB, 48 K, 15-19 SB
Spending half the season in low A, Luna improved his hitting some.
2002
A+:  276/334/404, 468 AB, 15 2B, 6 3B, 11 HR, 39 BB, 79 K, 32-43 SB
Luna hit well for a shortstop in high A, with moderate power.  He also stole a lot of bases.  The Indians did not put him on their 40-man roster and the Devil Rays selected him in the Rule 5 draft.  He didn't make their roster out of spring training, though, and they returned him to the Indians.

2003
AA:  297/368/359, 462 AB, 19 2B, 2 3B, 2 HR, 48 BB, 64 K, 17-22 SB

Luna hit for average and got on base well in high AA, but the power he'd shown the previous year disappeared.  The Indians again didn't protect him from the Rule 5 draft and the Cardinals selected him.
2004
MLB: 249/304/364, 173 AB, 7 2B, 2 3B, 3 HR, 13 BB, 37 K, 6-9 SB
The Cards kept Luna in the majors all year as a utility player.  He saw time at second, third, short and in the outfield, and hit respectably despite not having played higher than AA in the minors.
2005
AAA:  224/294/332, 223 AB, 13 2B, 1 3B, 3 HR, 20 BB, 38 K, 11-15 SB
MLB:  285/344/409, 137 AB, 10 2B, 2 3B, 1 HR, 9 BB, 25 K, 10-12 SB
Luna opened the season in St. Louis, but the Cards sent him to AAA at the end of April and he played mostly second there until late June, when he returned to his utility role with the Cards.  He didn't hit much at all in AAA, but hit well after the Cards brought him back to the majors.
2006
MLB (StL):  291/355/417, 223 AB, 14 2B, 1 3B, 4 HR, 21 BB, 34 K, 5-8 SB
MLB (Cleve): 276/306/394, 127 AB, 7 2B, 1 3B, 2 HR, 6 BB, 26 K, 0-1 SB
Luna spent the first four months of the season with St. Louis and got semi-regular playing time.  About half his appearances came at second, but he also played third, short, first and left.  He hit well, with decent power and very good plate discipline.  He didn't hit quite as well with the Indians after a late July trade, mainly because his plate discipline went south.  He played mostly second with Cleveland but also saw time at short.
2007
AAA (Cleve):  251/297/362, 323 AB, 18 2B, 6 HR, 21 BB, 48 K, 4-8 SB
AAA (Tor):  343/443/567, 67 AB, 7 2B, 1 3B, 2 HR, 9 BB, 14 K
MLB (Tor):  167/217/238, 42 AB, 1 HR, 2 BB, 10 K, 2-2 SB 
Cleveland sent Luna to AAA to start the season.  He played primarily short and didn't hit much.  The Indians designated him for assignment in late July and Toronto claimed him.  He alternated between AAA and the majors in August, then spent the last three weeks of the season with the Jays.
2008
AAA:  280/333/417, 429 AB, 24 2B, 1 3B, 11 HR, 30 BB, 73 K, 6-8 SB
MLB:  1000/1000/1000, 1 AB, 0-1 SB

Toronto sent Luna to AAA for nearly the entire season.  They called him up for two games in May, then outrighted him off the 40-man roster.  In AAA, he played mainly third, with some time at short and first.  He became a free agent after the season and signed with the Dodgers.
2009
R:  250/455/375, 8 AB, 1 2B, 2 BB
AAA:  351/414/610, 313 AB, 18 2B, 6 3B, 17 HR, 28 BB, 52 K, 4-6 SB 
Luna spent his time with the Dodgers in the minors, except for some time he missed due to injury.  He made the transition to the infield corners, dividing nearly all his time between first and third.  He put up big hitting numbers in the favorable environment of Albuquerque.  After the season he signed with the Marlins.
2010
AAA:  294/367/477, 354 AB, 17 2B, 16 HR, 42 BB, 64 K, 7-8 SB
MLB:  138/133/379, 29 AB, 1 2B, 2 HR, 13 K, 0-1 SB
Luna played mainly third with the Marlins in AAA.  He put up more realistic numbers in New Orleans, but showed the increase in power was real.  The Marlins called him up at the end of July and he served mainly as a pinch hitter the rest of the season, without hitting much at all.  Florida removed him from the roster after the season and he became a free agent.
2011
AAA:  283/350/449, 441 AB, 22 2B, 3 3B, 14 HR, 42 BB, 67 K, 6-7 SB

After signing with Boston, Luna spent the year in AAA.  He played mainly third and had a solid year offensively.
2012
AAA (Phi):  282/329/450, 220 AB, 12 2B, 2 3B, 7 HR, 15 BB, 40 K, 2-2 SB
MLB (Phi):  226/273/355, 62 AB, 2 2B, 2 HR, 4 BB, 14 K
Luna signed with the Phillies and opened the season in AAA, where he played mainly third, but he got called up in mid-May when the Phillies were swamped with injuries.  Surprisingly, he had an option left and the Phillies optioned him back to AAA at the beginning of July.  They brought him back up briefly in mid-August, then sent him back to AAA and released him at the end of August.
The Pirates most likely are looking for Luna to help Indianapolis in the International League playoffs.  His stay in the system figures to be very brief. STATS Baseball Reference–Majors
Baseball Reference–Minors
Fangraphs
MLB.com
MiLB.com CONTRACT INFORMATION 2004: $300,000
2005: $320,000
2006: $340,000
2012: Minor league contract PLAYER INFORMATION Signing Bonus: N/A
MiLB Debut: 2000
MLB Debut: 4/8/2004
MiLB FA Eligible: 2012
MLB FA Eligible: 2015
Rule 5 Eligible: Eligible
Added to 40-Man: December 16, 2002
Options Remaining: 0 (USED: 2005, 2008, 2012)
MLB Service Time: 3.076 TRANSACTIONS February 2, 1999: Signed by the Cleveland Indians as an international free agent.
December 16, 2002: Selected by the Tampa Bay Devil Rays from the Cleveland Indians in the Rule 5 draft.
April 2, 2003: Returned by the Tampa Bay Devil Rays to the Cleveland Indians.
December 15, 2003: Selected by the St. Louis Cardinals from the Cleveland Indians in the Rule 5 draft.
July 30, 2006: Traded by the St. Louis Cardinals to the Cleveland Indians for Ronnie Belliard.
July 27, 2007: Designated for assignment by the Cleveland Indians.
August 3, 2007: Selected off waivers by the Toronto Blue Jays from the Cleveland Indians.
June 5, 2008: Outrighted to AAA by the Toronto Blue Jays.
October 9, 2008: Became a free agent.
December 6, 2008: Signed as a minor league free agent with the Los Angeles Dodgers.
November 9, 2009: Became a free agent.
November 30, 2009: Signed as a minor league free agent with the Florida Marlins.
July 30, 2010: Called up by the Florida Marlins.
October 6, 2010: Outrighted to AAA by the Florida Marlins.
October 15, 2010: Became a free agent.
January 3, 2011: Signed as a minor league free agent with the Boston Red Sox.
November 2, 2011: Became a free agent.
December 21, 2011: Signed as a minor league free agent with the Philadelphia Philles.
May 11, 2012: Called up by the Philadelphia Phillies.
August 30, 2012: Released by the Philadelphia Phillies.
August 31, 2012: Signed as a minor league free agent by the Pittsburgh Pirates.

Original Story:
http://feedproxy.google.com/~r/Pirate...
THE BACKYARD
BEST OF MAXIM
RELATED ARTICLES
Cole Hamels of the Philadelphia Phillies is the latest organizational example where developed talent is retained.  How much room do the Halos and Dodgers have left before crossing the competitive-balance-tax threshold? TAL'S HANDY CAPS WELCOME, NEWCOMERS: I will publish after every game that is not washed out.  I will have many summer-long highlights of puzzle pieces, especially...
There are no curfews and no equipment requirements that Charlie Manuel. In fact, the Philadelphia Phillies manager has only two rules that he insists that his players follow: Be on time for gameday and hustle when you get there. But when you break either one of those rules, the Phillies manager tends to get awfully upset. And right now, there is only one notable repeat offender...
In this quick blurb from mlb.com, Carlos Ruiz spoke about possibly just missing the remaining month of the season to reccover: "I don't want to come back and the injury happens again. I don't try to push it too much -- just taking it nice and easy with my running. If I feel something, stop. But so far, I feel real good. It'll be a little hard. It's not completely...
The Philadelphia Phillies have recalled RHP Justin De Fratus from the Lehigh Valley IronPigs.  He will be available for today's game against the Atlanta Braves. In five games with the club in 2011, De Fratus was (1-0) with a 2.25 ERA in four innings pitched. Below is a game log of his appearances for the Phillies in 2011: Gtm Date Tm Opp Rslt Inngs Dec ...
Phillies SS Jimmy Rollins. Photo Courtesy of Renee Cendrowski. The Phillies avoided a sweep yesterday by beating the New York Mets 3-2, taking over sole possession of third place. Kyle Kendrick won for the fourth straight time with another terrific performance. After having a meeting with Manuel a couple of weeks ago, Kendrick has been excellent. The star of the game was Kevin Frandsen...
Jimmy Rollins' latest jog toward first earned him a spot where he won't have to hustle. On the bench. Rollins was benched after a pair of baserunning blunders Thursday in Philadelphia's 3-2 win over the New York Mets. It was the second time in two weeks the 2007 NL MVP was scolded for not hustling on the basepaths. Rollins was pulled for the start of the seventh inning...
New England Revolution – Philadelphia Union  7:30 PM EST  (Comcast Sportsnet) The Philadelphia Union playoff run is unofficially over according the Manager John Hackwork, but the newly names permanent Union manager has his eyes set on 3 points in New England. After the game team has a two week a break. The last time Philadelphia picked up 3 points was on July 29 when they hosted...
Photo Courtesy of Renne Cendrowski I understand everyone's desire to try their best to extend the career of Chase Utley. I've heard the suggestions, like everyone else has, for the past couple of years. "Put him in the outfield." "Try him at first." Aside from the obvious 250 pound issue at first in Ryan Howard, some of the suggestions made some sense. Yesterday, Utley...
Final: Phillies 8, Braves 5. WP: Josh Lindblom (3-3, 3.58 ERA) LP: Cristhian Martinez (5-4, 4.39 ERA) SV: Jonathan Papelbon (31) Ryan Howard didn't receive the nickname "Big Piece" for no good reason.  He jump-started this crucial series down in Atlanta in the Phillies favor, with a home run in the top of the second to give the Phillies the early lead. In the bottom...
ATLANTA (AP) -- Erik Kratz homered in the ninth inning off Braves closer Craig Kimbrel and John Mayberry Jr. hit a three-run shot off Cristhian Martinez in the 10th to help the Philadelphia Phillies rally for an 8-5 victory over Atlanta on Friday night. Josh Lindblom (3-3) pitched a scoreless ninth, allowing one walk and striking out one. Jonathan Papelbon earned his 31st save...
With an 8-5 win tonight over the Atlanta Braves, the Phillies are now only 8 games out of the Wild Card. If they sweep the Braves, they will only be 6 games out — with 3 more games against them come Mid-September. The Phillies need to cover 3 games + sweep these 2 series, to make the playoffs? Not impossible! Erik Kratz survived a crushing hit at home plate in the fourth inning...
MLB News

Delivered to your inbox

You'll also receive Yardbarker's daily Top 10, featuring the best sports stories from around the web. Customize your newsletter to get articles on your favorite sports and teams. And the best part? It's free!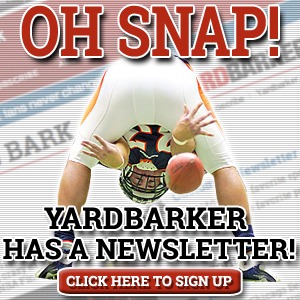 Latest Rumors
The Backyard

Today's Best Stuff

For Bloggers

Join the Yardbarker Network for more promotion, traffic, and money.

Company Info

Help

What is Yardbarker?

Yardbarker is the largest network of sports blogs and pro athlete blogs on the web. This site is the hub of the Yardbarker Network, where our editors and algorithms curate the best sports content from our network and beyond.