Found November 14, 2012 on 85% Sports:
PLAYERS:
Jose Reyes
,
Heath Bell
,
Mark Buehrle
,
Carlos Zambrano
,
Gaby Sanchez
,
Hanley Ramirez
,
Randy Choate
,
Josh Johnson
,
John Buck
TEAMS:
Miami Marlins
,
Arizona Diamondbacks
,
Los Angeles Dodgers
,
Tampa Bay Rays
Although it sucks, I have no problem with the Marlins/Blue Jays trade…in theory.  I believe that every team has the right to run its organization as it wishes.  If they want to spend as much as possible and but every championship, that is okay.  If they always want to be at the bottom of the payroll scale and play out each season, I am okay with that also.  If a team is winning, the revenues will increase and more money can be spent.  If a team is losing, the revenue stream will run dry.  However, what the Marlins did to the people of Miami is reprehensible. The stadium was completed in March 2012.  The initial cost of the stadium was expected to be $525 million.  Initially, the Marlins would contribute $155 million, Miami-Dade County would contribute $347 million and the City of Miami would contribute $23 million.  The City of Miami was also supposed to pay for the Orange Bowl demolition and the building of parking garages ($104 million). After a variety of lawsuits and votes from ...
Original Story:
http://www.85percentsports.com/2012/1...
THE BACKYARD
BEST OF MAXIM
RELATED ARTICLES
Miami Marlins stud outfielder Giancarlo Stanton summed up the feeling of the team's fans in one tweet: Alright, I'm pissed off!!! Plain & Simple — Giancarlo Stanton (@Giancarlo818) November 13, 2012 Who can blame him? The Marlins traded away their top players in a surprise deal. They have decimated their payroll, and are now firmly entrenched in rebuilding mode. This all...
IT'S AN OUTRAGE
Giancarlo Stanton is one of the few remaining good players on the Marlins following the team's fire sale, and he is not happy about it.
Jose Reyes is now a Toronto Blue Jay ... not even one calendar year after he signed a six year, $106 million contract with the Miami Marlins. Don't cry for Reyes too much. He made his own bed by going after the largest deal on the table (and pretty much the only deal on the table), while assuming all risks in signing a backloaded deal with a franchise known for its garage sales...
Well, the Florida Miami Marlins have certainly perfected the art of the "fire sale." The Marlins dumped shortstop Jose Reyes, pitchers Mark Buehrle and Josh Johnson, utility player Emilio Bonifacio and catcher John Buck in a trade with the Toronto Blue Jays on Tuesday night, successfully dumping approximately $165 million in salary in the process. Miami got shortstops Yunel Escobar...
The Miami Marlins didn't have a good first year. Even with a new stadium, a new name, new unis, it was still the same old Marlins as it related to...
The Miami Marlins are conducting another one of their infamously appalling fire sales, having already traded away half their team during the 2012 MLB season, with basically the rest going to the Toronto Blue Jays this week. With very few players remaining on the team who even makes more than six figures per year, it seems as if it is only a matter of time before they trade their...
The Miami Marlins made a big splash last offseason by bringing in Ozzie Guillen as manager and signing big name free agents Jose Reyes, Heath Bell and Mark Buehrle. Needless to say all those players are now not a part of the Marlins. In a clear move to dump salary, the Marlins traded away Reyes, Buehrle and Josh Johnson to the Toronto Blue Jays for basically nothing. For a team...
Well, so goes the "Stock Up for the New Stadium" drive in Miami. According to multiple reports, the Miami Marlins have given up on the quest to buy an NL East title. They are trading ace Josh Johnson, SS Jose Reyes and P Mark Buehrle along with C John Buck and utility guy Emilio Bonafacio to the Toronto Blue Jays for among others SS Yunel Escobar and a handful of...
I went into TurboTax and entered the Marlins $100 million payroll going into last season, subtracted Jose Reyes, Hanley, Josh Johnson, Buehrle, Bonifacio, Buck, Infante, Gaby, Anibal, Heath Bell and Ozzie Guillen's salary, then I added in Gorkys, Ruggiano, Giancarlo, Wade LeBlanc, Eovaldi, Jacob Turner, Adeiny Hechavarria and Yunel's salary and it says the Marlins can get an EBT...
The Miami Marlins disgrace to baseball continues.   Two reports have surfaced that the Marlins are unloading even more of their talent.   First, Bob Nightengale of USA Today reports that the Marlins are letting teams know that "virtually everyone" is available.   Then, Jon Morosi of Fox Sports just reported that the Marlins are close to sending the Marlins' best...
The Toronto Blue Jays are on the verge of acquiring Josh Johnson, Mark Buehrle, Jose Reyes, John Buck and  Emilio Bonifacio from the Miami Marlins,  Jon Morosi of FOX Sports reports. The Marlins will receive Yunel Escobar, Justin Nicolino, Henderson Alvarez and Adeiny Hechavarria among other pieces. Word is also surfacing that Jose Reyes may be on his way to Toronto also. Image...
The baseball world is still frothing with rage over the latest and greatest Marlins fire sale trade.  Actually, calling it a fire sale trade isn't fair, it is really more of a raging inferno sale trade what with them dumping their two biggest free agent purchases from the off-season before along with pretty much every other player on their roster making even a little bit of...
MLB News

Delivered to your inbox

You'll also receive Yardbarker's daily Top 10, featuring the best sports stories from around the web. Customize your newsletter to get articles on your favorite sports and teams. And the best part? It's free!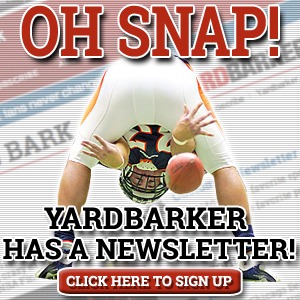 Latest Rumors
Best of Yardbarker

Today's Best Stuff

For Bloggers

Join the Yardbarker Network for more promotion, traffic, and money.

Company Info

Help

What is Yardbarker?

Yardbarker is the largest network of sports blogs and pro athlete blogs on the web. This site is the hub of the Yardbarker Network, where our editors and algorithms curate the best sports content from our network and beyond.