Found February 11, 2012 on 213 Miles From Shea:
Living in Newark, NJ now (yes, the name of this website has been irrelevant for the last 6 months), I get a good fill of New York sports news, which is great. One thing I miss though is Baltimore sports news. Baltimore sports news, specifically about the Orioles, is a combination of extremely depressing, pathetic and sometimes absolutely bizarre.
My Dad sent me an article today, explaining that the Orioles are effectively banned from South Korea.
Really. Like actually they can no longer scout the Korean Baseball Organization. The league actually governs the High School and College games in the country as well, so the Orioles are no longer welcomed to scout Korean players, right now, at any level.
How did this happen?
Last month, the Orioles signed Kim Seong-min, one of the best pitching prospects in South Korea. The left hander is 17, and signed a 550,000 dollar contract and will be with the team in Minor League Spring Training. According to the Baltimore Sun, "Kim…was not reportedly in his final year of high school when the Orioles signed him"*. the Korean Baseball League is upset at the Orioles because in their eyes, since Kim was not out of high school yet, the O's breached protocol by swooping in and signing Kim. The League now wants overall tighter regulations when dealing with the MLB and Korean prospects (essentially a home field advantage in keeping their own citizens).
I heard a very interesting take on this situation on radio today. There is the complete possibility that the Orioles really like Kim, knew the rules, but didn't want to risk losing Kim. So they decided to risk their future in scouting in Korea for signing Kim. I guess this is possible.
Overall, I just find it really entertaining that the Orioles organization is now essentially banned from scouting the entire country of South Korea. Judging by the Orioles record of signing players out of South Korea, which would just be Kim, I don't think the O's are too torn up about this.
* Encina, Eduardo. "O's scouts can't go to S. Korean Tourneys" 2/10/12 Baltimore Sun
Tweet
Original Story:
http://www.213milesfromshea.com/2012/...
THE BACKYARD
BEST OF MAXIM
RELATED ARTICLES
From the Baltimore Orioles... *** Orioles sign free agent RHP Luis Ayala The Orioles today announced that they have signed RHP LUIS AYALA to a one-year contract with a club option for 2013. Ayala, 34, posted a 2.09 ERA (56.0IP, 13ER) in 52 appearances for the Yankees last season.  In seven major league seasons, he has gone 31-41 with a 3.47 ERA (446.1IP, 172ER) for Montreal...
The Orioles just designated Matt Angle for assignment to make room on the 40 man roster for Luis Ayala.  Angle is a left handed hitting center fielder considered to be a marginal prospect ( somewhere in the 20's range/honorable mention type).  Angle made his debut in the majors in July of 2011, appearing in 31 games with a .177 BA/.293 OBP and in AAA he hit .266 with a .343...
Who says the Orioles haven't made any moves?Name: Chris TremblayPosition: 2BThrows: RHeight: 5'10" Weight: 185Age: 25Tremblay was born in Montreal and was drafted out of Kent State by he Padres in the 19th round of the 2009 draft.Up to this point he has been a light-hitting utility type (catcher, centerfielder and pitcher were the only spots he did not play in the Padre...
Let's be honest, the Baltimore Orioles suck. That's not rude, it's truthful. The Yankees are the toast of the AL East, while the Rays, Red Sox, and Blue Jays aren't too far behind. Far behind are the O's though, very far behind. Well, I believe I found a way for them to contend this season. No, not signing Roy Oswalt, who is still a free agent. Nope, use this...
During Orioles FanFest, Chris Davis spoke with the media for a couple of minutes. Hardy answered questions about the additions to the roster for Spring Training, playing first base vs. third, outlook for the season and several other items. Here are some quotes and notes I was able to pick up from him. Speaking about his injuries and getting ready for Spring Traning: No, I went...
Baltimore's catcher uses Rosetta Stone to communicate better with foreign pitchers.
BALTIMORE (AP) -- The Baltimore Orioles have apologized to two South Korean baseball organizations upset with the club over its contract with a local high school pitcher.
To make room for Luis Ayala on the Orioles' 40-man roster, the club designated outfielder Matt Angle for assignment.
The Baltimore Orioles have apologized to two South Korean baseball organizations upset with the club over its contract with a local high school pitcher. The Korea Baseball Association said Friday that the Orioles violated local rules that bar the signing of student players until their graduation year.
The Orioles are searching for the voice of a new generation, and Oriole Park vibrated Saturday with the sounds of the 25 semifinalists who are hoping to become the full-time public address announcer for the team's 20th anniversary season at Camden Yards.
The Baltimore Orioles signed veteran reliever Luis Ayala to a one-year contract on Friday.
Orioles News

Delivered to your inbox

You'll also receive Yardbarker's daily Top 10, featuring the best sports stories from around the web. Customize your newsletter to get articles on your favorite sports and teams. And the best part? It's free!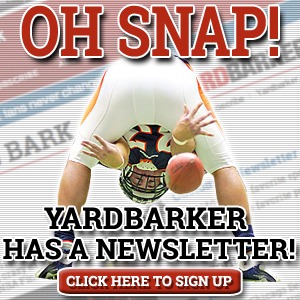 Latest Rumors
Best of Yardbarker

Today's Best Stuff

For Bloggers

Join the Yardbarker Network for more promotion, traffic, and money.

Company Info

Help

What is Yardbarker?

Yardbarker is the largest network of sports blogs and pro athlete blogs on the web. This site is the hub of the Yardbarker Network, where our editors and algorithms curate the best sports content from our network and beyond.