Originally written on
Ted's Army
| Last updated 10/24/14
First Pitch: Wedneday 7:10, Thursday 7:10
Arms: Wednesday: Clay Buchholz, RHP (4-1, 8.31 ERA) vs. Jeremy Hellickson, RHP (3-0, 2.95 ERA) Thursday: Felix Doubront, LHP (3-1, 4.46 ERA) vs. Matt Moore, LHP (1-3, 5.31 ERA)                               Yard: Tropicana Field   Watch it:  NESN (ESPN - WED.)  Hear it:  WEEI The Matchup   
Record: 17-19 (Last AL East) Record: 23-14 (T-1st AL East) On road: 8-8
At home: 13-3
Streak: Won 5
Streak: Won 3
    Leaders at the plate
 Leaders at the plate
Average: Ortiz (.353)
Average:  Longoria (.329)
Homers: Ortiz (8)
Homers: Joyce/Scott (7)
RBI: Ortiz (27)
RBI: Scott (26)
Leaders on the mound
Leaders on the mound Wins: Buchholz (4)
Wins: Price/Shields (6)
ERA: Lester (3.71) | Atchison/Hill (1.17)
ERA: Hellickson (2.95) | Rodney (0.51)
K's: Doubront (37)
K's: Shields (48)
Last time The Red Sox temporarily broke out of their early season slump by taking 3-of-4 from Tampa at Fenway in mid-April. The Sox outscored the Rays 31-11 in the 3 wins before losing the final game 1-0. Beckett went 8 strong in game 1, giving up 5 hits and 1 run. Youk backed him up with a 2-for-4, 3 RBI game. Yeah, Youk. Clay Buchholz wasn't so hot in game 2, but did get the win thanks to David Ortiz and Cody Ross. Ortiz went 4-for-5 with a home run and 5 RBI. Ross went 2-for-5, with a homer and 4 RBI. Aviles, Pedroia, and Salty added home runs in that game. 5 of the 13 runs were given up by Hellickson, but he was spared the loss as Buchholz matched that run total. Ortiz and Ross were huge in the third game of the series. Ortiz went 3-for-4 with an RBI, and Ross added a 3-run home run. Game 4 was controlled by James Shields, as he held the Sox to 4 hits over 8 1/3. Bard was lucky to escape that game giving up only 1 run due to the 7 walks he surrendered. He did strike out 7, which saved his ass. The Sox followed that loss with 4 more to Texas and New York. This time Laser Show: David Ortiz
He did pretty damn well against the Rays last time and he'll do it again this time. His 25 career home runs at the Trop have something to do with it as well. Want more? Ortiz has a career .462 average against Hellickson and .750 against Moore. Yeah, he will be just fine.
Pitch Around: Luke Scott
So, this may not be the name you were thinking of, but I'll remind you why. This *********** hit two home runs against the Sox in April, drove in 5 runs and didn't get plunked in the helmet. Remember, this is the guy who hates Red Sox fans, and said beating the Red Sox (as a member of the Orioles) to elimate them from the playoffs was like winning the World Series. He has a terrible batting average, with 7 homers and 26 RBI. I say pitch around him via the HBP.
Don't Fall Behind: Jeremy Hellickson
Hellickson was not in typical form when he last took the mound against the Sox. He will come out looking for revenge and the Sox will have to do jump on his every mistake. There won't be many chances, but Hellickson can be rattled. How we see it goin' down Jeremy Hellickson will slow the Sox down tonight, and the Sox will get to Matt Moore to split the series with the Rays.
Original Story:
http://www.tedsarmy.com/blog/2012/05/...
MORE FROM YARDBARKER
MLB News

Delivered to your inbox

You'll also receive Yardbarker's daily Top 10, featuring the best sports stories from around the web. Customize your newsletter to get articles on your favorite sports and teams. And the best part? It's free!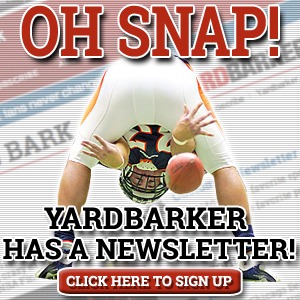 Latest Rumors
Best of Yardbarker

Today's Best Stuff

For Bloggers

Join the Yardbarker Network for more promotion, traffic, and money.

Company Info

Help

What is Yardbarker?

Yardbarker is the largest network of sports blogs and pro athlete blogs on the web. This site is the hub of the Yardbarker Network, where our editors and algorithms curate the best sports content from our network and beyond.