Finalizing his record extension with the Mariners hit a bit of a snag, but Seattle and Felix Hernandez have made their new pact official, guaranteeing King Felix $175 million over the next seven seasons in the Pacific Northwest. It seems risky to lock up so much money to a starting pitcher, but it's clear that Mariners GM Jack Zduriencik wants to make his ace the centerpiece of a playoff team in the coming years. Now that this deal is set, breaking records in total guaranteed money over the life of a contract and average annual value, there is a new benchmark when it comes to locking up ace pitchers, and the next ones up to possibly get an extension from their respective teams are Justin Verlander and Clayton Kershaw. Both of these Cy Young winners have impressive resumes and one of them could be the first pitcher to sign a contract worth $200 million. Let's first look at what Verlander has done in his time with the Tigers and whether or not the soon-to-be 30-year-old righty will get that kind of deal from Detroit. Prior to the 2010 season, Verlander signed an extension worth $79.5 million through the end of the 2014 season, and he's certainly shown his worth at the top of the rotation in the Motor City. His first full season was in 2006, when the Tigers made it to the World Series, and he's posted 30+ starts each season, while winning 17+ games six times. He's also enjoyed six straight 200+ IP seasons (led league three times), has led the league in strikeouts three times, while heading to five All-Star games. His signature season to date came in 2011, as he took home both the AL Cy Young and the AL MVP. He was deserving of winning the honors, compiling a 24-5 record with a 2.40 ERA, 0.92 WHIP, and 250 strikeouts. He won the pitcher's triple crown (most wins, lowest ERA, and most strikeouts in league), while also leading the way when it comes to WHIP, games started (34), and innings pitched (251). He's been incredibly consistent throughout his career, following up that career year by placing second in the 2012 Cy Young voting and eighth in MVP voting. As for Kershaw, he hasn't been nearly as dominant as Verlander has, but at the age of 24, he could soon get to that point. Although he posted sub-3.00 ERA seasons in '09 and '10, it's fair to say 2011 was a breakout campaign for the southpaw, as he went 21-5 with a 2.28 ERA, 0.98 WHIP, and 248 strikeouts in winning the NL Cy Young Award and his first Gold Glove. Like Verlander, he also won the pitcher's triple crown in the NL. Since he's still so young, there was the potential that he could take a step back in 2012, but he didn't as he also finished second in NL Cy Young voting, getting the nod to appear in his second straight All-Star game. So, with the monster deal King Felix just received, we can anticipate the representation for these two hurlers will be using it as a benchmark in extension negotiations. Should either one of them get $200 million? I never thought an everyday player was worth that much money, so I definitely don't think a pitcher should be. However, that doesn't mean they won't be getting it. When it comes to the case of Verlander, I don't think the Tigers will be shelling out that kind of money to hold onto their ace, if that's what he's asking for. Not only do they have huge contracts on the books for Miguel Cabrera and Prince Fielder (which have been worth it so far), but Detroit has a very productive and young pitching rotation that can handle not having the flamethrower in the rotation. Would it hurt not having him? Well, of course, but they still have Max Scherzer, Anibal Sanchez, Doug Fister, and Rick Porcello behind him. As for the Dodgers, I think it's inevitable that they agree to a huge deal to keep Kershaw in Hollywood for the long-term. He's entering the last season of a two-year/$19 million deal, and it seems as though the new owners don't like having players on the field that don't get paid at least $10 million per season. Kershaw has all the leverage, and I think he's a much better pitcher than Zack Greinke, who the Dodgers just gave $159 million to over the next six years. If I had to choose which one of these pitchers is more likely to get a $200 million, the easy answer would be Kershaw. The Dodgers have stated they want an All-Star at every position, and I'm sure they'd also like an All-Star pitcher occupying each spot in their rotation. They've already shown money is not an issue with what they've done since taking over last season. In all reality, if a team is going to commit that kind of money to a pitcher, it'd probably be better to give it to a 24-year-old instead of a 30-year-old, as the contract will likely span at least 7 years, which is why I'd rather give it to Kershaw (if I absolutely had to). We'll see how all of this plays out, as it should be incredibly interesting to watch. Thanks for reading! To Follow Matt's posts at On The Way Home and Rising Apple, you can follow him on Twitter: @mmusico8. If you'd like to join On The Way Home as a staff writer, you can contact Matt at matt.musico8@gmail.com.   The post How Will Felix Hernandez's Extension Affect Clayton Kershaw and Justin Verlander? appeared first on On The Way Home.
Original Story:
http://feedproxy.google.com/~r/wordpr...
MORE FROM YARDBARKER
MLB News

Delivered to your inbox

You'll also receive Yardbarker's daily Top 10, featuring the best sports stories from around the web. Customize your newsletter to get articles on your favorite sports and teams. And the best part? It's free!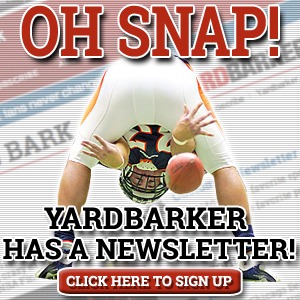 Latest Rumors
Best of Yardbarker

Today's Best Stuff

For Bloggers

Join the Yardbarker Network for more promotion, traffic, and money.

Company Info

Help

What is Yardbarker?

Yardbarker is the largest network of sports blogs and pro athlete blogs on the web. This site is the hub of the Yardbarker Network, where our editors and algorithms curate the best sports content from our network and beyond.