Found September 25, 2012 on Phillies Nation:
Roy Halladay has a 4.78 ERA in 13 starts since returning from the DL. No Chase Utley for 76 games. No Ryan Howard for 84 games. Worst eighth-inning ERA in baseball for most of the season. Costly, poor defense from Placido Polanco's replacements at third base. It's crazy to say, but through all of it, the Phillies would still be right in the wild-card race if they got just a bit more out of Roy Halladay. Halladay has made 24 starts this season. The Phillies have absolutely no reason to send him out on the mound again, so he'll hopefully finish the 2012 season with those 24 starts. Only 15 were quality starts. The dominance just wasn't there. In 2010, Halladay had 15 starts in which he gave up one or no runs. Last year, he had 13. This year? Try five. There were seven games this season where Doc allowed four or more runs. If you reduce that to, say, four games, the Phillies are probably three wins better, and a mere game or two behind the second wild-card spot. I'm not a big fan of "i...
Original Story:
http://philliesnation.com/archives/20...
THE BACKYARD
BEST OF MAXIM
RELATED ARTICLES
A quick update on Phillies starter Roy Halladay.   Despite looking really off during his last start and being skipped in the rotation, Roy Halladay will pitch again this season.   Todd Zolecki of MLB.com reports that Halladay will start on Saturday: Dubee said Halladay looked fine in his bullpen. He expects him to start Saturday as scheduled. Of course, had he really been...
Was it over before it began because of a missing Howard? (PHOTO: AP) …Or maybe the beginning of the end was really nine days ago when the Phillies lost three-of-four to the worst team in the NL, the Houston Astros. Maybe it was the beginning of the end when Carlos Ruiz went down with a foot injury and missed the dog days of summer. Maybe it was the beginning of the end when Roy...
This is one of the best and cruelest jokes I have seen in a professional setting. Imagine you are a rookie, just like Phillies' outfielder Darin Ruf, and you just smashed your first home run. You would expect your teammates to go ballistic, high-fives everywhere, and more smiles than you could hope for. This would seem like a natural reaction. However, last night when Darin...
Phillies fans are excited about Darin Ruf, who spent the year with AA Reading and broke the team record for home runs in a season, blasting 38 dingers on the season. However, he turned 26 in July and was way too old for the level. While that's true, the fact that he's a power threat is also true, regardless of age. In Tuesday's Phillies-Nationals game, Ruf cracked his...
Philadelphia Phillies prospect Darin Ruf hit his first Homerun in the second inning of tonight's Phillies Nationals game. This exclusive video includes his entire at bat and his teammates ignoring him as he came around the bases and into the dugout.
Two mighty teams have tumbled from supremacy this season, the Philadelphia Phillies and the Boston Red Sox.  Each team has been winning for the better part of the last decade, but has fallen upon hard times this season due to injuries and bad contracts.  How about helping each other out?To Boston- Ryan Howard and his 4 years and $105M remaining on his contract.To Philly- John...
The fact that Nationals came into last night's game with the best record in baseball was simply fuel for the Phillies fire who were determined to give their Division rival a tough time. Nats pitching got Ruf'd up by the Phillies who homered 3 times in the game and won by a score of 6-3. Carlos Ruiz smashed a 2-run shot in the 3rd and Domonic Brown added another homer in the 6th...
Cliff Lee of the Philadelphia Phillies is the best 3 in the NL East.  Our immediate rivals have what level of strength behind their 1-slot hurler?  The Apocalyptic Horsemen Stats are in my daily coverage. TAL'S HANDY STATS   WELCOME, NEWCOMERS: I am alternating a game-day 2012 ERA For The NL East and a 2012 ERA For The MLB 5. See link section below. In each publication, the...
  Well we're in territory we haven't been in lately. Unless the Phillies win out and a bunch of people lose, the smart money is on the notion that they are playing the final 9 games. Sharing that idea could possibly be Charlie Manuel as he calls on Darin Ruf to make his first major league start in LF. We've only seen a few pinch hit ABs so far so this is the first...
While they are not "officially" out of it yet, the Phillies have dropped to 5 games out of the Wild Card race after 2 straight losses to the Braves. With 4 teams in front of them and only 9 games to go, the Phillies playoff hopes are all but dead. On the mound today, Cliff Lee put forward a valiant effort, working in and out of trouble throughout the game. Despite his many challenges...
Washington Nationals (93-61) vs. Philadelphia Phillies (78-76) John Lannan (3-0, 4.43) vs. Kyle Kendrick (10-11, 3.89) Time: 7:05 PM, Citizens Bank Park TV: CSN Weather: Partly Cloudy, 60 Media: Twitter and Facebook We're down to just eight games left in the season, and only two on the home schedule. If you haven't been to a game yet, now is the time. Just a wear...
While the Washington Nationals are getting closer to securing the first division title in franchise history, the Philadelphia Phillies' chances of reaching the postseason for the sixth straight year are dwindling. Coming off a tough weekend, Philadelphia looks to get back on track behind Cole Hamels on Tuesday night when it hosts the NL East-leading Nationals in the opener of...
Phillies News

Delivered to your inbox

You'll also receive Yardbarker's daily Top 10, featuring the best sports stories from around the web. Customize your newsletter to get articles on your favorite sports and teams. And the best part? It's free!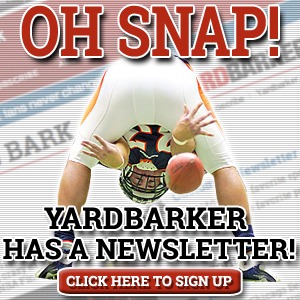 Latest Rumors
Best of Yardbarker

Today's Best Stuff

For Bloggers

Join the Yardbarker Network for more promotion, traffic, and money.

Company Info

Help

What is Yardbarker?

Yardbarker is the largest network of sports blogs and pro athlete blogs on the web. This site is the hub of the Yardbarker Network, where our editors and algorithms curate the best sports content from our network and beyond.