Found November 26, 2012 on World Series Dreaming:
PLAYERS:
Carlos Pena
,
Starlin Castro
,
Logan Watkins
,
Scott Baker
,
Jeff Beliveau
,
Michael Bowden
,
Alberto Cabrera
,
Shawn Camp
,
Lendy Castillo
,
Jaye Chapman
,
Casey Coleman
,
Gerardo Concepcion
,
Rafael Dolis
,
Matt Garza
,
Carlos Marmol
,
Trey McNutt
,
Zach Putnam
,
Brooks Raley
,
Chris Rusin
,
James Russell
,
Jeff Samardzija
,
Arodys Vizcaino
,
Robert Whitenack
,
Travis Wood
,
Steve Clevenger
,
Dioner Navarro
,
Darwin Barney
,
Junior Lake
,
Anthony Rizzo
,
Ian Stewart
,
Luis Valbuena
,
Christian Villanueva
,
Josh Vitters
,
Tony Campana
,
David DeJesus
,
Brett Jackson
,
Dave Sappelt
,
Jorge Soler
,
Alfonso Soriano
,
Chris Volstad
,
Manny Corpas
TEAMS:
Tampa Bay Rays
,
Chicago Cubs
,
Miami Marlins
In random Cubs staffing news, former Milwaukee Brewer Rob Deer was hired as the assistant hitting coach today.  Hurray, they're getting the Cheese Band back together!  At first glance the batting average looks terrible but then you also look at the peripherals and realize that Deer took his fair share of walks and got on base a bunch while doing damage with the pitches he actually made contact with.  He's like righty Carlos Pena.  We'll see what happens with this hire, but likely won't get to assess the results until at least spring training.  More pressing at the moment is this Friday's non-tender deadline.  This is the day that all arbitration-eligible players must be offered arbitration, or else be non-tendered and either released or signed to a lesser contract. As of right now, the 40-man roster is full.  Every spot is either occupied by an established regular (i.e. Starlin Castro), a player that must be protected from the Rule 5 Draft (i.e. Logan Watkins) or some random pitcher the Cubs picked up off the waiver wire and don't know what to do with yet.  Here's the breakdown, with the arbitration-eligible guys marked with an asterisk: Pitchers B/T Scott Baker R-R Jeff Beliveau L-L Michael Bowden R-R Alberto Cabrera R-R Shawn Camp R-R Lendy Castillo S-R Jaye Chapman R-R Casey Coleman L-R Gerardo Concepcion L-L Rafael Dolis R-R Matt Garza* R-R Carlos Marmol R-R Trey McNutt R-R Zach Putnam R-R Brooks Raley L-L Chris Rusin L-L James Russell* L-L Jeff Samardzija* R-R Arodys Vizcaino R-R Robert Whitenack R-R Travis Wood R-L Catchers B/T Welington Castillo R-R Steve Clevenger L-R Dioner Navarro S-R Infielders B/T Darwin Barney R-R Starlin Castro R-R Junior Lake R-R Anthony Rizzo L-L Ian Stewart* L-R Luis Valbuena* L-R Christian Villanueva R-R Josh Vitters R-R Logan Watkins L-R Outfielders B/T Tony Campana L-L David DeJesus L-L Brett Jackson L-R Dave Sappelt R-R Jorge Soler R-R Alfonso Soriano R-R Matt Szczur R-R With the departure of guys like Chris Volstad and Manuel Corpas, the Cubs only have five players that are up for arbitration.  Three pitchers (Garza, Samardzija, Russell) and two infielders (Valbuena and Stewart) will need to be decided on within this next week.  Which players will be re-upped?  Who's getting a pink slip?  Let's do each one case-by-case. Matt Garza Garza is an interesting case.  He missed the last couple months of the 2012 season with arm issues (stress reaction in the pitching elbow) but has since been cleared after a routine scan and should be ready for spring training.  MLBTR projects that due to his previous year's salary, production and the injury issue, he should get around $10MM in his final year of arbitration.  The Cubs are very unlikely to get a fair haul for Garza in a preseason trade, so they will have to hope that he produces such that they either give him an extension or trade him for whatever they can get at this point.  Garza is an obvious tender and should receive that projected $10MM figure. James Russell Russell was a reliable reliever over the past couple seasons and is projected to pull in $900K in his first year of arbitration eligibility.  That's close to what Sean Marshall got in his first arb year and seems fair given that he's not the closer.  This is also an obvious tender unless they bundle Russell up in some random trade for Giancarlo Stanton.  Lulz. Jeff Samardzija Jeff is arbitration eligible for the first time but has already earned quite a bit of money due to the contract he signed when first drafted to convince him not to play wide receiver for the Bears.  He had a solid season in 2012 and is projected to earn just shy of $3MM in arb year one.  Because the Cubs need healthy arms in the rotation even on a sucky team, and they can keep Samardzija affordably, and it would be unwise to hand him a contract extension right away, this too is an obvious tender.  Let's see if he can duplicate or improve on last season's success, then give him even more money instead of giving him the big kahuna burger now. Luis Valbuena Luis was a capable defender and had some timely hits, but even though he looked like an All-Star for the Cubs (hahaha), he actually kind of sucked.  He's projected for $900K in his first year of arbitration eligibility.  If he's the starting third baseman then I guess that's fine.  But if he's the backup infielder then I don't see why they would pay him that much.  Ultimately it's less than a million dollars and the Ricketts family could sit on their couch and squeeze out that much in change.  File this under either/or. Ian Stewart This is going to be a tough one and will likely frustrate many Cubs fans.  Ian Stewart greatly underperformed as a Cub before he was shut down for the season.  The fact that he is still on the 40-man roster and wasn't designated for assignment suggests that the Cubs want to see whether his wrist fully healed and whether he can improve upon 2012 (granted that it shouldn't be that hard since 2012 really sucked).  Stewart is a Super Two and is eligible for the third time, projected to earn $2.3MM, a slight raise from what he was paid in 2012.  That's partially due to suckitude, injury, and the fact that pay cuts don't often happen in arbitration.  I can't find the exact Tweet right now (Ian changed his Twitter handle at some point and I don't feel like sifting through the entire backlog) but I've heard that he's willing to re-sign for as little as $1.5MM.  He has power potential and is still on the right side of 30, with another year of control after 2013.  I consider him to be the most likely candidate to be the starting 3B for the 2013 Cubs (bummer, I know).  What isn't as clear is whether the Cubs want to just pay him the projected amount to avoid arbitration, or non-tender him and pay less but with the risk that he goes off somewhere else and they are left with nothing.  Nothing is still slightly worse than 2012 Ian Stewart production.  I think, however, that all of this has been taken into account and Ian Stewart will most likely be the only non-tender, yet will re-sign for under $2MM to prove that he can still produce. Now, we wait for Friday.
Original Story:
http://worldseriesdreaming.com/2012/1...
THE BACKYARD
BEST OF MAXIM
RELATED ARTICLES
Our 2013 projections turn to the north side of Chicago where we examine two Cubs with plate discipline issues, but also significant upside. Can Alfonso Soriano stave off a regression at his age? Can Starlin Castro make a big progression at his age? Alfonso Soriano 2013 Age: 37 - Splits: Slight vs RHP 2013 Projection: 502 AB, .249/.317/.475, 27 HR, 90 RBI, 65 R, 4 SB...
MEEP MEEP
If vultures circling above you is a sign that you're doomed...what does it mean for the Chicago Cubs when coyotes actually hang out outside Wrigley Field?Late Saturday night, photographer Will Byington was in Wrigleyville and noticed the two wild dogs roaming outside "The Friendly Confines"."The scary thing is that they didn't seem afraid. You'd think ...
Our 2013 Cubs projections continue with a young up-and-coming first baseman, a defensive minded second baseman and a solid veteran outfielder. Anthony Rizzo 2013 Age: 23 - Splits: Struggles vs LHP 2013 Projection: 596 AB, .283/.346/.488. 27 HR, 91 RBI, 86 R, 6 SB Notes: Rizzo's ceiling will be determined by one thing: how he hits left-handed...
The Chicago Cubs continued their wise spending spree this offseason, signing former Texas Rangers starting pitcher Scott Feldman to a one year deal worth $6 million. Feldman's signing comes on the heels of the Cubs signing former Minnesota Twins starter Scott Baker to a one year deal worth $5.5 million. Feldman is also a nice value signing for the Cubs, after he was scheduled...
The Chicago Cubs and former Texas Rangers pitcher Scott Feldman have agreed to a one-year contract. The deal was announced Tuesday. Feldman is guaranteed $6 million next season and can earn another $1 million in incentives. The 29-year-old right-hander was 39-44 with a 4.81 ERA over eight years with the Rangers, going 6-11 with a 5.09 ERA last season. A reliever early in his...
The Cubs add to their stable of pitchers today, by signing RHP Scott Feldman to a one year deal for $6M, plus $1M in incentives according to various sources. Feldman seemed to be a popular target among Cubs armchair GM's this offseason for reasons unbenknownst to me, but TheJedi seemed to concur. He's certainly cheap enough and getting away from that Texas park and the AL...
The Chicago Cubs and former Texas Rangers pitcher Scott Feldman have agreed to a one-year contract, the team said Tuesday. Feldman is guaranteed $6 million next season and can earn another $1 million in incentives. The 29-year-old right-hander was 39-44 with a 4.81 ERA over eight years with the Rangers, going 6-11 with a 5.09 ERA in 29 appearances (21 starts) last season. A reliever...
Earlier today, ESPN broke the news about the Chicago Cubs hiring Rob Deer as the new Assistant Hitting coach for the 2013 season. Fans might recognize him as being a former teammate of Manager Dale Sveum on the Milwaukee Brewers. However, Deer is better known for leading the American League four times in strike outs. A couple of fans were shocked and appalled that a man who struck...
The Chicago Cubs announced that they have signed pitcher Scott Feldman to a one-year deal worth $6mm with an additional $1mm in incentives (Paul Sullivan of the Chicago Tribune provided the contract details). Last season, Feldman split time in the rotation and the bullpen for the Rangers. He made 21 starts and 8 appearances as a reliever. For the year, Feldman went 6-11 with a 5...
MLB News

Delivered to your inbox

You'll also receive Yardbarker's daily Top 10, featuring the best sports stories from around the web. Customize your newsletter to get articles on your favorite sports and teams. And the best part? It's free!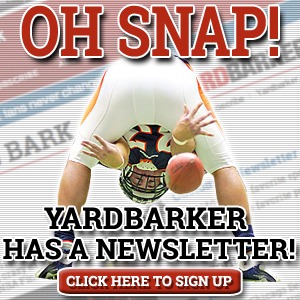 Latest Rumors
Best of Yardbarker

Today's Best Stuff

For Bloggers

Join the Yardbarker Network for more promotion, traffic, and money.

Company Info

Help

What is Yardbarker?

Yardbarker is the largest network of sports blogs and pro athlete blogs on the web. This site is the hub of the Yardbarker Network, where our editors and algorithms curate the best sports content from our network and beyond.