Found July 18, 2012 on Waiting For Next Year:
PLAYERS:
Matt Moore
,
Josh Tomlin
,
BJ Upton
,
Carlos Pena
,
Ben Zobrist
,
Matt Joyce
,
Jeff Keppinger
,
Luke Scott
,
Asdrubal Cabrera
,
Jason Kipnis
,
Michael Brantley
,
Joe Maddon
,
Wade Davis
,
Jose Lobaton
,
Tony Sipp
,
Jeremy Accardo
,
Fernando Rodney
,
Casey Kotchman
TEAMS:
Tampa Bay Rays
,
Cleveland Indians
7:06 PM – Three things that seem true:
"Matt Moore is Tampa Bay's starter for this game."
"Matt Moore pitches primarily with his left arm."
"The Indians will lose this game."
There's a syllogism hiding in there somewhere, just waiting to be discovered.
7:30 PM – After Moore sends the Indians down in order in the top of the first, Josh Tomlin gets to work. Let's get ugly:
Lead-off single to BJ Upton (that looked more like a double).
Home run to right center by Carlos Pena. It's worth noting that if Carlos Pena could draw up the sort of pitcher he'd like to face, it would look very much like Josh Tomlin: right handed, without swing and miss stuff, and generally around the strike zone. 2-0 Rays.
Speaking of around the strikezone, Tomlin follows up the HR by walking Ben Zobrist. Tomlin now has a 2.38 BB/9 compared to 1.14 last season. You cannot double your walk-rate—no matter how minuscule—and remain an effective pitcher unless you increase you strikeout rate comparably. We kinda knew that was unsustainable, I think, but here's the evidence, smacking you right in the face.
After retiring Matt Joyce and Jeff Keppinger, Luke Scott "triples" to right on a pretty poor play by Choo. Zobrist scores. 3-0 Rays before we can blink.
7:35 PM – Five minutes since the Rays stopped scoring, and the Indians have already gone in order again. Baseball needs something comparable to a "time of possession" stat. I suppose the opposing pitcher's pitch count might be the best approximation? Tonight, Matt Moore has thrown 19 pitches and recorded six outs (3.16 pitches per out). Josh Tomlin has thrown 26 pitches and recorded three outs (8.67 pitches per out). This has been brought to you by TD's Mandatory Early Inning Pitch count Summary (MEIPS™).
8:00 PM – I'm interrupting my dinner to write this, as it's important. In the top of the fourth inning, Asdrubal Cabrera led off with a hit (the Indians' first of the evening). That is only his second hit in his last 29 plate appearances. Still 3-0. Back to dinner.
8:14 PM – Ugggh. After Cabrera's lead-off single, Kipnis and Brantley walked to load the bases with nobody out. When we had one of these yesterday, and I mentioned the run expectancy charts. Evidently, those charts are liars. Lopez managed to hit a sac fly to right to score Asdrubal, but then Santana strikes out and Duncan flies out to center.
I can't take another night of this, you guys. I really can't. 3-1 Rays.
8:27 PM – Not much has happened here; it's still 3-1. But Lou Marson just swung and missed at a pitch in a manner that can only be described as, "Oh…….ALRIGHT." If I knew how to make GIFs, I would.
8:37 PM – As soon as I write "not much has happened"….stuff happens.
Marson ended up turning his Liotta-esque swing into a one-out walk. Choo follows with a single, and after an Asdrubal fly out, Jason Kipnis drives in Marson with a single up the middle. 3-2 Rays.
After a Brantley walk loads the bases, Lopez drives a ball to left field, but it lacks the distance, ending the threat.
Michael Brantley now has 15 walks in his last 17 games, which is a lot. But remember that we used to think he'd be an on base percentage guy—his minor league numbers sure looked promising. It was just that it never seemed to translate. Far be it from me to read too much into a 17 game sample, but what if he's figured it out? He is the youngest position player on the team's 25-man roster, and new tricks and young dogs and CLICHES!!
8:47 PM – I don't think anyone, after watching the first inning, would've guessed that Josh Tomlin would outlast Matt Moore in this game. But it's looking possible. After Santana leads off the top of the sixth with a walk, Joe Maddon yanks him for Wade Davis. Dunkers should probably be pinch hit for here for the platoon advantage, but it's not looking like that going to happen.
8:52 PM – Nope. Acta leaves Duncan in. Ground ball double play wipes away the baserunner and Kotchman follows with a weak fly to left. WHEEEEEEE!!
9:09 PM – Tomlin outlasts Moore, but to no great effect. With one out and Keppinger on first base, Desmond Jennings grounds into a fielder's choice to get aboard. After Jennings steals second on a somewhat questionable call, Jose Lobaton singles him in. Tomlin's night is done.
Tony Sipp enters the game in to face Johnson, and promptly strikes him out. 4-2 Rays.
9:22 PM – Indians go down in order in the seventh. Nothing is happening, but it's taking forever.
9:30 PM – Rick Manning is an interesting fella. For example, tonight, he's decided that Carlos Pena, who steps out of the batter's box between each pitch (like most batters, we should acknowledge), is delaying the game unnecessarily. In response to Pena stepping out, taking a deep breath and staring momentarily at his bat, Rick shouts, "WHATCHA LOOKING AT, PENA?? GET IN THERE!!"
We can only assume that Rick Manning has things to do in Tampa Bay this evening, and they don't involve no stinking baseball game.
9:47 PM – This game has ground to a halt. But I guess I should point out that Jeremy Accardo has managed to get three batters out. IN A ROW.
4-2 Rays heading to the top of the ninth. Santana, Duncan and Kotchman due up against Fernando Rodney.
9:51 PM – The first pitch to Santana is called a strike—a call that Santana is visibly repulsed by. He turns around and speaks briefly to the home plate umpire. My question: how low must one's batting average be before such a discussion is rendered laughable? Santana is batting .221. I'm pretty sure you're not allowed to argue balls and strikes with that.
9:53 PM – Santana gets hit by a pitch, but before I can even start to get excited Duncan lines back to Rodney who doubles Santana off first. All of a sudden a promising inning turns sour: two down, and Casey Kotchman is our only hope.
9:55 PM – Kotchman lines a single up the middle. Hafner pinch hitting for Laser Lou.
9:56 PM – Hafner puts a charge in to one, but it's too high, and the Indians go down 4-2.
There are likely interesting things to say about this game, though I can't think of any. The Indians had four hits, all singles. They made an error. Josh Tomlin looked terrible until he didn't. The bad half of the bullpen didn't implode, which is something, I guess.
But it's not much.
Maybe Rick Manning's right. Maybe we should stop spending so much time on this crummy team and get ourselves to a Greater Tampa area Sizzler so we can meet a nice lady with a plastic hip who'll tell us stories about The War while we share a sirloin. Maybe this team is a lost cause. The Indians have now been outscored on the season by 34 runs—the fourth worst mark in the American League. It's fairly accepted wisdom that they need both a bat AND a starting pitcher, which is just another way of saying that they're not all that good to begin with.
Maybe I'm being too hard on them, but I don't see a team that has any reason to be thinking postseason thoughts right now. This team doesn't feel right to me, and it doesn't feel particularly close to right either. Something's amiss.
Or as Rick Manning would say: "WHAT'S AMATTER WITH YOU??"
Photo: Mike Carlson – Associated Press
Original Story:
http://www.waitingfornextyear.com/201...
THE BACKYARD
BEST OF MAXIM
RELATED ARTICLES
The Cleveland Indians are reminiscent of folks doing one of those line dances at a country bar. One step forward, two back, two sideways and another forward to end up at the exact same spot. Clap. Then start all over again. Following Tuesday nights loss to Tampa Bay another loss when a key hit could have meant a win they Indians are now 46-44 and four games behind the Chicago White...
The Tampa Bay Rays, still feeling the effects from Monday's 15-inning, 5-hour loss to the Oakland Athletics, have called up right-handed reliever Josh Lueke. Lueke was with the Rays coming out of spring training and has an 18.90 ERA in three games with the big league club. The 6-foot-5-inch, 235-pounder was 1-3 with a 4.72 ERA for Triple-A Durham before getting recalled to the...
The Indians got a much needed win Monday night, beating the Tampa Bay Rays 3-2 in a well-pitched game that also featured a new-look Cleveland lineup. Manager Manny Acta shook up the middle of his order, moving designated hitter Travis Hafner and catcher Carlos Santana down. Hafner and Santana have been struggling for much of the season, and in particular of late. One or the other...
The industry-wide assumption is that if the Tampa Bay Rays fall out of contention, the pitcher they will trade is right-hander James Shields. Not necessarily. The Rays, deep in starting pitching, are open to moving any of their right-handed starters, major league sources say. A trade of Shields or Jeremy Hellickson likely would signal that the team is conceding the season. A trade...
ST. PETERSBURG, Fla. David Price donned his green St. Paddys Day ball cap and matching-colored tank top by his locker Thursday afternoon. That seemed like an especially appropriate look considering how Price keeps throwing those lucky sevens, the latest of which helped change the fortunes of the Tampa Bay Rays just when they needed it most. Price pitched seven superb innings...
Late last week, while delivering his State of the Fan-Friendly Union, Cleveland Indians team president Mark Shapiro could not help but field questions about the upcoming MLB trade deadline. Sure, lowering the price of concessions and making Progressive Field more accessible are all well and good, but what about the product said (hopeful) increase in paying fans would ultimately view...
Alex Cobb was concerned about the effects of a nine-day break between starts. As it turns out, he had good reason. The Tampa Bay Rays right-hander struggled in his first start since July 6, lasting only 3 1/3 innings while walking five Monday in a 3-2 loss to the Cleveland Indians. In an effort to combat the inactivity, Cobb threw the equivalent of three innings in a simulated...
Each and every Wednesday, I try to bring you all of the news and notes from the Cleveland Indians minor league system. Enjoy. Last Thursday, I traveled off to Lake County to get the scoop on the Captains. Also included in this week's edition of the Wahoos is the latest on some top prospects' hot streaks, a no-hitter, some reliever promotions and a rehabbing lefty on his way...
Four hits. That's all the Indians could muster in this one. Even so, mix in five walks and they still had a chance. They just couldn't get the big hit to push runners in. Bases loaded with no outs and all they got was one run on a sac fly.   Scoring Summary Bot 1st: Tampa Bay - C. Pena homered to deep right, B.J. Upton scored - L. Scott tripled to shallow right, B....
  Player of the Game Jeremy Accardo was today's Player of the Game with a score of 1.03. In his solo inning pitched, he gave up a double and struck out 2. Accardo now has 2 awards on the season. Feathers Up The Indians managed three walks (two of Carlos Santana) against David Price, even though he is a notoriously accurate thrower. Jose Lopez also had a single in the...
#50-#46 #45-#41 #40-#36 #35-#31 #30-#26 #25-#21 Note: salaries are rounded estimates and include all team-controlled years. Rankings from the 2011 Trade Value series in parentheses. 20. (12) David Price, SP, Tampa Bay – Under Team Control through 2015 The Rays ace has continued his steady climb into elite territory, and is establishing himself as one of the dominant left-handed...
MLB News

Delivered to your inbox

You'll also receive Yardbarker's daily Top 10, featuring the best sports stories from around the web. Customize your newsletter to get articles on your favorite sports and teams. And the best part? It's free!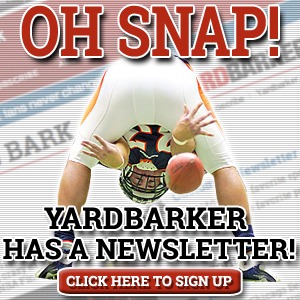 Latest Rumors
Best of Yardbarker

Today's Best Stuff

For Bloggers

Join the Yardbarker Network for more promotion, traffic, and money.

Company Info

Help

What is Yardbarker?

Yardbarker is the largest network of sports blogs and pro athlete blogs on the web. This site is the hub of the Yardbarker Network, where our editors and algorithms curate the best sports content from our network and beyond.