Found April 30, 2013 on Waiting For Next Year:
PLAYERS:
Ubaldo Jimenez
,
Brett Myers
,
Carlos Carrasco
,
Corey Kluber
,
Trevor Bauer
,
Terry Francona
,
Wade Davis
,
Jason Kipnis
,
Asdrubal Cabrera
,
Nick Swisher
,
Mark Reynolds
,
Lorenzo Cain
,
Carlos Santana
,
Michael Brantley
,
Ryan Raburn
,
Nick Hagadone
,
Cody Allen
,
Zach McAllister
,
Roy Halladay
TEAMS:
Cleveland Indians
,
Kansas City Royals
,
Philadelphia Phillies
Ubaldo Jimenez is so funny. He spends weeks and even months convincing us all that he doesn't deserve to be in the Indians rotation. He frustrates. He makes us want to boo. Some of us even wrote an entire piece calling for his ouster from the roster. But here is the thing. The options for the Indians in terms of starting pitchers are dwindling by the day. Even if they wanted to, they couldn't get rid of Ubaldo. Not with injuries to Brett Myers and Carlos Carrasco. Corey Kluber is already here. Trevor Bauer, Wednesday's spot starter, is essentially the last remaining realistic choice for GM Chris Antonetti to call on. So Ubaldo has to perform. My neighbor has told me for years "if you go in with low expectations, then you usually come out pleasantly surprised." That was exactly where I was last night, and where I am at this point every single time Ubaldo takes the mound. The Indians truly have no idea which guy is going to show up. Will he last two innings, have zero command, walk everything in sight, and give up the big hits? Will he last five innings? Would he dare surprise everyone and actually make it past the sixth, something he had done just twice since June 16th of last year? Would he actually win a road start for the first time in 11 months? With the opportunity to come way from this three-city, week and a half long road trip with a winning record, Jimenez would have to show out. He did that last night and more. I would be hard-pressed to find a better Ubaldo performance in Wahoo Red, White, and Blue than what I witnessed last night. The line speaks for itself. Seven Innings. No Runs. Three Hits. Two Walks. Four Strikeouts. "You're always looking to be encouraged, but I think we flew past encouraged and got excited," said manager Terry Francona. Two of the three hits allowed came to start the eighth inning. Jimenez was hitting 94-95 on the gun with his fastball consistently and was in the strike zone all night. The command that is always missing was there. He had not one, not two, but FOUR pitches working. To put it plain and simple, he was fantastic. You had to wonder to yourself, who is that man in the #38 jersey? Now if we could only bottle this up and use it the rest of the season, it would give the Indians a completely different dimension. "That felt really good out there," said Jimenez. "Those extra couple days really helped my arm. I was able to throw everything for a strike. In the bullpen, my fastball was really running. We felt we had to take advantage of that." Also working in Ubaldo's favor, was the Indians seemingly revitalized offensive attack. Maybe they got it out of their collective system in Sunday afternoon's shutout loss. The night cap Sunday produced a 10 spot. The carryover was evident right from the jump. Facing former Tampa Bay Ray Wade Davis, the Tribe got on the board with one out in the first. The slumping Jason Kipnis, who I openly said needed a night off, naturally homered. It was his first of the year. The Wahoos should have done more damage, but were derailed before they could bust things open. Asdrubal Cabrera walked and Nick Swisher singled. With two on and one out, they seemed to be in business. Mark Reynolds followed with a sharp single up the middle and for some reason, new third base coach Brad Mills sent Cabrera. He was easily gunned down by Lorenzo Cain. Why you send someone in the first inning in that spot with the AL's batting leader in Carlos Santana up next is a little head-scratching, but I digress. Santana K'd to end the threat, but the Tribe put Davis on notice. They were coming at him hard in this one. In the third, Michael Brantley laced a gap shot double and was brought home on Asdrubal's one out RBI single. Cabrera is starting to really heat up, which is a GREAT sign for the Tribe. With a 2-0 lead and Ubaldo cruising through four, the Indians were about to do in Davis. With one out in the fifth, Brantley again doubled, this time down the right field line. Kipnis then walked. Cabrera again stepped up in a run producing situation and delivered with the second double of the inning. After a Swisher ground out, Reynolds came through with a monster two-out RBI single. Santana kept the line moving with another double scoring yet another two-out run. At 5-0, the death blow was delivered not by Brody (get the reference?) but by Ryan Raburn, who tattooed a three-run, back-breaking bomb to left that ended Davis's night. Raburn would finish the night 4-4 with two homers and four RBIs. He entered the game with one RBI in 42 ABs and raised his average from .214 to .283. "It was a good night," said Raburn. "It was fun. We just try to do whatever we can to help the ballclub, whether it's one hit, a walk, getting a runner over, anything. Anything like this is always special. Two other Indians who have really begun to cook are Brantley and Cabrera. Dr. Smooth started this trip with a 0-4 night in Houston, but since has gone 13-41 (.311). Asdrubal is riding an eight-game hitting streak, where he has 12 hits in 29 at bats (.414). Give credit to Nick Hagadone for coming into the eighth inning with men on the corners and nobody out and preserving the shutout for Jimenez. He and Cody Allen were both impressive closing things out and making it look easy. The anemic offense which couldn't seem to get out of its own way on this trip, has scored 19 runs on 28 hits in the past two games. The starting pitcher who was another bad start of two from being shipped out, pitched seven scoreless innings. When you can figure out the game of baseball, please let me know. It was a 5-4 trip for the Indians, yet it seemed like they went 2-7 didn't it? The highs were real high and the lows were very low. Francona's club is now 7-2 when they score four or more runs in a game. They are 3-11 when they don't (hat tip to the great Jacob Rosen for this stat). The Indians finally return home and will play their first interleague games of the season. It will be the Philadelphia Phillies who come to Cleveland for a two-game set. Things open with Zach McAllister (1-3, 3.52 ERA) facing off with Roy Halladay (2-2, 5.08 ERA). (AP Photo/Reed Hoffmann)
Original Story:
http://www.waitingfornextyear.com/201...
THE BACKYARD
BEST OF MAXIM
RELATED ARTICLES
KANSAS CITY, Mo. (AP) From the moment that Ubaldo Jimenez started to warm up in the bullpen, and noticed the run on his fastball, he had a pretty good idea that this night would be unlike any other this season. Any other in quite a while, for that matter. The Indians' right-hander baffled the Kansas City Royals while pitching into the eighth inning, Ryan Raburn belted two home...
Kansas City, MO — Ubaldo Jimenez pitched seven plus innings of shutout baseball and right fielder Ryan Raburn went 4-for-4 with two home runs, as the Cleveland Indians beat the Kansas City Royals 9-0.   With the win, the Tribe finished their road trip with a 5-4 record before returning to Cleveland on Tuesday.   Jimenez (1-2, 7.13) recorded his first win since August 9, 2012...
Your browser does not support iframes.Home plate umpire Paul Emmel tried to ring up Cleveland Indians hitter Lonne Chisenhall on two strikes Monday night.The dubious moment came in the top of the fifth inning when Kansas City Royals hurler Luke Hochevar delivered a 3-1 strike right down the heart of the plate. This is when Emmel apparently loses track of the actual count and proceeds...
This road trip can't end soon enough for the Tribe. Yet, here they are, eight games in with one game remaining, and they are 4-4. All things considered, that is pretty astounding. There is little doubt that the Indians are a flawed team. You look at the roster and it is considerably better than it was last year. The bullpen is still loaded with options. The lineup is solid to to...
Just what the doctor ordered. The Indians continued their hot play on Tuesday as they routed the Philadelphia Phillies in a slugfest, 14-2. Tribe bats exploded for 14 runs on 16 hits to win their third consecutive game. Offensively, Cleveland greeted Interleague play and Phillies starter Roy Halladay with a knockout, belting a Progressive Field record seven home runs in the contest...
Game 1: Royals 9, Indians 0 Game 2: Indians 10, Royals 3 Player of Game 1: Jeremy Guthrie (6.2 Inn. 6 hits 0 ER 3 BB / 5 SO) Player of Game 2: Corey Kluber (7 Inn. 7 hits 2 ER 0 BB / 6 SO) The Leadoff It was a tale of two completely different ballgames on Sunday, as the Indians split a day-night doubleheader with the first place Kansas City Royals at Kauffman Stadium. Game...
CLEVELAND (AP) --Ryan Raburn homered twice for the second straight game and the Cleveland Indians hit seven home runs in all, routing the Philadelphia Phillies 14-2 Tuesday night. The Indians set a major league high this season for homers in a game. Cleveland has won three in a row, outscoring opponents 33-5 in that span. Philadelphia had won three in a row before Roy Halladay (2...
PAWTUCKET, RI – The Columbus Clippers lack of offense led them to their second loss of the series with the Pawtucket Rex Sox, falling, 5-1. The Clippers went 7-for-33 on the game leaving 11 runners on-base and also went 0-for-7 with runners in scoring position—striking out ten times as a team. The bats ultimately were the difference in the game for both clubs.  On the opposing...
Philadelphia Phillies (12-14) @ Cleveland Indians (10-13)Pitching Match-Ups:Tuesday - Doc Halladay vs. Zach "Not Kevin" McAllisterWednesday - Cliff Lee vs. Trevor "Not Jack" Bauer*Each are a 7:05 game time.Offensive Native American Named Team Offense:R - 106 (14th)AVG - .257 (9th)OPS - .764 (3rd)Carlos Santana/C, Mark Reynolds/DH/1B, Nick Swisher/OF, and Michael...
As many baseball players and umpires can attest to, games can run a little long and at times, you can lose track of what is going on. During Monday night's Kansas City Royals/Cleveland Indians game, home plate umpire Paul Emmel in the fifth inning made a notable blunder. With Cleveland's Lonnie Chisenhall at the plate, Emmel called an emphatic strike three to end the...
Kluber Lang Got Some Strikeout Punch Photo Credit: SD Dirk   Most fantasy writers have no problem recommending players you should go after, but do they really pick up all the players they hype up? I'll answer for them: no. Here on "Star's Shares," we'll discuss players yours truly has personally invested in. If a player is good enough to sit on one of my three...
(AP) -- After each team took turns in coming up with big efforts at the plate in a doubleheader split, it could be time for the Kansas City Royals to do so in Monday night's series finale with the Cleveland Indians. The Royals try to add to the woes of beleaguered Indians starter Ubaldo Jimenez when these teams complete a four-game set at Kauffman Stadium. Friday's rainout...
MLB News

Delivered to your inbox

You'll also receive Yardbarker's daily Top 10, featuring the best sports stories from around the web. Customize your newsletter to get articles on your favorite sports and teams. And the best part? It's free!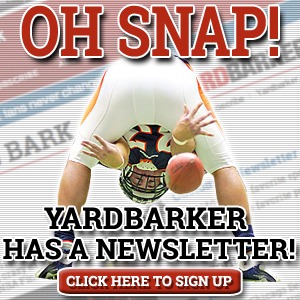 Latest Rumors
The Backyard

Today's Best Stuff

For Bloggers

Join the Yardbarker Network for more promotion, traffic, and money.

Company Info

Help

What is Yardbarker?

Yardbarker is the largest network of sports blogs and pro athlete blogs on the web. This site is the hub of the Yardbarker Network, where our editors and algorithms curate the best sports content from our network and beyond.