Found December 12, 2012 on Mets Merized Online:
PLAYERS:
Sandy Alderson
,
RA Dickey
,
Tim Byrdak
,
Jon Rauch
,
Mike Pelfrey
,
Ramon Ramirez
,
Kelly Shoppach
,
Andres Torres
,
Manny Acosta
,
Scott Hairston
,
David Wright
,
Jason Bay
,
Jeff Wilpon
,
Omar Minaya
TEAMS:
New York Mets
,
Seattle Mariners
The words seared into my consciousness. I previously defended Sandy Alderson, thinking as a hired gun his job was to pare payroll and ease the Mets' financial strain, which he did. However, there is no defending what he said yesterday at the Mets' Annual Christmas party, one where they asked R.A. Dickey to dress as an elf. I usually applaud honesty, but this time it would have been better had Alderson kept his mouth shut. If you're surrendering the season before Christmas, don't come out and say it, not with good will in the air. "I would expect the roster would look similar to what it did at the end of last season – with some exceptions," Alderson said. Ouch … that hurt, but deep down we expected that to be the case all along. Yeah, and those exceptions will put the Mets over the top. Yeah, and I still believe Santa Claus and the M & M talking candies do exist. Alderson doesn't think much of the FA market and the Mets have precious little to trade. If he thinks that cupboard is...
Original Story:
http://metsmerizedonline.com/2012/12/...
THE BACKYARD
BEST OF MAXIM
RELATED ARTICLES
This afternoon at the New York Mets holiday party in Citi Field, R.A. Dickey told reporters he would test free agency after the 2013 season, if he does not sign a contract extension with the club this off-season.  Which R.A. said would most likely mean he will not be back in 2014. "If that's the decision they feel like is best for the club, and that's the decision that they...
I think most Met fans are tired of the saga of R.A. Dickey.  I know that I am.  I fully agree with the reports that once Hamilton signs (hopefully with Texas) the Mets and their potential dance partners will have a better idea of the scope of the dance floor. (Trade Floor) The most likely suitors appear to be the Rangers and Dickey would be in some ways coming home to the team...
KNUCKLE UP
The Mets are trying to figure out how the reigning NL Cy Young winner fits into their future plans, but the team is reportedly a little miffed with the knuckleballer's actions of late.
According to Adam Rubin of ESPN New York, free agent Scott Hairston says the Mets remain in the mix, but a multiyear contract will be required to return to Queens. "Things are starting to pick up now that the market is settling in," Hairston told ESPNNewYork.com. "Still unsure where I'll sign, though. There are a lot of trades happening around the league, so it's possible...
Mike Puma of the NY Post says that according to a team official, the Mets are "not happy" that Dickey used yesterday's holiday party as a forum for an airing of grievances. The Mets continue to explore trading Dickey, but haven't made headway in convincing potential suitors such as the Rangers and Blue Jays to part with top prospects. Also, a high-ranking club official brushed...
Like many others, I've expressed some bewilderment on Twitter about how the Mets are handling their negotiations with R.A. Dickey. Dickey was one of the game's best players in 2012, and the Mets were reportedly offering him the same kind of contract Joe Blanton just signed for, and have now improved their offer to make it equal to what Jeremy Guthrie just signed for. There's...
The Mets have just released the details of David Wright's eight-year, $143 million dollar contract. The breakdown is as follows: Base Salary 2013: $11M ($3.0M deferred) 2014: $20M ($2.5M deferred) 2015: $20M ($2.5M deferred) 2016: $20M ($2.5M deferred) 2017: $20M ($2.5M deferred) 2018: $20M ($2.5M deferred) 2019: $15M 2020: $12M Award Bonuses First-time MVP: $500,000 ($200...
NL Cy Young winner R.A. Dickey feels he's been more than fair in his request for a market-value contract extension, but also understands the business side. To that end, he told reporters that he likely won't be a Met beyond next season without one. The have three options regarding their ace. They can deal him, extend him, or let pitch in 2013 at $5 million. Both sides...
From the ACBL Darin Gorski (Quakertown, 2007; Kutztown,2008) was recently added to the New York Mets 40-man roster. The 6-4 LHP went 9-8 with a 4.00 ERA in 24 starts for Binghamton (AA) this summer. In 2011 he was the Mets Organizational Player of the Year after going 11-3 with a 2.08 ERA for St. Lucie (High A). He was a seventh round pick of the Mets in the 2009 draft and...
Noted Mets fan Jon Stewart ... you know him as host of The Daily Show ... had R.A. Dickey on his show last week to discuss his book, his mountain climbing, and his baseball future. He pulled no punches right off the bat with his first question: The Daily Show with Jon Stewart Mon - Thurs 11p / 10c Exclusive - R.A. Dickey Extended Interview...
How much stock can you put into stats from the Dominican Summer League? In a few years, we might just find out. The man pictured above is none other than Vicente Lupo, a highly-touted international prospect that signed on with the Mets in July of 2010. I have never seen anything along the lines of footage from Vicente Lupo, so all I have to work with are the numbers that he put up...
The New York Mets are asking for a lot in return if they were to trade R.A. Dickey.  For that reason, it may be more likely that the team extends his contract.  No matter what they do, they cannot let him pitch in 2013 without a new contract or a new team.  That just wouldn't make sense.  With that in mind, the Mets have increased their offer to Dickey. According to Andy...
MLB News

Delivered to your inbox

You'll also receive Yardbarker's daily Top 10, featuring the best sports stories from around the web. Customize your newsletter to get articles on your favorite sports and teams. And the best part? It's free!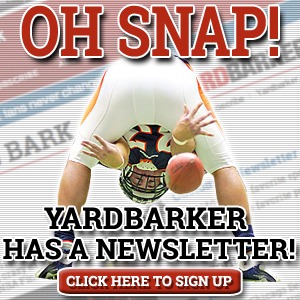 Latest Rumors
Best of Yardbarker

Today's Best Stuff

For Bloggers

Join the Yardbarker Network for more promotion, traffic, and money.

Company Info

Help

What is Yardbarker?

Yardbarker is the largest network of sports blogs and pro athlete blogs on the web. This site is the hub of the Yardbarker Network, where our editors and algorithms curate the best sports content from our network and beyond.