Found February 20, 2013 on World Series Dreaming:
"Tom (Downers Grove) People are downplaying the importance of Navarro coming here and backing up Castillo. Am I the only one who thinks Navarro was a great pick up and could play his way into starting? Bruce Levine (1:35 PM) No, you're not–I'm convinced of the same possible result. During his media session on Monday, Cubs' starter Matt Garza went on and on about Navarro's skills as a catcher. At 28, he is hardly just a backup at this point of his career." http://espn.go.com/sportsnation/chicago/chat/_/id/47066 Just over a week ago I found this comment in Levine's shortened chat session on February 12th.  The comment caught me by surprise because Dioner Navarro has not been a starter since 2009, and last year was the first time his OPS was above .600 since 2008.  Welington Castillo is far from the second coming of Buster Posey, but the numbers Navarro has put up should not be hard to eclipse. To be perfectly honest I have never read Bruce Levine for his analysis on baseball decisions, but rather to hear what his contacts feed him for information.  I considered his analysis as on point as it was on the decision between Tony Campana and Dave Sappelt.  Levine commented on January 29th that: "One of those guys — and I'm guessing it's Sappelt — may be designated for assignment when they make a roster move to put Hairston on the 40-man. Campana is a guy you want to keep because he can help change games with his speed, and he gives you some protection if someone on the 25-man is injured." http://espn.go.com/sportsnation/chicago/chat/_/id/46895 Not to pat myself on the back too hard, but I called that well before that comment.  So it was easy for me to dismiss out of hand Levine's comment.  That was until Anno tweeted this morning the Cubs intrasquad lineups:   Intros quad line up Blue Team Valbuena 2B Sappelt CF Castillo C Nelson 1B Soler LF Baez SS Lake 3B Jackson RF Bogusevic DH — WorldSeriesDreaming (@WSDreaming_Cubs) February 20, 2013   Intros quad line upWhite Team DeJesus CF Castro SS Rizzo 1B Soriano LF Schierholtz RF Navarro C Stewart 3B Barney 2B Hairston DH — WorldSeriesDreaming (@WSDreaming_Cubs) February 20, 2013   The first thing I noticed, after wondering what the hell an "Intros quad" was, was the B team's centerfielder in Dave Sappelt.  There had been some question about how much Sappelt could be trusted as a CF, but he has always made the most sense as a platoon mate for David DeJesus.  The fact that they are trotting him out in CF in the first game suggests that the Cubs will go with two platoons in the OF this season like I was hoping, but looking at the other team's lineup I was caught off guard. Now I know better than to read too much into the lineups in spring training, much less for the first intrasquad game.  But one thing jumped out right at me instantly.  If you had asked me yesterday to draw up the Cubs opening day lineup it would have been that with a pitcher instead of a DH.  The one change was the catcher spot. I thought back to the comments Levine had made about Navarro and Castillo.  Then I started to think about Beef Castle in more detail.  Castillo has all the tools to be a solid big league catcher.  He is athletic enough behind the plate with a strong arm.  He will hit for some power which is something the lineup needs desperately.  However, it doesn't take too much digging to find the weaknesses in Castillo's game.  He has been below average in drawing walks for virtually his entire pro career which is a no no with the current regime.  His arm, while strong, is hardly accurate, and perhaps most damning of all is his reputation for being a poor framer of pitches. Theo Epstein upon taking over the franchise made it a point to emphasize the organization's focus on defense.  Measuring defense is the hardest thing to do, but great strides have been made recently.  Catcher defense is the latest nut to be cracked, but Mike Fast has just put forward an interesting article about the effects of catcher's ability to frame pitches.  The article suggests that the catcher's ability to get favorable calls over a long season can be staggering.  So perhaps Navarro does have something to offer with the reputation as a very good to excellent defensive catcher. On the first day of games I already have more questions than I thought I would have all spring training.  I am left with two possibilities to consider today.  On the one hand I could have gravely underestimated Levine's analysis abilities; or I could have been right in saying that one should not read too much into the first intrasquad rosters of spring training.  Either way this storyline has become the most interesting one to me outside of the battle for the final bullpen spot(s).
Original Story:
http://worldseriesdreaming.com/2013/0...
THE BACKYARD
BEST OF MAXIM
RELATED ARTICLES
Starlin Castro had three hits (two singles and a double) and scored three runs, and Jorge Soler, Nate Schierholtz, and Brian Bogusevic slugged solo home runs, as the White Squad defeated the Blue Squad 7-3 in a five-inning inrasquad game played this afternoon at Dwight Patterson Field at HoHoKam Park in Mesa, AZ. Tags: Spring Training RecapStarlin CastroBrian BogusevicNate SchierholtzJorge...
SUPPORT THE TEAM
An Iraq War veteran and die-hard Chicago Cubs fan received a prosthetic Chicago Cubs eye.
Everyone heckles the Cubs Despite packing in the fans last year (the Cubs held the tenth spot in overall attendance rankings) the Cubs managed to fall 36 games behind the first-place Reds, finishing fifth in the NL Central standings. WIll the bleacher bums have something to cheer about in 2013 or will they heckle their own team worse than the two old men in the balcony on the...
Alfonso Soriano is still focused on priority one, winning a World Series. With the Cubs undergoing a rebuilding phase, Soriano realizes his chances to help the Cubs win their first World Series are dwindling. The trade rumors will persist until he is eventually traded, it's clear Soriano doesn't want to be a part of a losing team. The Dodgers could still be interested in bringing...
Bad luck just keeps getting worse for Chicago Cubs' starter Matt Garza. After spending the second half of 2012 on the disabled list and the offseason rehabbing his right elbow, Garza finally returned to throwing live batting practice as the Cubs began full-squad Spring Training workouts. Now, Garza will miss at least a week after Tuesday's MRI revealed a mild lat strain...
Unfortunately, there is little information available on the man behind the Chicago Cubs prosthetic eye depicted above save for a tweet from the Smithsonian's official Twitter account, but that does not take away from the sheer awesomeness of an Iraqi War veteran's decision to have his evidently much-beloved favorite Major League Baseball team imprinted upon his new artificial...
According to a report, the Cubs are willing to eat $26 million of the remaining $36 million owed left fielder Alfonso Soriano over the next two seasons, the last of the eight-year, $136 million deal he signed before the 2007 season. The contract includes a full no-trade clause, which Soriano invoked last season when he rejected a trade to the San Francisco Giants, using the negative...
Tweet   The Chicago Cubs have one of the more passionate fan bases in Major League Baseball. Bill Murray, Jim Belushi, Vince Vaughn, and Billy Corgan are a few notable names who have pledged allegiance to the residents of Chicago's North Side. With the Cubs having been in existence for more than one hundred years [...]
Chicago Cubs starting pitcher Matt Garza is pretty confident he'll be ready for the teams season opener. Garza suffered a lat strain on Sunday when throwing batting practice, the injury isn't deemed to be serious though. Matt is expected to miss about a week of practice time, which would include one Spring Training start. "I'm not worried about spring starts, I'm more...
I woke up this morning and for the first time all winter, I am suffering from a bad case of Offseason Blues.  Perhaps it's because for the first time all winter, I had to pull out the shovel to clear away that horrid white stuff off my driveway.  Or perhaps it's because the sub-zero windchill temperatures slapped at my face as I did so.  I just need a reminder that the crack...
FINALLY!  The Cubs have heard our cries!     Cubs in-game programming director Jim Oboikowitch said Tuesday there will be some changes to the stretch this year after listening to what fans had to say. "I think we definitely want to focus on former Cubs players, people that are Chicago natives, people who know baseball and who are Cubs fans," he said. "I do think we want...
MLB News

Delivered to your inbox

You'll also receive Yardbarker's daily Top 10, featuring the best sports stories from around the web. Customize your newsletter to get articles on your favorite sports and teams. And the best part? It's free!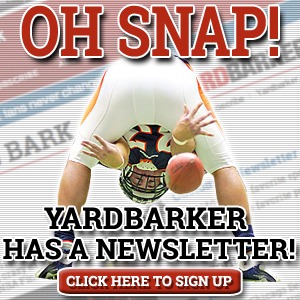 Latest Rumors
Best of Yardbarker

Today's Best Stuff

For Bloggers

Join the Yardbarker Network for more promotion, traffic, and money.

Company Info

Help

What is Yardbarker?

Yardbarker is the largest network of sports blogs and pro athlete blogs on the web. This site is the hub of the Yardbarker Network, where our editors and algorithms curate the best sports content from our network and beyond.