Found December 16, 2011 on Mets Fever:
Mets announced that they signed Chuck James to a minor league deal with an invite to spring training, the 30 y/o left hander is the exact type of pitcher Alderson described less then a week ago.  Someone who could either pitch out of the rotation or the pen and could start the year in Buffalo.
Selected in the 20th round of the 2002 draft by the Braves, he was the #96 ranked prospect in all of baseball by Baseball America prior to the 2006 season.  James made his major league debut in 2005 when he pitched in two games as a Sept. call-up.  In his rookie season (2006) he went 11-4 with a 3.78 ERA in 18 starts of 25 appearances.  The next year he would spend the entire season in the rotation as a #3 in which he went 11-10 with a 4.24.  2008 would be his last season as a Brave making seven starts with an ERA of 9.10 and a record of 2-5.
Reminiscent of the Mets medical staff, James would express concern about discomfort which the medical staff could not find.  A second opinion would result in a minor procedure to clean up the shoulder that turned into a complete rebuild.
Finally, James sought a second opinion. By the end of the '08 season, he said, "I got to where I couldn't throw any more." He agreed to surgery in September 2008, when doctors told him they would clean up debris in his pitching shoulder. The surgery, they said, would take 30 minutes. Instead, they spent more than four hours repairing the damage from a tear in the labrum and a tear in the rotator cuff. James said they also removed his bursa sac. source Syracuse.com 
He would miss the entire 2009 season and rehab in the Nationals minor leagues during the 2010 season.  Between AA and AAA he made made 26 appearances, seven starts and 4 game finishes.  A combined 2.32 ERA with a record of 10-1 and two saves.
He would sign with the Twins for the 2011 season, starting the year in AAA where he appeared in 38 games   (68 innnings) with an ERA of 2.30.  He finished 14 games but only recorded one save for the season.  He came up briefly with the Twins, appearing in eight games with a 6.10 ERA.  It didn't appear that James was ever in the Twins plans and they let him go at the end of the season.
He has two years of service so this season if he were to make the team he would have options and going forward would be arby eligible for three years...
Chuck James
 was designated for assignment to clear a 40-man roster space for September call-up 
Liam Hendriks
 and passed through waivers unclaimed, so he remains at Triple-A but is no longer on the 40-man roster. James was fantastic at Rochester, throwing 63 innings with a 2.30 ERA and 67-to-27 strikeout-to-walk ratio, but he struggled in 10 innings for the Twins and they never seemed particularly interested in giving the 29-year-old lefty an extended chance. source Aaron Gleeman
Original Story:
http://www.metsfever.com/2011/12/jame...
THE BACKYARD
BEST OF MAXIM
RELATED ARTICLES
The difference between the #2 and the #3 Top Mets Prospect is so small, you can't even see it from here. You would need some extreme magnification to see the difference between these two players. And since someone has to be 3rd, I flipped a coin, of course I'm kidding, I studied long and hard. I crunched the number's, I poured over reams of scouting reports, made coffee, I...
I had a chance to chat recently with 22-year-old Mets minor league pitching prospect, 6'3″ left-hander, Adam Kolarek. Adam pitched nearly all of 2011 with the South Atlantic League Southern Division Champion, Savannah Sand Gnats, helping to anchor their bullpen. It was really nice of Adam to take some time off from holiday shopping to chat with us here at MMO, let's see what...
In trading Angel Pagan for Andres Torres the Mets are giving up almost 40 points in in batting average and 30 more strike outs a season.  So was the addition of power arm Ramon Ramirez the only reason the Mets down graded an offensive position on a team that will need to score runs.  Watching the above posted video Kevin Burkhardt and Andy Martino discuss Angel Pagan's struggles...
I've been spending a great deal of time in Lansing, Mich., lately covering activity in and around the state Capitol.You know the expression about laws and sausage-making. Well, I like to see the process. I've enjoyed my new assignment.One of the best parts of downtown Lansing is a magical place called The Peanut Store, located on Washington Square a block from the Capitol...
There are times when you see a very distinct line drawn in the sand between Mets fans. Often times, both sides misunderstand something about the other side, and things get out of control. People who agree with things Alderson are doing are not tired of the same old tricks that never seem to work in NY, and are not tired of bad contracts and overpaid players underperforming. They...
Remember back in early October when I first mentioned that Sandy Alderson may bid the Mets farewll after the 2012 season to take over for Bud Selig as commissioner of baseball? Remember when I told you a person who works at MLB told me that "the Mets are Sandy Alderson's test"? Here's something that may validate both those claims a little bit. Adam Rubin of ESPN just posted...
In a post to Twitter, Jon Heyman of CBS Sports says the Mets have talked with Jack Wilson and Ronny Cedeno about their infield opening. More to come…
The Mets continue to have "regular contact" with free-agent SS Jack Wilson, according to a tweet from Ken Rosenthal of Fox Sports. Last month, Jon Heyman said the Mets, Dodgers and Braves are among teams with interest in Wilson, which was confirmed by his agent in the New York Post. Wilson, 34, hit just .243 with a .274 OBP and just 9 extra base hits in 79 games between the...
ADD ANOTHER complex task to Sandy Alderson's schedule: The Mets general manager was one of three executives named Thursday to represent Major League Baseball in the International Talent Committee, which will discuss the possibility of an international draft.
Hardly content with their starting rotation headed to spring training, the Mets are among the teams interested in Oakland's Gio Gonzalez, according to an industry source.The price tag could be significant — with it likely the Mets would have to include Ike Davis and Jon Niese in any deal...
MLB News

Delivered to your inbox

You'll also receive Yardbarker's daily Top 10, featuring the best sports stories from around the web. Customize your newsletter to get articles on your favorite sports and teams. And the best part? It's free!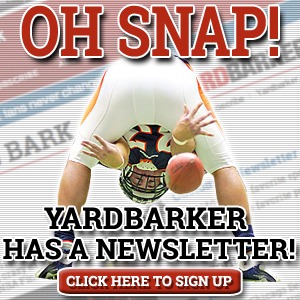 Latest Rumors
The Backyard

Today's Best Stuff

For Bloggers

Join the Yardbarker Network for more promotion, traffic, and money.

Company Info

Help

What is Yardbarker?

Yardbarker is the largest network of sports blogs and pro athlete blogs on the web. This site is the hub of the Yardbarker Network, where our editors and algorithms curate the best sports content from our network and beyond.