Found August 13, 2012 on Pro Sports Daily:
Shortstop Paul Janish has committed only one error since joining the Braves. That kind of glove work was expected. "He's a proven defensive talent, and we felt like, for our club, that was the most important aspect of the acquisition," general manager Frank Wren said the night he made the trade. His ability to catch and throw and his quickness in beginning double plays has been a big factor in allowing the starting pitchers to throw fewer pitches and go deeper into games. Whether he could do anything on offense was never mentioned, except for how it wasn't expected. "We didn't bring him in for him to win the batting title," manager Fredi Gonzalez said. And he's continued to say it. But Janish has gotten a couple of key hits and has earned key walks, as he did Wednesday against the Phillies, allowing right-hander Tim Hudson to come to the plate; he doubled in two runs. Janish singled in his first at-bat in Sunday night's 6-5...
Original Story:
http://www.prosportsdaily.com/article...
THE BACKYARD
BEST OF MAXIM
RELATED ARTICLES
The Atlanta Braves are moving to a six-man rotation for two weeks. Manager Fredi Gonzalez says he'll pick the best five starters at the end of August. The Braves created a surplus in their rotation last month by trading for Paul Maholm, signing Ben Sheets and moving Kris Medlen from the bullpen. Right-hander Tommy Hanson, who leads Atlanta with 12 wins, returns from the disabled...
Atlanta Braves starting pitcher Tommy Hanson may come back from the disabled list Friday after he threw five shutout innings for Triple-A Gwinnett. Hanson scattered three hits over five innings on Sunday, providing the Braves with the problem everyone wants to have – having too much pitching. Atlanta could go with a six-man rotation, citing Ben Sheets' injury history and Tim...
NEW YORK (AP) -- Chipper Jones and Brian McCann are back in the Atlanta Braves' lineup. Jones was in the cleanup spot Saturday night against the Mets. The 40-year-old third baseman sat out the previous game with tightness in his back that he said was caused by an uncomfortable bed in his New York hotel room. He said he slept on the couch Friday night and his back was feeling...
With the Phillies' recent trades of Victorino, Pence, and Blanton, Ruben Amaro now has roughly $40 million to spend during the off season. That's about as dangerous as handing over your money to Bernie Madolf. Given Amaro's propensity for overspending on players (Ibanez, Papelbon, and Lee just to name a few) and an empty bag of money at his disposal, I just get the feeling...
Well, this is sad. Thanks for asking bout my thumb have surgery wed am. Ill miss bein part of this playoff run, but now I'm the biggest braves fan w y'all — Matthew Diaz (@diazfoundation) August 14, 2012 Thanks for thots, pls know 2 things, I'm at peace, & kinda relieved to have a gm pln.2 braves r great and r j is a better version of me!! — Matthew Diaz (@diazfoundation...
The Braves are going with a six-man rotation until their next scheduled off day on Aug. 30. Here's the starting staff: Tim Hudson, 11-4, 3.77 ERA Paul Maholm, 10-7, 3.50 Kris Medlen, 3-1, 2.28 Tommy Hanson, 12-5, 4.29 Ben Sheets, 4-2, 2.13 Mike Minor, 6-8, 4.95 Kris Medlen insists it doesn't matter if he's one of the starting five or if he's hanging out in the bullpen...
NEW YORK -- With nine 100-RBI seasons to his credit, including eight in a row from 1996 through 2003, Chipper Jones knows a budding middle-of-the-order hitter when he sees one. And in teammate Freddie Freeman, Jones sees a player with the talent to take the baton from him as the Atlanta Braves' premier power hitter. Freeman finished with five RBI and hit a mammoth three-run...
Let's just say that Johan's first start off the DL was not a successful one. That was one über ugly performance. Johan's last three starts against the Braves have been just awful. 1 1/3 innings and 8 runs, 5 innings 6 runs, 1 1/3 innings 6 runs (4 earned). For some unknown reason, ESPN/MLB has decided that this game is so big that it has been moved to an 8pm start. Luckily...
NEW YORK (AP) -- Jonathon Niese pitched six-hit ball over eight innings, David Wright sparked the offense with a pair of doubles against Ben Sheets, and the New York Mets just hung on to beat the Atlanta Braves 6-5 Sunday night and salvage the finale of a three-game series. A night after the Braves battered Johan Santana, Niese (9-6) tamed Atlanta's offense and stopped yet another...
Monday: San Diego at Atlanta, 7:10 p.m. (SportSouth); Eric Stults (2-2, 2.72 ERA) vs. Mike Minor (6-8, 4.95) Tuesday: San Diego at Atlanta, 7:10 p.m. (SportSouth); Clayton Richard (9-11, 3.79) vs. Tim Hudson (11-4, 3.77) Wednesday: San Diego at Atlanta, 7:10 p.m. (SportSouth); Edinson Volquez (7-8, 4.03) vs. Paul Maholm (10-7, 3.50) Thursday: San Diego at Atlanta, 7:10 p.m. (SportSouth...
Sunday, August 12, 2012 ESPN – 8:05 PM Ben Sheets (4-1, 1.41) vs Jonathon Niese (8-6, 3.82) The Mets and Braves play a prime time game tonight as the Mets try to forget everything about the baseball since the All-Star break. Last night was rough as Santana struggled allowing too many runs in too short of a period of time. Tonight Jon Niese looks to play stopper as he steps up against...
NEW YORK -- Freddie Freeman finished with five RBI and hit a mammoth three-run homer during a seven-run second inning and Kris Medlen threw 6 1/3 solid innings as the Atlanta Braves routed the New York Mets 9-3 in front of 30,388 Saturday at Citi Field. The Braves' 14th win in their last 17 games kept them atop the National League wild card race. The Mets lost for the sixth...
Braves News

Delivered to your inbox

You'll also receive Yardbarker's daily Top 10, featuring the best sports stories from around the web. Customize your newsletter to get articles on your favorite sports and teams. And the best part? It's free!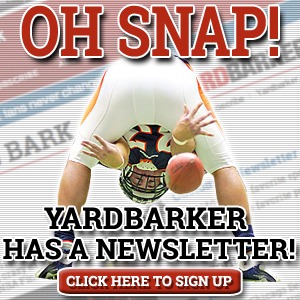 Latest Rumors
Best of Yardbarker

Today's Best Stuff

For Bloggers

Join the Yardbarker Network for more promotion, traffic, and money.

Company Info

Help

What is Yardbarker?

Yardbarker is the largest network of sports blogs and pro athlete blogs on the web. This site is the hub of the Yardbarker Network, where our editors and algorithms curate the best sports content from our network and beyond.