Found July 06, 2012 on B-More Birds Nest:
The following is a guest post from A.J. Gersh of The Orioles News. Check out his work at TheOriolesNews.com, or find him on twitter at @theoriolesnews. A.J. will be a regular contributor to the Nest going forward, specializing in Sabermetric analysis of the O's.
Sabermetrics play a key role in evaluating players in the MLB. One such statistic is WAR (Wins Above Replacement). This helps fans understand which players are most valuable to their team. The WAR stat pretty much says, "This is how many fewer games your team will win if this player is replaced with a bench or AAA level player." Your average player is going to have a WAR total of 2-3 at the end of the season. Another stat is FIP (Fielding Independent Pitching). This measures what a pitcher's ERA should look like assuming the balls in play and timing were league average.  FIP looks at strikeouts, walks, home runs, and hit by pitches. It evaluates the skill of the pitcher and the pitcher only, while ERA has can be effected by defenders, the official scorer, and the hitter. Rating FIP Excellent 2.90 or below Great 3.25 Above Average 3.75 Average 4.00 Below Average 4.20 Poor 4.50 Awful 5.00 This season, the Orioles rotation has had it's ups and downs. Two of the five starters have established themselves as a clear 1-2 punch. Jason Hammel with a WAR of 2.5 and Wei-Yin Chen, 1.4, both have ERAs under 4 and have been very valuable to the O's this season. As we are nearing the All-Star break, Jason Hammel and Wei-Yin Chen (as you see below), have been two of the most valuable pitchers on the Orioles. According to the WAR stat, without them, the Orioles would be around 40-42 (The team is currently 44-38).
Name
W
L
SV
G
GS
IP
K/9
 BB/9
 HR/9
 BABIP
 LOB%
 GB%
 HR/FB
 ERA
 FIP
 xFIP
 WAR
Jason Hammel 8 4 0 16 16 99.2 8.76 3.07 0.72 .286 72.9 % 53.6 % 10.1 % 3.43 3.22  3.34   2.5 Wei-Yin Chen 7  4 0   16 16  99.0 6.64 2.73    1.09    .272      73.9 % 37.5 %  9.5 %   3.64  4.14  4.43    1.4 The biggest difference between the two is their FIP. Jason Hammel's ERA is higher than his FIP because the defense of the Orioles has caused an inflated Earned Run Average. Because he doesn't give up many home runs or hit many batters, his FIP is low. Chen, on the other hand, averages over 1 earned run per nine innings. He also averages over two less strikeouts per game. These factors cause his FIP to jump over 4.00, when his ERA (which is deceiving) is 3.64. Jake Arrieta had a 4.02 FIP before last night's horrid start. Though his ERA is 6.13, he throws a ton of strike outs and does not get help from the O's defense, causing his FIP to decrease. Brian Matusz (5.11), Dana Eveland (6.38), and Tommy Hunter (5.74) all have been absolutely horrid when it comes to evaluating Fielding Independent Pitching. Hopefully Chris Tillman (2.11 after one start) and Miguel Gonzalez can help the Orioles pitching staff lead the team into the playoffs. Another side stat on Matusz, Eveland, and Hunter: The combined WAR of these three starters is 0.0.
Original Story:
http://feedproxy.google.com/~r/bmoreb...
THE BACKYARD
BEST OF MAXIM
RELATED ARTICLES
Chris Tillman impressed everyone in his first outing of the season on July 4th.  The Baltimore Orioles gave him a start after he pitched to a 3.63 ERA with 92 SO in 89.33 innings at AAA Norfolk this year. Let's start by talking about what Tillman used to look like…. I had never been overly impressed with the right-hander in the past. His fastball flies exceptionally straight...
Baltimore Orioles pitcher Miguel Gonzalez honored his friend and former minor league teammate Nick Adenhart, who was killed by a drunk driver in a car accident in April 2009, by using a glove Friday night that Adenhart gave him two years earlier. Gonzalez made his first major league start at Angel Stadium in front of 200 family members and friends. He went to high school in Southern...
Hours after he struggled through another start, the Baltimore Orioles sent right-handed pitcher Jake Arrieta to the minor leagues early Friday morning. Arrieta, who lasted 3 2/3 innings Thursday night in a loss to the Los Angeles Angels, was optioned to Class AAA Norfolk. An off-and-on starter since being selected as the Orioles' opening day starter, Arrieta has compiled...
The trade that sent Erik Bedard to the Seattle Mariners is famous for bringing Adam Jones to Camden Yards. Jones wasn't the only big talent included in the infamous deal, though — Chris Tillman, a 6'5″ right-handed pitcher and the Mariners' second round pick in 2006 was considered at at time to be an ace in the making. Topping out as the 22nd-best prospect in the game according...
It goes without saying that this four-game series over the weekend is monumental for the Baltimore Orioles, as it could help them stay in the thick of things in the American League East hunt. Then again, if they do not at least split the series in California, it could send the Orioles into quite the tailspin and dangerously close to the .500 mark, plus to the basement of the division...
The Baltimore Orioles are a looking to acquire Zack Greinke from the Brewers reports Dan Connolly of the Baltimore Sun. Greinke is a free agent after this season, and the Brewers will likely move the 29 year old pitcher if they are unable to sign him to an extension before the July 31 deadline. Greinke is 9-2 on the season, with an 3.08 ERA and 106 strikeouts in 108 innings. The...
Outfielder Antoan Richardson is taking advantage of the opportunity Bowie is giving him.
                                                   @   Baltimore Orioles (45-38) @ Los Angeles Angels of Anaheim (46-38)  Pitching Probables: BAL -- Jason Hammel (8-4, 3.93 ERA)  LAA -- Jered Weaver (9-1, 2.13 ERA) Game Info: 7:05 PM PT; TV - FSN; Radio - KLAA 830Okay, so last night didn't go according to plan. It&...
ANAHEIM, Calif. (AP) -- Steve Pearce hit a three-run homer, Miguel Gonzalez pitched seven stellar innings in his first career victory, and the Baltimore Orioles hung on to beat the Los Angeles Angels 3-2 Friday night. Gonzalez (1-0), who is from the nearby San Fernando Valley, yielded three hits and a run while striking out six to win his first major league start, delighting a few...
                                                   @   Baltimore Orioles (44-38) @ Los Angeles Angels of Anaheim (46-37)  Pitching Probables: BAL -- Miguel Gonzalez (0-0, 2.31 ERA)  LAA -- CJ Wilson (9-4, 2.33 ERA) Game Info: 7:05 PM PT; TV - FSN; Radio - KLAA 830Anyone else majorly concerned about the Angels' starting...
What can you say about the Orioles? For the past few weeks, they've been lackluster and on the left coast last night – in Anaheim – their struggles at the plate continued. Jered Weaver and the Angels defeated the Orioles again, this time by a score of 3-0. Once again, Weaver treated the Orioles like garbage, as he went eight innings, allowed only three hits and struck out...
Orioles News

Delivered to your inbox

You'll also receive Yardbarker's daily Top 10, featuring the best sports stories from around the web. Customize your newsletter to get articles on your favorite sports and teams. And the best part? It's free!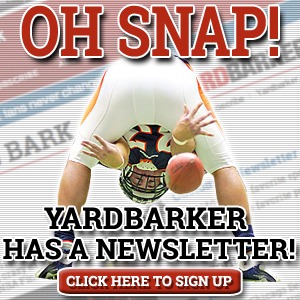 Latest Rumors
Best of Yardbarker

Today's Best Stuff

For Bloggers

Join the Yardbarker Network for more promotion, traffic, and money.

Company Info

Help

What is Yardbarker?

Yardbarker is the largest network of sports blogs and pro athlete blogs on the web. This site is the hub of the Yardbarker Network, where our editors and algorithms curate the best sports content from our network and beyond.