Found September 22, 2012 on The Other Paper:
From The Other Paper:
Derek Jeter isn't going anywhere — that is unless the New York Yankees organization isn't prepared to whip out its wallet and pay the Yankee-for-life.

On Friday, Jeter clarified comments he made about leaving the Yankees a day after stories surfaced about that possibility when his contract expires after the 2013 season.

In an interview with ESPN's Rick Reilly, Jeter was asked, "Peyton Manning changed teams this season after 14 seasons with one team. Could you see yourself doing that?"

Jeter responded, "Well, if I wanted to keep playing, yes. It's a business. People forget that."

The Captain's simple answer set off a maelstrom of panic in the Yankee Universe. What did he mean by that? Is he leaving? Is he retiring?

Jeter set the record straight Friday night before playing the Oakland A's at Yankee Stadium and put his fans at ease.

"I'll tell you what went down. I was asked about Peyton Manning, going from Indianapolis to Denver," Jeter told reporters. "The question was in reference to if the organization doesn't want you around anymore, do you still want to play? You have no choice but to go to another team, I think it's common sense. I'm glad you guys had fun with it. It was about Peyton Manning.

"I think it's comical that we're talking about it after I told you guys time and time again, I can't picture myself playing anywhere else, have fun with it. It's a business; there are two sides to a business, that's what the reference was.
"I've been asked this question 100 times and I told you guys the same thing."

Asked again if he wants to finish his career wearing pinstripes Jeter said," That's what I told you my whole focus has been since Day 1 so why are we even talking about it? I think its comical after I've been pretty vocal every time [I've been] asked the same question. It's eve more amusing that we're talking about it now."

Are the contentious negotiations with the Yankees before the 2011 season still a sore spot with Jeter?

"Come on now," said Jeter. "There was joking around the whole interview. It's not really a big deal. Have fun with it as much as you like. I understand I was on the front page, back page. Then you guys wonder why I don't tell you anything. I don't answer any questions because something like this happens."

The 38-year-old Jeter, who extended his hitting streak to 16 on Saturday, is swinging the bat like he was a decade ago. By the end of this season, he should only be about 700 hits short of his quest for 4,000.

Don't expect Jeter to pass anymore milestones wearing anything but pinstripes.
Also from The Other Paper
Jets LB nearly fights reporter
Cam Newton doesn't give Giants credit for win
Video: Ichiro gets hit after ball gets stuck in pitcher's jersey
Photo credit: Nick Laham/Getty Images Sport
Original Story:
http://ihatelupica.blogspot.com/2012/...
THE BACKYARD
BEST OF MAXIM
RELATED ARTICLES
SAY IT ISN'T SO
When asked if he could envision himself leaving his long-time team like Peyton Manning did this season, Yankees captain Derek Jeter didn't necessarily rule it out.
Last night, the Yankees beat the Toronto Santa Clauses 10-7. In the pivotal fourth inning, the Santas bestowed gift upon gift to their south-of-the-border hosts. I would have them back any time.  The key gift was a roller hit by Curtis Granderson to the secondbaseman, who bobbled it thrice before finally just squeezing the ball like a rattlesnake in a revival tent.  The YES team...
Sometimes, it's better to be lucky than good. Ichiro Suzuki has been a little bit of both lately, but it's hard to argue he was being "good" when he lightly tapped a grounder back to the mound off A's starter Jarrod Parker on Friday. Then, the "lucky" took over. The ball somehow found its way into Parker's jersey, and the right-hander was unable...
Oakland Athletics 1 — New York Yankees 2 (10 innings)   Russell Martin walks off in the 10th inning of tonight's win over the Oakland Athletics.   The Yankees turned to CC Sabathia to continue the winning ways and he gave them the effort fitting of an ace. Sabathia didn't give up his first hit in the 6th inning. Through 8 innings, Sabathia would give up just 3 hits and 2...
Murderer's Row. Mantle and Maris. Reggie and Catfish. Donny Baseball.And now... the Restroom Rompers.Seven and oh, baby. Seven and... ohhhhhhhhh.Yesterday, somehow - don't ask me how - the Yankees survived Freddy Garcia, Ivan Nova and Misstep Melky Mesa, keeping alive the Streak o' the Sugar Stall and keeping their own heads above the rim. Jiggle the handle, everybody...
How hot is Ichiro Suzuki? He got a shirt hit compliments of the A's Jarrod Parker last night. Why not click the Google +1 & the retweet buttons? **Follow us on Twitter. Subscribe, or Return... Full story at Bob's Blitz ~ http://www.bobsblitz.com
Raul Ibanez hit his second home run of the game during a startling rally in the 13th inning, then the New York Yankees won a thriller when first baseman Brandon Moss' two-out error in the 14th lifted them over the Oakland Athletics 10-9 Saturday. The AL East leaders came back to hold their one-game edge over Baltimore. Down 9-5 in the 13th, the Yankees won for just the second...
NEW YORK -- After watching the New York Yankees' four-run rally in the 13th inning lead to an epic loss in the 14th on Saturday, the Oakland A's struck back after New York's latest comeback Sunday. No. 9 hitter Cliff Pennington had three hits, including a home run and three RBIs, and he drove in the eventual game-winning run as the A's eked out a 5-4 win at Yankee...
It's OK to admit it...there's a part of you that is actually pulling for the Orioles to take the American League Eastern Division from the Yankees...even if it means the Red Sox have to lose to Baltimore in the process.So while the Yankees beat the A's 2-1 on a 10th-inning home run by Russell Martin, the Red Sox lost to Baltimore 4-2 at Fenway to keep the O's a game...
NEW YORK -- Russell Martin has had a frustrating season, spending much of it under the .200 mark in batting average. But he has been a valuable September asset for the New York Yankees, and on Friday night he had the kind of hit that can wipe out months of hitting futility. Martin led off the 10th inning with a home run to lift the Yankees to a 2-1 victory over the A's in the...
Mike Francesa hates Twitter so he'll help spread the Robinson Cano rumor himself, OK? Why not click the Google +1 & the retweet buttons? **Follow us on Twitter. Subscribe, or Return to... Full story at Bob's Blitz ~ http://www.bobsblitz.com
Yankees News

Delivered to your inbox

You'll also receive Yardbarker's daily Top 10, featuring the best sports stories from around the web. Customize your newsletter to get articles on your favorite sports and teams. And the best part? It's free!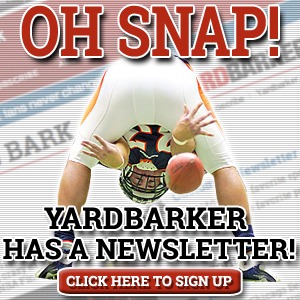 Latest Rumors
Best of Yardbarker

Today's Best Stuff

For Bloggers

Join the Yardbarker Network for more promotion, traffic, and money.

Company Info

Help

What is Yardbarker?

Yardbarker is the largest network of sports blogs and pro athlete blogs on the web. This site is the hub of the Yardbarker Network, where our editors and algorithms curate the best sports content from our network and beyond.