Found October 11, 2012 on The Other Paper:
Wednesday ended up being a mixed kind of day for Derek Jeter — the kind of 24-hours that only happens to someone like the New York Yankees' millionaire shortstop.
Just before Raul Ibanez's dramatic walkoff home run gave the Yankees a 2-1 game lead in the ALDS against the Baltimore Orioles, the Yankees shortstop limped through the game with a bone bruise after fouling a ball off his left foot. And earlier in the day, Jeter finally sold his Trump World Tower penthouse apartment for a whopping $15.5 million — although he took a beating on his original $20 million asking price.
Don't shed any tears for the future Hall of Famer though. Jeter insisted he will be able to play in Game 4 tonight and still managed to pull in a neat $2.9 million profit on the deal for his bachelor pad.
Ahhh ... the life of Jeter.
Jeter sold the four-bedroom apartment — which towers over the East Side of Manhattan — to Brazilian magnate Silvio Luiz Reichert. He said he wants to downsize his Manhattan holdings to a pied-a-terre. The 38-year-old Jeter still has his 20,000 square-foot mansion in Tampa, Florida to romp around in when he needs to stretch his legs
The 5,425 square-foot trophy apartment was first put on the market in September 2010 after purchasing it for $12.6 million in 2001. The luxurious 88th floor crib boasts 16-foot floor-to-ceiling windows with sweeping views of the city. If that doesn't impress the ladies, there is the 77-feet long entertainment room which includes a living room, billiards room, piano lounge, wet bar and formal dining room to go along with New York's most eligible bachelor's green eyes.
Original Story:
http://ihatelupica.blogspot.com/2012/...
THE BACKYARD
BEST OF MAXIM
RELATED ARTICLES
The NY Post landed an exclusive look at Derek Jeter's condo way back in April of this year which ran him a cool $12.72 million in 2001.  The gorgeous condo is located on the 88th-floor penthouse at the top of the Trump World Tower at UN Plaza, but it looks like Jeter had been there for long enough.  Jeter finally unloaded the digs to a Brazilian businessman named Claudio Ferro...
New York Yankees shortstop Derek Jeter exited last night's Game 3 of the American League Division Series in the 9th inning. While it was more of a defensive substitution, Jeter had been battling a sore foot. In the 3rd inning Jeter fouled a Miguel Gonzalez pitch off his left foot. He was able to remain in the game until the 9th, but he was noticeably impacted on the...
The 38-year-old shortstop of the New York Yankees recently sold his 4-bedroom house at the Trump World Tower for $15.5 million.Penthouse photos via NY Daily News
Derek Jeter hit an RBI triple just past bubble-blowing center fielder Adam Jones, moving the New York Yankees into a 1-all tie with the Baltimore Orioles after three innings Wednesday night in Game 3 of their AL division series. The best-of-five series was tied at 1 game apiece, with all remaining games in the Bronx. With Russell Martin on third following a one-out double off Miguel...
When people say the O's aren't carrying a lot of experience into their American League Division Series against the Yankees, they usually mean the young players. But on Sunday night, another part of the Orioles contingent was showing that Baltimore may have forgotten what it's like to be on the big stage -- or just the regular baseball stage, for that matter. ...
Love him or hate him, Derek Jeter is still the most popular kid in school. MLBPlayers.com came out with their list of the top 20 selling jerseys since the 2012 All-Star break and there aren't really any names that don't belong. However, there are some names that surprised me. Jeter is number one followed by Josh Hamilton, Ichiro Suzuki, Bryce Harper and Mike Trout. It's...
There is an appropriate time and place for everything, even police officers asking professional baseball players for autographs. The ninth inning of Game 1 of the ALDS is not the time nor the place. As if asking the Yankees players for their autographs during a game wouldn't be strange enough, some Maryland state troopers reportedly asked the Bombers for them during the most crucial...
Sixteen years ago, Jeffrey Maier became a household name in both New York and Baltimore.Alright, it might be a stretch to call dude a "household name", but the 12-year-old did, at the very least, get his fifteen minutes of fame.You see, on October 9, 1996, Maier stuck his glove over the rightfield fence at Yankee Stadium and snared what would be a Derek Jeter home run ball...
The MLB and the MLBPA released information on what players have the most popular jersey sales and once again the New York Yankees' Derek Jeter tops the list according to the Biz of Baseball.Here are the the top twenty players:Derek Jeter, New York YankeesJosh Hamilton, Texas RangersIchiro Suzuki, New York YankeesBryce Harper, Washington NationalsMike Trout, LA Angels of AnaheimAndrew...
YANKEES (2-1) Derek Jeter DH Ichiro Suzuki LF Mark Teixeira 1B Robinson Cano 2B Alex Rodriguez 3B Nick Swisher RF Russell Martin C Curtis Granderson CF Jayson Nix SS Pitching: RHP Phil Hughes ORIOLES (1-2) Nate McLouth LF J.J. Hardy SS Chris Davis RF Adam Jones CF Matt Wieters C Jim Thome DH Mark Reynolds 1B Ryan Flaherty 2B Manny Machado 3B Pitching: LHP Joe Saunders
YANKEES (1-1) Derek Jeter SS Ichiro Suzuki LF Alex Rodriguez DH (WHY!?!?!?!?) Robinson Cano 2B Nick Swisher RF Mark Teixeira 1B Curtis Granderson CF Russell Martin C Eric Chavez 3B Pitching: RHP Hiroki Kuroda ORIOLES (1-1) Nate McLouth LF J.J. Hardy SS Chris Davis RF Adam Jones CF Matt Wieters C Jim Thome DH Mark Reynolds Dh Ryan Flaherty 2B Manny Machado...
Well, the San Francisco Giants are the first of the postseason teams to move on, eliminating the Reds in Game 5. The Washington Nationals are fighting for their lives right now against the Cards, and tonight Baltimore and the Yanks and the A's and Tigers both have match-ups. What I find interesting is that not a single division series was a sweep. Every single one of them has...
MLB News

Delivered to your inbox

You'll also receive Yardbarker's daily Top 10, featuring the best sports stories from around the web. Customize your newsletter to get articles on your favorite sports and teams. And the best part? It's free!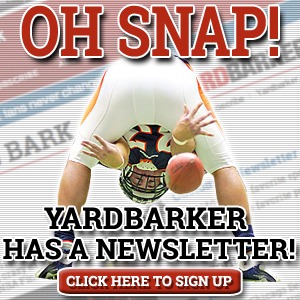 Latest Rumors
Best of Yardbarker

Today's Best Stuff

For Bloggers

Join the Yardbarker Network for more promotion, traffic, and money.

Company Info

Help

What is Yardbarker?

Yardbarker is the largest network of sports blogs and pro athlete blogs on the web. This site is the hub of the Yardbarker Network, where our editors and algorithms curate the best sports content from our network and beyond.