Found March 23, 2012 on Ted's Army:
...his fat ass can't handle a trampoline. The result, a dislocated ankle. To be more exact, it was an open dislocation so his family got the great sight of bone through the skin. That bone had a lot of fat to pass through, so it must have been bad.
Chamberlain was having a fun time jumping on his trampoline (possibly in place of a real workout) with his son, when his ankle said "screw this", and there goes his career.  Possibly. Chamberlain had emergency surgery and screwed some things up for the Yankees. Fine by me.
"As we understand, they were at, they have these kids places where you jump on trampolines and stuff like that," Yankees general manager Brian Cashman said Friday.

Chamberlain had surgery on Thursday night at St. Joseph's Hospital, and is expected to remain in the hospital for several days for the injury, which resulted in an open flesh wound around the ankle. Manager Joe Girardi was at the hospital early Friday morning.

There was no timetable for Chamberlain's return, but Cashman labeled it a "significant injury." Chamberlain was already working his way back from Tommy John surgery last June.

Chamberlain is scheduled for an MRI and CT scan later in the day, and Cashman said he would visit the pitcher after the tests are administered.

"I just feel for him as an individual, as a member of our family," Cashman said. "We care a great deal about him, and we're just right now gonna be there [for him].

"From a team standpoint, it's a massive loss, because he's really good. But right now the most important thing is not what it means to the team, but what it means to him personally, in the present and the future. Right now I don't have any answers for anything."
Chamberlain can't put any weight on it for 4-6 weeks. Now Chamberlain can sit around for a month-and-a-half, being not slim. Let's face it, do you think he is going to make up for not being able to do normal workouts by doing upper body stuff? Scratch that, he doesn't have to make up for something he doesn't normally do. 
Is it bad that this puts a smile on my face?
Original Story:
http://www.tedsarmy.com/blog/2012/03/...
THE BACKYARD
BEST OF MAXIM
RELATED ARTICLES
We're a little over 24 hours removed from the news that Joba Chamberlain nearly died after suffering an open dislocation of his right ankle while playing on a trampoline with his 5 year old son. These 24 hours have been filled with a lot of commentary about what happened, a lot of it harshly directed toward Joba.  People have tweeted trampoline jokes, held forth on Joba'...
Squawker Jon called me yesterday to tell me the news of Joba Chamberlain suffering an open dislocation on an ankle due to jumping on a trampoline. This was the second Friday in a row with shocking news -- last week, of course, was Andy Pettitte's return. But this week's news, of course, is really awful.First of all, I hope Chamberlain makes a full recovery -- it sounds like...
The New York Yankees say reliever Joba Chamberlain has had surgery after dislocating his right ankle while with his son at a play area. There is no timetable for his return. General manager Brian Cashman said Friday that bone had broken through the skin and Chamberlain had surgery Thursday night. He will be hospitalized for at least a few days. Cashman says the accident happened...
New York Yankees relief pitcher Joba Chamberlain has been released from hospital three days after dislocating his right ankle.Chamberlain will be in a non-weight bearing hard cast for six weeks after the open dislocation suffered while playing on a trampoline with his son. The team has not set a time table for his return."So far everything's coming back extremely positive...
TAMPA, FL—Joba Chamberlain's run of good luck continued on Thursday, as the Yankee relief pitcher was awarded naming rights to yet another major surgical procedure. Joba Chamberlain Surgery Type 4, which is now the official name given to surgery performed on an open ankle dislocation caused by a trampoline related accident, is the fourth operation to be named after the pitcher...
Joba Chamberlain got another bad break on Thursday, with this one coming in a pretty literal form. YES Network's Jack Curry reports that the Yankees right-hander dislocated his right ankle while playing with his son on a trampoline. Curry spoke to Cashman about what sounds like a gruesome injury, and the Yankees general manager told Curry that it was an "open dislocation...
Right handed pitcher Joba Chamberlain, who underwent Tommy John surgery back in June and lost most of the 2011 season, could be out for the entire 2012 season due to an ankle injury according to Jeff Bradley of the Star-Ledger. Chamberlain dislocated his right ankle and had to undergo surgery last night according to Jack Curry of YESNetwork. Chamberlain injured himself while jumping...
From the AP:The New York Yankees say reliever Joba Chamberlain has had surgery after dislocating his right ankle while with his son at a play area. There is no timetable for his return. General manager Brian Cashman said Friday that Chamberlain had surgery Thursday night and will be hospitalized for at least a few days. Cashman says the accident happened Thursday afternoon...
From the NY Daily News:Joba Chamberlain lost so much blood Thursday when he hurt his ankle while playing with his son that there initially was concern for his life, a Yankees' source said. At the very least, the gruesome open dislocation of Chamberlain's right ankle could be career-threatening and probably will preclude Chamberlain from pitching for the Yankees this season...
The second off the field injury has struck the New York Yankees this spring.  The latest injury comes as the season approaches, and will probably shelf Joba for the duration of the season.  Joba Chamberlain separated his ankle yesterday while playing with his little boy at a daycare facility when participating in activities on a [...]
Yankees News

Delivered to your inbox

You'll also receive Yardbarker's daily Top 10, featuring the best sports stories from around the web. Customize your newsletter to get articles on your favorite sports and teams. And the best part? It's free!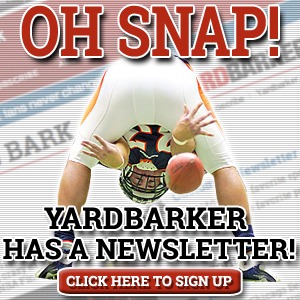 Latest Rumors
The Backyard

Today's Best Stuff

For Bloggers

Join the Yardbarker Network for more promotion, traffic, and money.

Company Info

Help

What is Yardbarker?

Yardbarker is the largest network of sports blogs and pro athlete blogs on the web. This site is the hub of the Yardbarker Network, where our editors and algorithms curate the best sports content from our network and beyond.