Found April 19, 2013 on Awful Announcing:
Ed Note: The following appears courtesy Bloguin's national MLB site The Outside Corner. The "Ask Me Anything" threads on Reddit are a pretty good example of modern social media providing access to celebrities that wouldn't have been possible just a few years ago. Sometimes they're informative, sometimes they're funny. Sometimes, they're just plain weird, like Jose Canseco's AMA today. Of course, if you're familiar with Canseco's work on Twitter, that probably doesn't come as a surprise to you. His AMA was much like his Twitter feed -- bizarre, not always safe for work yet oddly entertaining. There were even some reasonably coherent responses, like when he was asked if taking steroids during his career was worth it: --jc7264 steroids cost me millions ,not worth it because cocaine ,liquor,marijuana and other drugs r more accepted than steroids even though they can help u When asked to elaborate on his "Time travel is possible. Will explain later" tweet, which he never did: --jc7264 time travel is possible but u can only go back in time through ur dreams I do it all the time.learn more about dream control I have masterd it On what happened to the chandeliers he tried to keep when he was evicted: --jc7264 nothing they kept my chandeliers the law sucks ,I should have burned that house down.s--- maybe I will.lol On what his gameplan was when he fought Hong Man Choi in 2009: --jc7264 my game plan was to stay alive that man is huge On who he would most like to fight, alive or dead: --jc7264 s--- bud selig of course On if he's going to be doing any more paintings: --jc7264 yes they r for sale i will be doing one of me naked soon On his poker playing: --jc7264 been playiing for 30 years .love strip poker i cheat and win And finally, on how Redditors were supposed to know this was actually Jose, and not his twin brother Ozzie: --jc7264 you dont The entire thread can be seen here, if you're interested in some of the other responses. There's one involving an experience with Jim Carrey we probably can't include here. Overall, the thread doesn't do much to answer whether or not Canseco actually is mentally unstable or just playing up a character, but either way it's a way to kill some time. Follow Jaymes on Twitter @JaymesL and TOC at @Outside_Corner.
Original Story:
http://www.awfulannouncing.com/2013/a...
THE BACKYARD
BEST OF MAXIM
RELATED ARTICLES
Jose Canseco did a Reddit AMA on Thursday and the result was one of the funnier things to have ever happened in the history of the Internet. We have found our top 25 moments, but you should do yourself a favor and read the whole thing HERE. There is some bad language and plenty of moments where you will be utterly confused. Without further ado, here are the top 25 moments from Jose...
Jose Canseco took time out of his busy schedule today for a Reddit 'Ask Me Anything' session that quickly t…
Jose Canseco answers Q's on Reddit - Hilarious
Two-time World Series champion, American League MVP, New York Times best selling author…Jose Canseco has pretty much done it all.  Now, the social media superstar (of all baseball players, past or present, dude has the fourth most Twitter followers) is taking on the world of podcasting. Canseco's podcast, aptly named "Canseco Knows Best" hit iTunes late Thursday night...
MLB News

Delivered to your inbox

You'll also receive Yardbarker's daily Top 10, featuring the best sports stories from around the web. Customize your newsletter to get articles on your favorite sports and teams. And the best part? It's free!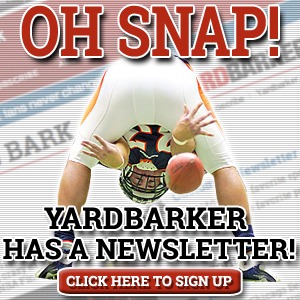 Latest Rumors
Best of Yardbarker

Today's Best Stuff

For Bloggers

Join the Yardbarker Network for more promotion, traffic, and money.

Company Info

Help

What is Yardbarker?

Yardbarker is the largest network of sports blogs and pro athlete blogs on the web. This site is the hub of the Yardbarker Network, where our editors and algorithms curate the best sports content from our network and beyond.