Found August 30, 2012 on Razzball:
PLAYERS:
Josh Beckett
,
Kenley Jansen
,
Eric Gagne
,
Ronald Belisario
,
Brandon League
,
Matt Kemp
,
Joe Blanton
,
AJ Ellis
,
John Jaso
,
Hanley Ramirez
,
Logan Morrison
,
Emilio Bonifacio
,
Asdrubal Cabrera
,
Josh Donaldson
,
Jason Donald
,
Mat Latos
,
Billy Hamilton
,
Chris Heisey
,
George Foster
,
Eric Stults
,
Andrew Cashner
,
Huston Street
,
Tommy Hanson
,
Hunter Pence
,
Matt Harvey
,
Johan Santana
,
Lucas Duda
,
Frank Francisco
,
Terry Collins
,
Michael Fiers
,
Bryce Harper
,
Trayvon Robinson
,
Yuniel Escobar
,
Trevor Plouffe
,
Josh Willingham
,
Pedro Alvarez
,
Wandy Rodriguez
,
Dylan Axelrod
,
Evan Longoria
,
Eva Longoria
,
BJ Upton
,
Javier Lopez
,
Bud Norris
,
Jeff Samardzija
,
Anibal Sanchez
,
Mitch Moreland
,
Vance Worley
,
Cole Hamels
TEAMS:
Los Angeles Dodgers
,
Seattle Mariners
,
Miami Marlins
,
Cleveland Indians
,
Oakland Athletics
,
Cincinnati Reds
,
San Diego Padres
,
Atlanta Braves
,
San Francisco Giants
,
New York Mets
,
Milwaukee Brewers
,
Toronto Blue Jays
,
Minnesota Twins
,
Pittsburgh Pirates
,
Chicago White Sox
,
Tampa Bay Rays
,
Houston Astros
,
Chicago Cubs
,
Detroit Tigers
,
Texas Rangers
,
Philadelphia Phillies
It didn't take long for Josh Beckett to cause people to question the heart of the Dodgers staff.  And they didn't even have to send them a Valentine.  Look, we wouldn't wish a heart issue on anyone but of all the Dodger closers over the years, why Kenley Jansen?  Why not Steve Howe?  He was a coke fiend.  Or Eric Gagne?  He was a steroid/HGH fiend.  Or Jonathon Broxton.  He looks like he was on the Josh Beckett diet every day of the week.  This is the same condition that sent Kenley to the DL last year and I wouldn't be surprised to see the same this year.  It's not really something to mess with (or joke about, except in certain instances, apparently.  Don't worry, I won't joke about anything else ever again that should be taken seriously.  Instead, I will be a model citizen and make suggestions to help make the world a better place — Hey, for Kenley, maybe Magic could reach out to the doctor who helped him beat AIDS.)  Yesterday, Ronald Belisario got the save and he's been
Original Story:
http://razzball.com/kenleys-heart-bei...
THE BACKYARD
BEST OF MAXIM
RELATED ARTICLES
PARTING SHOTS
Josh Beckett was traded from the Red Sox to the Dodgers, but he got in some parting shots on his former organization's environment.
Josh Beckett has made it clear that he's thankful to the Red Sox and their fans for his time in Boston. But that doesn't mean he's letting all the fans off the hook -- especially those he thinks had it out for him this year. Beckett ripped the local media and the larger Boston sports culture in a column by WEEI.com's Rob Bradford on Wednesday, criticizing those...
Josh Beckett received no run support as Los Angeles' struggles against Colorado continued at Coors Field. A two-week absence from facing the Colorado Rockies pitching staff did nothing to re-stoke the Dodgers' offensive fire, as a punchless Los Angeles squad fell meekly at Coors Field on Monday, 10-0. In a game that drew attention for Josh Beckett's first start in...
Josh Beckett's career with the Los Angeles Dodgers started the way his Red Sox career ended -- in [expletive] fashion. In fact, it only took two pitches for Beckett to find himself in trouble, as his second offering of the game was pounded by Rockies leadoff hitter Tyler Colvin into the second deck at Coors Field in Denver. It was the seventh home run that Beckett had allowed...
After Josh Beckett departed Boston for his new home in Los Angeles as part of one of the bigger trades in MLB history, he decided to state some not so nice words about the Boston sports media before he left. In an interview with WEEI's Rob Bradford, Josh spoke very candidly about the Boston media machine and their ability to push players out:   "Once they want...
The Red Sox pulled the trigger on a blockbuster move with the Los Angeles Dodgers this past weekend, changing the complexion not only of Boston's season, but also of the National League pennant race. Dealing Adrian Gonzalez, Josh Beckett and Carl Crawford was a bold move by the Red Sox and Ben Cherington, and one that was borderline unthinkable when the Red Sox first brought...
Malignant diva Josh Beckett chastised Boston's media and sports culture in a column published by WEEI.com's Rob Bradford on Wednesday. The 6-foot-5, 225 pound Beckett (5-12, 4.65 ERA), who has won 130 games, in contrast to 93 losses, and amassed … Continue reading →
The Red Sox were somehow able to clear up a ton of money by dealing Josh Beckett, Adrian Gonzalez, Carl Crawford and Nick Punto to the Dodgers. Had the Sox not received anything in return from Los Angeles, it would have been a pretty good deal for Boston considering the direction they were heading in. However, the acquisition of a player like James Loney, as well as the group of...
Adrian Gonzalez, Josh Beckett and Nick Punto were all smiles as they boarded a flight to Los Angeles in the wake of the Red Sox' blockbuster trade with the Dodgers. But at least a little part of Punto was disappointed. Punto is seen as a throw-in in the megadeal that alleviated the Sox of over $250 million in bad contracts, but the veteran infielder admits he had big things on...
What is: a headline you perhaps never thought you would read? Well, its is true for today anyway. The screeching over the Red Sox continues with now talk turning to media-on-media crime. LA columnist TJ Simers has become a hero to some here locally because of his childish attempt to rile up Josh Beckett after his start on Monday. CSNNE had a segment last night -  Beckett finally...
MLB News

Delivered to your inbox

You'll also receive Yardbarker's daily Top 10, featuring the best sports stories from around the web. Customize your newsletter to get articles on your favorite sports and teams. And the best part? It's free!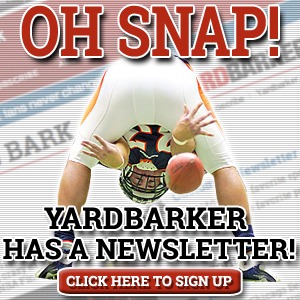 Latest Rumors
Best of Yardbarker

Today's Best Stuff

For Bloggers

Join the Yardbarker Network for more promotion, traffic, and money.

Company Info

Help

What is Yardbarker?

Yardbarker is the largest network of sports blogs and pro athlete blogs on the web. This site is the hub of the Yardbarker Network, where our editors and algorithms curate the best sports content from our network and beyond.