Found December 05, 2012 on Grab Some Bench:
PLAYERS:
Jeff Keppinger
,
Adam Dunn
,
Paul Konerko
,
Gordon Beckham
,
Kevin Youkilis
,
Juan Pierre
,
Jayson Stark
,
Dustin Pedroia
,
Albert Pujols
,
Alex Rios
,
Mark DeRosa
,
AJ Pierzynski
,
Carlos Sanchez
TEAMS:
Chicago White Sox
,
New York Yankees
,
Miami Marlins
,
Boston Red Sox
,
Los Angeles Angels
,
Toronto Blue Jays
,
Texas Rangers
,
Tampa Bay Rays
Zach wrote earlier today that he believed Jeff Keppinger was the best option out there for the White Sox at third base. He got his wish, as the team inked former Tampa Bay Rays infielder to a three-year deal for around $12 million dollars total. There was an initial wave of disapproval about the move amongst Sox fans via twitter, Facebook, and at least for me, amongst my circle of Sox-fan friends. However, while there are some reservations about this move, this really is not that bad of a signing. First off, let's look at the numbers everybody can relate to. Jeff Keppinger is a career .288 hitter and is coming off of a career year in 2012 where he had a slash line of .325/.367/.806 (that's batting average, on-base percentage, and OPS for those that aren't too familiar with the baseball lingo). While those are indeed career numbers and expecting those numbers to be repeated probably is not realistic, his career batting average and on-base percentage of .337 show that he's not going to all of a sudden have a Mark Teahen-type season where he suddenly forgets how to play baseball. Well, at least we hope. While those numbers are good to hear, the best number to hear about Keppinger is strikeouts. The Sox were just 18th in baseball last year with 1,203 strikeouts, which I find very hard to believe considering the amount of times guys like Adam Dunn, Paul Konerko, Gordon Beckham and even Kevin Youkilis in September fanned last season.  Since 2010, Keppinger has been the second toughest hitter in baseball to strikeout, as his 6.5 K-rate (the percentage of times you strikeout amongst your plate appearances) trails only Juan Pierre. While he's not a power hitter, he's not a Juan Pierre type either, as he hit nine home runs last season. In addition, Jayson Stark of ESPN tweeted out an interesting stat regarding Keppinger: he is only one of three players to have more extra-base hits and walks than strikeouts since 2007. The other two guys? Dustin Pedroia and Albert Pujols. Now let's not expect Pedroia or Pujols-like numbers from him either, but all of these numbers point to the conclusion that this guy can certainly hold his own. Based on his description, he also fits the mold of a two-hitter, which is where you want a low-strikeout bat-control hitter. It would also be good to slide a right-handed bat like Keppinger between left-handed bats De Aza and Dunn (although I think Alex Rios should be opening 2013 in the three-hole, but that's an entirely different subject). However, as I mentioned earlier, I do have my reservations about Keppinger. The first thing is the fact that he's never really had a full-time job handed to him in the American League. He can play every infield position, a huge asset to have, especially off of your bench. That's where he's been mostly his entire career. He did start 132 games for the Astros in 2010 and played well, but we all know the AL is a different animal. Last season, he started just 85 games, so it remains to be seen whether or not he can hold up for a full season in the AL while settling in at one position, something that utility guys sometimes don't have a whole lot of success at doing (see Mark DeRosa after leaving the Cubs). Also, the man really is not that fast. Since he's not a power threat and the team is losing probably Kevin Youkilis and AJ Pierzynski, that vacates a lot of home runs. It's just my opinion that if the team is going to lose a lot of power, I'd like to see some speed replace that. If he hits .280 and gets on base at a .340 clip though, I'll forget about that pretty quickly. Really, Keppinger is probably just a pretty nice stop-gap option until something better from within or in the free agent or trade markets come along. So, why three years? Because his versatility and contact ability make him a viable asset off of your bench. Once that option comes along, whether it be Carlos Sanchez or somebody else, Keppinger can slide back to the bench and be one of the best utility men in the game like he was in Tampa Bay. So as Hawk would say, "sit back, relax, and strap it down," and let's see how this plays out before it's deemed a horrible signing for Rick Hahn. Just by looking at the numbers, it could work out better than you think.
Original Story:
http://www.grabsomebench.com/2012/dec...
THE BACKYARD
BEST OF MAXIM
RELATED ARTICLES
The Chicago White Sox have signed infielder Jeff Keppinger to a three-year deal worth $12mm, ESPNChicago.com's Bruce Levine reports. Keppinger is a .288 career hitter over his eight-year major league career. Last season for the Rays he hit .325/.367/.439 9 home runs and 40 RBIs. Last month, word surfaced that Keppinger broke his right fibula, but that didn't slow the interest...
The Chicago White Sox and free-agent shortstop Jeff Keppinger have an agreement in place on a three-year deal, according to a source. Keppinger, 32, spent last season with the Rays, batting .325 with 9 home runs and 40 RBI in 115 games. He also plays second and third base.
The Chicago White Sox and free-agent infielder Jeff Keppinger have agreed on a three-year, $12 million contract, ESPN reported Wednesday. Keppinger, 32, hit .325 with nine homers for Tampa Bay last season. The versatile veteran, who can play third, short and second, is a .288 career hitter who likely will fill a valuable utility role for the White Sox. A fourth-round pick by...
Since 2010, ten different players have played third base for the Chicago White Sox. One of them has posted a positive WAR, and he's currently a free agent, looking for a multi-year contract. The position has been something of a trouble spot, and on Wednesday the White Sox addressed said trouble spot by agreeing to terms with Jeff Keppinger. Word is it's a three-year contract...
A person familiar with the contract tells The Associated Press that versatile infielder Jeff Keppinger has reached agreement with the Chicago White Sox on a $12 million, three-year contract. The person spoke on condition of anonymity Wednesday because there was no announcement by the team. Keppinger hit .325 with a career-high nine home runs and 40 RBIs for Tampa Bay last season...
Many people think Kevin Youkilis' days as a viable third baseman are over. But several baseball executives appear to disagree. Youkilis "has multiple contract offers on the table," according to Alex Speier of WEEI. Youkilis is weighing both high-dollar, one-year options and multiyear deals. Youkilis was traded midway through last season from the Red Sox to the White Sox, who...
Do you want proof that the infield class on this free agent market is week? A day after Marco Scutaro got $20 million over three years from the Giants, former Rays utilityman Jeff Keppinger received a three year, $12 million deal from the Chicago White Sox. Keppinger had a fine 2012 for the Rays in limited duty, amassing 2.8 fWAR in 418 plate appearances with an .806 OPS, playing...
On July 26, 1977, Jack Morris took the hill for the very first time at Comiskey Park against the Chicago White Sox. The 22-year-old Morris pitched four innings of relief and gave up two hits and two earned runs while striking out three in his major league debut. Little did the people of the Windy City know is that day they were witnessing the birth of a career that would compile...
MLB News

Delivered to your inbox

You'll also receive Yardbarker's daily Top 10, featuring the best sports stories from around the web. Customize your newsletter to get articles on your favorite sports and teams. And the best part? It's free!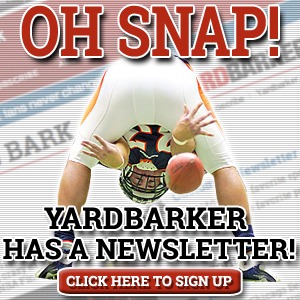 Latest Rumors
Best of Yardbarker

Today's Best Stuff

For Bloggers

Join the Yardbarker Network for more promotion, traffic, and money.

Company Info

Help

What is Yardbarker?

Yardbarker is the largest network of sports blogs and pro athlete blogs on the web. This site is the hub of the Yardbarker Network, where our editors and algorithms curate the best sports content from our network and beyond.