Found April 07, 2013 on We Should Be GM's:
Kevin Frandsen's bat needs to be in the Phillies lineup on a semi-regular basis.  Since joining the Phils he's done nothing but hit- .345/.851 in 57 games, including that bases clearing game winning double in the 9th last night.  Yes, that is a small sample size, but until he proves otherwise he's a hot commodity.  For the record, he's always hit in the minors too- .310/.802 over 8 seasons.(Full-on man-love!!!)The infield is set with Howard, Utley, Rollins, and Young.  Revere and Brown are regulars in the outfield.  Currently Mayberry and Nix are splitting right field duties, and doing poorly.  Suggestion- move Dom back to RF and let Frandsen get some playing time in LF.  He's played there 11 games in the Majors, so instead of trying Pete Orr out in the outfield during Spring Training, they should have been trotting Fransden out there.  Poor foresight by Amaro/Manuel.Of course, they also could have just let Frandsen be the starting 3rd baseman this season (his de...
Original Story:
http://pabaseball.blogspot.com/2013/0...
THE BACKYARD
BEST OF MAXIM
RELATED ARTICLES
Kevin Frandsen the hero? Indeed. The Phillies got a huge ninth inning hit from Kevin Frandsen to beat the Royals, 4-3. FRANDSEN WINS IT! -With the bases loaded in the ninth, following ugly strikeouts from Domonic Brown and John Mayberry Jr., Kevin Frandsen unloaded them with a double to the wall, giving the Phillies their first home win of the season. Frandsen didn't do too much...
Frandsen clears bases in walk-off win The true blue Phillies fan, yawned through 8 innings last night, if you stuck around you were rewarded with a 9th inning comeback. The big hit supplied by pinch-hitter Kevin Frandsen cleared the bases giving the Phillies their second win of the season. What we learned from last night and the truth told in the 9th. Truth> The bases were...
Just when you thought that Philly sports were going to lead us all to the drink, the Phillies come through with a nostalgic win. Nostalgic referring to roughly five years ago. Kevin "Still Needs a Nickname" Frandsen came up in the bottom of the ninth with the bases loaded and two outs, but forwent the full count of childhood-backyard-dreams, to served a ball into the right field...
The Philadelphia Phillies mascot, known as the Philly Phanatic, was dancing with a group of Elvis Presley impersonators during Friday's home opener at Citizens Bank Park. The Elvis impersonators were likely there to promote the upcoming Philadelphia Elvis Fest on the weekend of April 12-14. Your browser does not support iframes. Video via MLB.com. Visit us at holdoutsports...
Most staffs typically have a significant drop-off after their 1 and 2, but the Philadelphia Phillies with John Lannan have a solid 5. How do other divisional teams fare on the bottom rung of their rotations? TAL'S HANDY STATS WELCOME, NEWCOMERS: I will publish the 2013 ERA for both the NL East and the MLB 5 periodically. The number of games played by the Phillies is in the headline...
  Cole Hamels is supposed to be the Phillies ace. He was picked to start opening day. Although he has only had two starts thus far, Hamels is far from proving that he should be considered an ace this season. In the first game of the season Hamels faced the Braves. During that game he was only able to last five innings. During those innings he gave up seven hits, three which were...
If today wasn't bad enough with the loss of Margaret Thatcher and Annette Funicello, it got worse sitting at Citizens Bank Park watching the death of Roy Halladay's dominance against major league pitchers. The Philadelphia Phillies right hander couldn't get the job done. In 4+ innings he labored, struggled with his command, and gave up 5 runs on 6 hits including a 3 run homerun...
PHILADELPHIA (AP) Kevin Frandsen rounded first after his big hit, looked up to see all the runners circling the bases and prepared himself for a celebration.Frandsen hit a bases-clearing, three-run double with two outs in the ninth off closer Greg Holland to lift the Phillies to a 4-3 victory over the Kansas City Royals on Saturday night in front of the smallest crowd in Philadelphia...
The Philadelphia Phillies will try to forget about yesterday's disaster and win behind John Lannon who is making his first start for the team. Phillies fans know that you can't win a division in April but you certainly can lose one. In a very competitive National League East, the Phillies do not want to get behind early. Here is tonight's lineup against the Kansas City Royals:
Kansas City Royals  vs. Philadelphia Phillies James Shields (0-1, 1.50) vs. Cole Hamels (0-1, 9.00) Time: 1:35 PM, Citizens Bank Park TV: PHL17 Weather: Mostly Sunny, 66 Media: Twitter and Facebook Cole Hamels will try to rebound after a poor outing in Atlanta.  Hamels will be opposed by the Royals' ace, James Shields. LINEUP: Gameday Beer: Troeg's Nugget Nectar, suggested...
Phillies (2-4) v. NY Mets (4-2)Matchups: Monday - 7:05 - Roy Halladay v. Matt HarveyTuesday - 7:05 - Cliff Lee v. Dillon Gee Wednesday - 1:35 - Oh No, It's KK v. Jeremy HefnerMets Pitching:The first game of this series is a complete mismatch. Matt Harvey brings a 94 MPH heater, a nasty slider, and a 0.00 ERA while Roy Halladay counters with a high-80's meatball, a plethora...
Phillies News

Delivered to your inbox

You'll also receive Yardbarker's daily Top 10, featuring the best sports stories from around the web. Customize your newsletter to get articles on your favorite sports and teams. And the best part? It's free!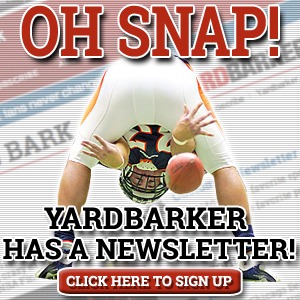 Latest Rumors
Best of Yardbarker

Today's Best Stuff

For Bloggers

Join the Yardbarker Network for more promotion, traffic, and money.

Company Info

Help

What is Yardbarker?

Yardbarker is the largest network of sports blogs and pro athlete blogs on the web. This site is the hub of the Yardbarker Network, where our editors and algorithms curate the best sports content from our network and beyond.