Found November 19, 2012 on Fox Sports Detroit:
PLAYERS:
Bruce Rondon
,
Ryan Madson
,
Miguel Cabrera
,
Avisail Garcia
,
Joel Zumaya
,
Justin Verlander
,
Joaquin Benoit
,
Phil Coke
,
Huston Street
,
Jonathan Papelbon
,
Craig Kimbrel
,
Mariano Rivera
,
Aroldis Chapman
,
Todd Jones
,
Trevor Hoffman
,
Eric Gagne
,
Rollie Fingers
TEAMS:
Cincinnati Reds
,
Detroit Tigers
,
San Diego Padres
,
Philadelphia Phillies
,
Atlanta Braves
,
New York Yankees
DETROIT - Bruce Rondon will be the most intriguing Tiger when spring training begins in three months. Even if the club trades for or acquires a free agent closer such as Ryan Madson, Tigers general manager Dave Dombrowski whet the appetite of fans when he addressed the media after the World Series and said, Do not discount Bruce Rondon in the role of closer on our ballclub. Rondon also has Paul Bunyan-esque qualities going for him. His average fastball clocks in at 99 or 100 mph. He tops out at 103 on a pitch with movement, and has a plus slider and changeup to keep in the back of a batters mind. According to the weights listed on the Tigers roster, he tips the scales at 265 pounds -- heavier than both Miguel Cabrera and the man he hopes to replace, Jose Papa Grande Valverde. Rondon also has the big numbers. He was a combined 2-1 with a 1.53 ERA, 29 saves, 66 strikeouts, 26 walks and 53 innings pitched for Class A Lakeland (22 games), Double-A Erie (21 games) and Triple-A Toledo (nine games) in 2012. He was the pitching counterpart to outfielder Avisail Garcia, 21, who also began the season with Lakeland and made it all the way to Detroit. Rondon, who turns 22 next month, is now ripping it up for Magallanes in the highly competitive Venezuela Winter League. Pitching against many major leaguers, he's 4-0 with a 0.90 ERA and has four saves in as many opportunities. He has 13 strikeouts, four walks and a WHIP (walks plus hits per inning pitched) of 1.00 in 10 innings pitched. Last year, he made tremendous strides," Tigers assistant general manager Al Avila said. "Bruce had more control of his delivery and threw more strikes. He learned how to pitch. What makes him effective is the movement. You know how when Joel Zumaya threw 100, he used every ounce of energy? Rondos arm action is very easy. He hits 99 and 100 very often and tops out at 103. His fastball sinks and runs, and he has a really good, hard slider. He also has a good changeup -- three pitches to throw at you. One of the Tigers scouts who discovered and signed Rondon, Miguel Garcia, also spotted Cabrera as a teenager and forged a relationship with the family that enabled the Florida Marlins to sign him. Avila and Dombrowski brought Garcia, now the clubs Latin American scouting director, with them after leaving Florida for Detroit. He (Rondon) was a catcher when our guys first saw him in Valencia in Venezuela, Avila said. Our scout suggested to his buscone (a talent scout-agent who grooms Latin players) that he convert from catcher to pitcher. "He had a great arm but was not really a pitcher. He was pretty raw. But when we signed Bruce (at age 16), he was a pitcher. Hes come a long way since then. But can he make the jump from the minors to closing in the majors without a break-in period? Hes been lights-out in winter ball, Avila said. Theres no question he can compete for a spot in our bullpen. "Hes a competitor on the mound and tough-minded. Hes not going to melt down. He will come at you on the mound. Hes an imposing guy, but not tall like Papa Grande. At 6-foot-3, Rondon is one inch shorter than Valverde and more compact. Rondon throws with the velocity that Zumaya and Justin Verlander brought in 2006, and Rondon's command is on a par with what they had as rookies. Command, the ability to hit spots consistently, is the challenge for every young hurler. Command is what he needs a little more work on, Avila said. When he does achieve it, he will be lights-out here. If the Tigers take a chance and open the season with Rondon closing and he doesn't get the job done, they'll have Joaquin Benoit and Phil Coke ready to mix and match, as Dombrowski put it. Dombrowski also said that the Tigers wouldve added Rondon to the postseason roster had they known Valverde would totally lose it. Detroits brass is higher right now on Rondon than they are on Garcia, who made an impact with the Tigers late in the season and even in the playoffs. There are examples of successful, young closers. Huston Street (2005 with Oakland) and Jonathan Papelbon (2006 with Boston) won AL Rookie of the Year honors as closers. And Craig Kimbrel was the NL Rookie of the Year in 2011 as Atlanta's closer. Papelbon had a little break-in period, throwing 34 innings in 2005, and Kimbrel pitched in 21 games in 2010. Street turned 22 -- the same age Rondon will be -- in his first season; Papelbon was 25 as a rookie and Kimbrel 23. Still, most of the games top closers spent three or four years as bullpen apprentices in the majors before nailing down the ninth-inning role. Mariano Rivera, Francisco K-Rod Rodriguez, Aroldis Chapman, Todd Jones and Valverde became closers in their third seasons. Trevor Hoffman, Eric Gagne, Rollie Fingers and John Wetteland got the job in their fourth seasons. How long it takes Rondon to become Tigers closer remains to be seen, but watching him take his shot should be something to see.
Original Story:
http://www.foxsportsdetroit.com/11/19...
THE BACKYARD
BEST OF MAXIM
RELATED ARTICLES
Go and get the tissue box Tiger fans, Ryan Raburn has been released. The announcement of Raburn's outright release came Tuesday afternoon as the Tigers made adjustments to their 40 man roster. The veteran utility man who was good for 45 home runs and 156 RBIs between 2009-2011 was set to make $2.1 million through the arbitration process. This obviously wasn't at all worth it...
The Ryan Raburn era in Detroit came to a quiet end Tuesday afternoon. In a press release announcing that the Tigers had added pitching prospects Melvin Mercedes and Bruce Rondon to the 40-man roster, along with shortstop Dixon Machado, there was a quiet mention that the Tigers had released Raburn. Raburn played seven seasons for the Tigers, playing six positions, but none of them...
– According to Danny Knobler of CBSSports, the Arizona Diamondbacks are interested in short stop Jhonny Peralta, but they won't trade him until they find a better short stop than him. – The Detroit Tigers released utility player Ryan Raburn reports Brian Britten, the Tigers' Director of Media Relations. A move that clears a spot on the 40-man roster towards the Rule-5...
The Detroit Tigers have released outfielder Ryan Raburn. Raburn started the 2012 season as a big part of Detroit's plans, but the 31-year-old hit just .171 in 66 games. The Tigers also purchased the contracts of right-handers Bruce Rondon and Melvin Mercedes, and shortstop Dixon Machado from Triple-A Toledo. Detroit sent right-hander Tyler Stohr outright to Toledo. The 21...
Ryan Raburn was released by the Detroit Tigers on Tuesday, putting an end to Raburn's roller-coaster run in the Motor City. Continue reading →
My mother rarely let me have Twinkies. I ate them every once in a while at a birthday party or holiday celebration, but I never gorged myself on them. And you know what? I'm probably a better and healthier person because of that. Mitch Albom and the rest of the baseball writers who voted for Miguel Cabrera for MVP have eaten too many Twinkies. They voted for the feel-good, gooey...
Tweet   The 2012 American League champion Detroit Tigers upgraded their outfield last week by agreeing to a two-year deal with veteran Torii Hunter. Since making his major league debut with the Minnesota Twins on August 22, 1997 Hunter has worn uniform no. 48. Detroit Tigers starting pitcher Rick Porcello has worn the same number [...]
According to CBS Sports' Jon Heyman, free agent short stop Stephen Drew is drawing interest from several clubs including the Detroit Tigers who just exercised a $6 million dollar team option on infielder Jhonny Peralta for the 2013 season. Drew became a free agent this offseason after the A's declined their half of a $10 million dollar mutual option though according to MLBTradeRumors...
Something has to give when a respected veteran major league player is traded to a team and the uniform number he has worn for 16 years is already on the back on one of his new teammates.  Usually it ends up costing the new acquisition a nice dinner or maybe even a new car. What happened when former Los Angeles Angels outfielder Torii Hunter called his new teammate Rick Porcello...
Jim Bowden has proposed that the Arizona Diamondbacks send Justin Upton to the Detroit Tigers for Nick Castellanos and Avisail Garcia. Continue reading →
Yes, Miguel Cabrera won the AL MVP and deservedly so. But that doesn't mean that Mike Trout didn't also deserve to win the award. This year's award is more important than who came in first. This year marks the beginning of a war. A war on WAR, or Wins Above Replacement, a new sabermetric statistic that is supposed to more thoroughly express a player's all around impact on...
With all the stories of PEDs, ridiculous contract negotiations and general bad behavior by MLB stars, this story restores some of my faith in humanity: Torii Hunter has worn 48 his entire career, both with the Twins and Angels. On Friday, he officially signed a two-year, $26 million deal with the Tigers, where right-hander Rick Porcello has worn No. 48 since [...]
MLB News

Delivered to your inbox

You'll also receive Yardbarker's daily Top 10, featuring the best sports stories from around the web. Customize your newsletter to get articles on your favorite sports and teams. And the best part? It's free!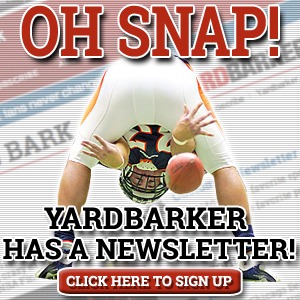 Latest Rumors
The Backyard

Today's Best Stuff

For Bloggers

Join the Yardbarker Network for more promotion, traffic, and money.

Company Info

Help

What is Yardbarker?

Yardbarker is the largest network of sports blogs and pro athlete blogs on the web. This site is the hub of the Yardbarker Network, where our editors and algorithms curate the best sports content from our network and beyond.