Found March 15, 2013 on Bush League Chronicle:
In 2011, veteran MLB outfielder Laynce Nix started suffering from Achilles tendon problems. In 2012, he missed significant time due to a calf injury. Both ailments limited his production as a member of the Washington Nationals and Philadelphia Phillies, respectively.Upon further review, Nix has concluded that Nike baseball cleats are to blame for the leg injuries, which have plagued him for parts of the past two seasons. Nix saw his OPS drop from .805 in 2010 to .727 in 2012.From the Delco Times:"To be short and direct," Nix said Wednesday, "the shoes that I was wearing didn't flex where my toes flex, and it caused tension in the Achilles' (tendon) and calves. That built up for a couple of years in my Achilles and calves."Although Nix had a few disabled-list stints over the years — a strained abdomen, a turned ankle, a shoulder that required surgery — he hadn't been one to have leg problems until the last two seasons. He said his Achilles' tendon gave him issues while in Washington, then he had the calf problems last year in Philly. Nix said a conversation with Jimmy Rollins and Shane Victorino — both wearers of Nike products, and both of whom have had calf issues in the past — led him to suspect his cleats were the problem.As Big League Stew points out, why didn't Nix just throw out the uncomfortable kicks in favor of new ones? We may never know the answer to that question. However, Nix says he is swearing off the Nike's from now on."I'm switching up," Nix said. "I've been going between Mizuno, New Balance and Adidas. I'm shopping around."With his shoe situation resolved, the 32-year-old is hoping to land a spot on Philadelphia's Opening Day roster as an extra outfielder. He is batting .219 (7-32) with one homer and five RBI this spring.
Original Story:
http://www.theblcblog.com/2013/03/in-...
THE BACKYARD
BEST OF MAXIM
RELATED ARTICLES
Laynce Nix has the best season of his career in 2011 and parlayed that into a two-year deal with the Philadelphia Phillies. Unfortunately, the first year of that deal didn't quite workout so well, as he played in almost half as many games as the previous season and dealt with a ton of injuries, specifically to his calves. Obviously, not only is he hoping to help the Phils win this...
You saw it coming, but the Phillies made it official anyway: Cole Hamels will be the Phillies Opening Day starter April 1 in Atlanta. The order has been aligned since the beginning of Spring Training, so it's no surprise, as Hamels will be followed by Cliff Lee and Roy Halladay. Kyle Kendrick is penciled in as the fourth starter and would pitch the home opener against the Royals...
Pete Orr's eighth inning homer off of former Phil Mike Zagurski was the difference in a 2-1 win over the Pirates. The Good Three players' performances stood out for me today: Orr, Ender Inciarte, and Aaron Cook. A day after playing center field for the first time in Major League or Major League exhibition game, Orr hit the deciding homer in the eighth. Cook allowed two base runners...
Matt Hitt Troy Marks According to Matt Eddy of Baseball America, the Phillies have signed RHP Troy Marks, C Matt Hitt, 2B Shawn Williams, SS Miguel Abreu, and SS Andres Blanco. Marks, 23, is a 6'5 righty who attended the University of Nevada. As a member of the Wolfpack, he earned WAC All-Academic team distinction He went undrafted in 2012. Hitt, 23, is a 6'0 catcher who hit...
The Philadelphia Phillies do not seem concerned about Roy Halladay having a potential injury.  His velocity has dipped drastically this spring, and he has not looked good when pitching.  They do not believe it is an injury, but they do believe it's mechanical.  And Halladay is working on that. Todd Zolecki of MLB.com says Halladay tinkered with his mechanics in his bullpen...
At what point is a victory harder to come by for the Philadelphia Phillies and Cole Hamels? Actually, there are many places that this occurs. TAL'S HANDY CAPS WELCOME, NEWCOMERS: My articles are designed to represent a baseball man's thinking, the view from the dugout and the GM's box. Most fans do not consider the budget, prospects on the radar, the club's weaknesses, the...
Tampa Bay Rays  vs Philadelphia Phillies Time: 1:05 pm Charlotte Sports Park – Port Charlotte, FL Weather: 64, Clear TV: No TV today, folks. Just MLB Radio. Follow Phillies Nation on Twitter John Lannan will take the hill today followed by Antonio Bastardo, Jeremy Horst, and Justin De Fratus. The Phils hitters will take on Matt Moore. Some housekeeping items: the Phillies have...
If one of the Philadelphia Phillies' starters goes down, Aaron Cook and Rodrigo Lopez are ready to fill in. Cook and Lopez combined for five scoreless innings, Pete Orr hit a tiebreaking homer in the eighth inning and the Phillies beat the Pittsburgh Pirates 2-1 on Thursday. ''I'll take the ball whenever they give it to me,'' Cook said after allowing one...
John Lannan looked very, very dominant this afternoon in Port Charlotte, Florida. The Phillies would not go on to win today's game, but consider Lannan's success a victory in itself. In five shutout innings, Lannan allowed just two hits, walked one, and struck out four. Matt Moore tossed five innings...
On a weekend where John Lannan and Raul Valdes were firing and Dom Brown was slugging, the Phillies roster really wasn't changed much. I think the main questions that are out there still exist, and none of the main spots in question are settled. Here's the good news- De Fratus,...
    Last year at this time, the Phillies were hurting. Chase Utley was nowhere to be found, and Ryan Howard was taking ground balls on a stool. Second and third base were huge question marks, not to mention the power outage at first base with Howard's absence. The pitching staff, anchored by the trio
MLB News

Delivered to your inbox

You'll also receive Yardbarker's daily Top 10, featuring the best sports stories from around the web. Customize your newsletter to get articles on your favorite sports and teams. And the best part? It's free!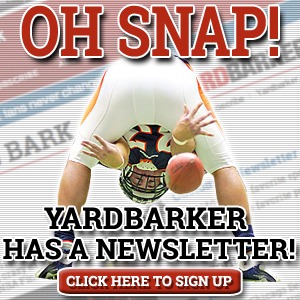 Latest Rumors
Best of Yardbarker

Today's Best Stuff

For Bloggers

Join the Yardbarker Network for more promotion, traffic, and money.

Company Info

Help

What is Yardbarker?

Yardbarker is the largest network of sports blogs and pro athlete blogs on the web. This site is the hub of the Yardbarker Network, where our editors and algorithms curate the best sports content from our network and beyond.