Posted March 10, 2012 on AP on Fox
Former major league star Jose Canseco has been suspended from the Mexican league after allegedly refusing to undergo a doping test. Mexican league president Plinio Escalante says refusing to take a doping test is treated the same as testing positive in the league. Quintana Roo Tigers team president Cuauhtemoc Rodriguez says doping control doctors advised Canseco against taking the test because he was using a medicine to produce testosterone. He says Canseco had already informed the team that he was using the medicine because his body doesn't produce the substance naturally. Canseco told ESPNDeportes that he has a prescription for the testosterone treatment and ''can't live without it.''
Original Story:
http://msn.foxsports.com/mlb/story/Me...
THE BACKYARD
BEST OF MAXIM
RELATED ARTICLES
Former major league star Jose Canseco has been suspended from the Mexican league after allegedly refusing to undergo a doping test. Mexican league president Plinio Escalante says refusing to take a doping test is treated the same as testing positive in the league. Quintana Roo Tigers team president Cuauhtemoc Rodriguez says doping control doctors advised Canseco against taking...
Our old reality show pitching friend Jose Canseco is back in the news. Canseco's quest to continue to play baseball has taken him to Mexico to play for the Quintana Roo Tigers in the Mexican Baseball League. But as you can tell from Canseco's tweet above, things aren't working out to well for Mexico.According to ESPN Deportes, Canseco has admitted that he's taking testosterone...
In case you weren't aware, Jose Canseco has been attempting a baseball comeback with the Mexican League. Last night, the president of the Mexican League confirmed to ESPN that Canseco had been banned for taking testosterone, a prohibited substance. Canseco then tweeted: How can I test positive when I never took any test don't believe everything the media tells you.the truth always...
Remember, last fall when Shaquille O'Neal asked UFC president Dana White to set up a fight between him and Jose Canseco?Well, much like a sitcom storyline that begins in November and lies dormant until the weeks leading up to the next sweeps period...this argument has, once again, manifested itself via the Twitterphere.That's right, lost in the latest Canseco social media meltdown...
Jose Canseco, who has been busy on Twitter with his usual rants, has been suspended by the Mexican League for refusing to take a drug test. According to ESPN, Quintana Roo Tigers team president said "doping-control doctors advised Canseco against taking the test because he was using a medicine to produce testosterone".  Canseco has been pledging his innocence claiming that...
Jose Canseco and performance-enhancing drugs go together like peanut butter and jelly. We all know that. Whether it be admitting to taking steroids during his playing days or trying to out everyone else who did in his best-selling book, Canseco has become a poster child for illegal substances. Now 47 years old and playing in the Mexican Baseball League, he has once again been accused...
Jose Canseco is having an eventful week with this whole 'failed drug test in Mexico', thus leaving him stranded in the dirt-land down under unemployed. He took to his Twitter to deliver a what could have been a Eastbound & Down season 2 storyline: More Information
((ht: espndeportes))We know. You are as shocked to hear this as we were. And apparently as shocked as Jose himself.According to a report on espndeportes, Canseco tested positive for taking testosterone and didn't have a prescription for it.The report quotes the president of the Mexican league confirming the results and said Canseco admitted to it.However, Jose took to Twitter...
Wait. Is Jose Canseco implying that Bigfoot (I prefer "Sasquatch," but let's not split hairs) and the Loch Ness Monster are somehow inextricably involved? As in Bigfoot is a myth or hoax perpetrated by the Loch Ness Monster as a means to throw people off its scent? Otherwise, why would Bigfoot be "of" the Loch [...]
Nothing like free advice from a washed up snitch of a meathead who has alienated everyone he has ever met, and was forced to run away to Mexico, because he made poor life decisions.
Former MLB MVP and one-time MMA fighter, Jose Canseco, took to twitter yesterday to call at basketball great Shaquille O'neal:
- Your ML best 5-0 Tigers rolled to another win yesterday.  Andy Oliver pitched 3 shutout innings, walking 3 and striking out 3, and Miggy hit is first bomb of the spring to go along with a slick play coming in on a ball at third.  Will they ever lose? - This is a little late for AJax to learn how to bunt, no?  Fangraphs rates the Tigers' CFers as 20th best in the league, behind...
MLB News

Delivered to your inbox

You'll also receive Yardbarker's daily Top 10, featuring the best sports stories from around the web. Customize your newsletter to get articles on your favorite sports and teams. And the best part? It's free!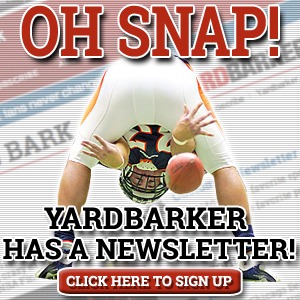 Latest Rumors
Best of Yardbarker

Today's Best Stuff

For Bloggers

Join the Yardbarker Network for more promotion, traffic, and money.

Company Info

Help

What is Yardbarker?

Yardbarker is the largest network of sports blogs and pro athlete blogs on the web. This site is the hub of the Yardbarker Network, where our editors and algorithms curate the best sports content from our network and beyond.