Found March 25, 2013 on Fox Sports Wisconsin:
PLAYERS:
Kyle Lohse
,
Doug Melvin
,
Wily Peralta
,
Mark Rogers
,
Ryan Braun
,
Yovani Gallardo
,
Jeff Suppan
,
Braden Looper
,
Ryan Dempster
TEAMS:
Milwaukee Brewers
,
St. Louis Cardinals
,
San Diego Padres
,
Boston Red Sox
Mark Attanasio saw the writing on the wall. His Milwaukee Brewers were not likely to compete for a division title, and possibly not even a Wild Card berth, with the rotation the club was going to trot to start the season. It was something that wasn't hard to see coming. Kyle Lohse was available. The Brewers needed at least one more experienced starting pitcher in order to join the conversation to contend for the playoffs in the National League. Of course Attanasio was going to make the call. The only question was how much he was willing to pay and for how long? Monday, we got the answer. Three-years, 33 million is the reported contract by FOXSports.com. There's no question Lohse, 34, will improve Milwaukee's rotation in 2013 and possibly 2014, but how much is the ballclub better? The Brewers can now realistically fight for a spot in the playoffs, and who knows from there. They weren't a favorite to make the World Series on Sunday and still won't be when the ink dries on Lohse's contract in Phoenix. Attanasio, general manager Doug Melvin and the rest of the organization were asked about the starting rotation ad nauseam at Brewers On Deck. Over and over, each assured fans that the inexperienced arms of Wily Peralta, Mike Fiers and Mark Rogers were going to be just fine. All they had to do is duplicate their success from the final two months of the season over the course of seven months. Spring training proved that may be difficult. Peralta's ERA is 5.74. Fiers checks in at 6.98, while Rogers may have to begin the season on the disabled list due to a dead arm. I usually never even glance at spring training stats. To Ryan Braun and Yovani Gallardo, stats in February and March in meaningless games don't matter. But to guys competing for jobs -- like everyone in the rotation not named Gallardo was doing -- they hold a bit more significance because they don't have the luxury of working on certain things. Those guys have to perform, and they didn't. Is this a panic move? There's probably a better way to put it. It's more like a reactionary move. Attanasio and Melvin wanted to see their in-house options earn a spot, while keeping in contact with Lohse the whole time. Let's get this out of the way, too. Lohse is not Jeff Suppan, and he's most certainly not Braden Looper. Lohse has been very good for the past two years, and has had success -- when healthy -- over the past five years with the Cardinals. That's not to say this deal is risk free. In fact, it's far from it. There's all sorts of risks that will sure to have the Brewers' fanbase divided on the move. There's always the group that believes the focus should be on a more sustainable future plan. That's certainly understandable and it makes sense why those in this group are opposed to bring in a 34-year-old right-hander that has had a few injury concerns to a three-year contract. The Brewers are going to be paying Lohse 11 million when he's 37. The Brewers were likely the first team to offer Lohse more than a two-year deal. Again, there's a reason for that. Other teams were skeptical to add a third year, just like they were with Ryan Dempster. All the arguments against this signing are fair and make sense. Sure, losing the No. 17 draft pick in this upcoming draft -- no, the Cardinals don't get that pick specifically, just one in the compensatory round -- hurts. But it was apparent from Brewers On Deck that Attanasio wasn't concerned about giving that away. His view is that the odds of someone picked in the middle of the first round impacting the club were far less than Lohse's potential impact. That's a fair way to look at it, but again, someone's opinion on that statement depends on which side of the fence they sit on. Win now at all costs, or build for the future? As an outsider, it's easy to sit and say you'd build for the future with a plan that could have a greater chance at extended success because your money isn't tied into the ballclub. Attanasio wants to win. He loses the money if fans don't show up at Miller Park. That's why it's no surprise he pulled the trigger on Kyle Lohse. The Brewers are a better ballclub trotting Lohse out every five days. How much better is yet to be seen. But if Milwaukee was serious about putting a contending product on the field in 2013, this is a move it had to make. Now the Brewers just have to hope the rewards outweigh the risks. Only time will tell. Follow Andrew Gruman on Twitter.
Original Story:
http://www.foxsportswisconsin.com/mlb...
THE BACKYARD
BEST OF MAXIM
RELATED ARTICLES
Kyle Lohse finally found a team.  After waiting almost to the brink of opening day, Lohse signed with the Milwaukee Brewers for 3 years/$33 million. A bit less than what he and agent Scott Boras were hoping for, but at least they got a deal done. However, when I first heard about the signing, I immediately thought back to the Brewers signing of Jeff Suppan.  In case you forgot...
Kyle Lohse finally signed with a team today, and that means he should be off your fantasy team by this weekend.Look, if he's on your waiver wire, you've got to add him. Unless you found a mega sleeper, he's going to be better than your last-round pick. And if you drafted him in a late round, waiting for the day he would sign, that's a smooth move. But I don't...
The signing of free-agent right-hander Kyle Lohse gives the Milwaukee Brewers five players who will earn a combined $61.5 million in 2014, according to Cot's Baseball Contracts. Owner Mark Attanasio, however, said Tuesday that the team's rising payroll will not prevent the Brewers from trying to re-sign first baseman Corey Hart, a potential free agent, or pursuing other...
A person familiar with the deal tells The Associated Press that free agent pitcher Kyle Lohse and the Milwaukee Brewers have reached agreement on a three-year contract worth $33 million. Several media outlets reported the deal Monday. The person spoke to the AP on condition of anonymity because an official announcement was expected later in the day. The 34-year-old Lohse joined...
LHP Kyle Lohse has finally found a home for 2013. The former-Phillie and former-St. Louis Cardinal starting pitcher has signed a contract with the Milwaukee Brewers, as first reported by CBS' Jon Heyman. The 34-year-old spent the last five seasons of his career with the Cardinals, where he won a...
CBS' Sports Jon Heyman is reporting today that free agent pitcher Kyle Lohse will be signing with the Milwaukee Brewers- Lohse to sign with brewers — Jon Heyman (@JonHeymanCBS) March 25, 2013 Lohse was the prize of the free agents left, but signing the veteran starter would have cost a team their first round pick. The Brewers will forfeit the #17 selection in the upcoming MLB...
Photo by: Keith Allison Kyle Lohse has packed his bags and now he can buy his plane ticket because he finally has a destination for 2013, Milwaukee.  The Brewers have reached an agreement (pending a physical) with Lohse for 3 years and $33 million.  The 34 year old right-hander should slot in behind Gallardo as the Brew Crew's 2nd starter once he is ready to join the rotation...
The Milwaukee Brewers have agreed to a multiyear contract with free agent right-hander Kyle Lohse pending a physical, according to multiple reports. CBS Sports reports the contract is worth 33 million over three years. Lohse, 34, went 16-3 with a 2.86 ERA in 33 starts and 211 innings for St. Louis in 2012. Despite finishing seventh in the National League Cy Young voting last season...
After holding out almost all of spring training, it appears former Cardinals starter Kyle Lohse has finally landed with a new team. On Monday Lohse reportedly signed a three-year deal with the Milwaukee Brewers. News of the deal was first reported by CBS Sports' Jon Heyman. One of the major sticking points that caused so many teams reluctance on Lohse was the fact that signing...
When word leaked out yesterday that the Brewers had come to a three-year/$33 million agreement with Kyle Lohse, a lot of Pirate fans immediately started wondering why the Pirates didn't make more of a push for Lohse given their current rotation woes. There are a lot of fairly straightforward answers to this question: Lohse is due for some regression and is much more likely to...
Could THIS be the guy who never plays until Corey Hart comes back in May? Note: This post was being written when it was announced that the Brewers were signing Kyle Lohse. The transaction is in stark contrast to much of the intro, but I'll be goddamned if I'm going to re-write it. Just pretend this was written Friday or something. Cool? *** Every mid-February when pitchers...
Today, we're going to begin previewing the major awards going into the 2013 season. We'll take a look at the MVP, Cy Young, and Rookie of the Year favorites in both the American and National Leagues, kicking off with the ROY today. We've also got some other goodies planned, so keep your eyes here today. Yesterday, here's what you missed around the Corner. ...
MLB News

Delivered to your inbox

You'll also receive Yardbarker's daily Top 10, featuring the best sports stories from around the web. Customize your newsletter to get articles on your favorite sports and teams. And the best part? It's free!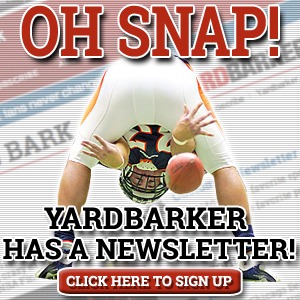 Latest Rumors
The Backyard

Today's Best Stuff

For Bloggers

Join the Yardbarker Network for more promotion, traffic, and money.

Company Info

Help

What is Yardbarker?

Yardbarker is the largest network of sports blogs and pro athlete blogs on the web. This site is the hub of the Yardbarker Network, where our editors and algorithms curate the best sports content from our network and beyond.