Found November 15, 2011 on isportsweb.com:
Dodgers owner Frank McCourt (left) and Matt Kemp attend the opening of a new little league field in Compton, CA. Kemp remained silent about reports he was ready to sign an 8 year, $160 million deal with the team.
Frank McCourt may have been a terrible owner but he is turning into quite the apologist. Ever since he lost his battle with Bud Selig to retain control of the Dodgers, McCourt has been running around admitting he was wrong for putting team revenues into his own pocket rather than using them to build a contender. Now he may have finally put his money where his mouth is.
In what may be his final major act as an owner,  there are reports McCourt is ready to sign star outfielder Matt Kemp (.324 BA, 39 HR, 126 RBI in 2011) to a historic long term contract. Kemp, 27,  who could become a free agent after the 2012 season, has been offered an 8 year, $160 million deal which would be the biggest contract in team history.  The numbers are huge but not necessarily surprising. Kemp's agent, Dave Stewart, had previously stated that if the Dodgers wanted to sign Kemp to a multi-year deal, the 7 year, $142 million contract Carl Crawford signed with Boston last year would be the starting point.  The offer comes just as Kemp wrapped up a 2 year, $11 million contract and would enter into arbitration proceedings. According to those familiar with the process, his MVP-like numbers would have translated into a $16 million salary for 2012.
Since becoming the Dodgers full-time centerfielder in 2008, Kemp has averaged a .290 BA, 27 HR, and 98 RBI per season.  Signing a player for this long is uncharted territory for GM Ned Colletti.  Since becoming the GM in 2005, the longest contract Colletti has entered into with an everyday position player is three years.
This is a move that will undoubtedly contribute to the recent upswing in Dodgers season ticket sales.  The Dodgers have reported an increase in the amount of season ticket inquiries since McCourt announced he was selling the team.  The Dodgers sold about 17,000 season tickets last year, well below the "pre-McCourt" days when the team would easily reach 27,000 and have to start waiting lists. The signing of Kemp will probably get even more lines ringing.
This signing could also be the prelude to more actions by the Dodgers, both good and, perhaps not-so-good. There is talk the Dodgers will also push to sign pitcher Clayton Kershaw to a long term deal in spite of him being under team control until 2014.  On the other hand, outfielder Andre Ethier, who, like Kemp, is eligible for arbitration and becomes a free agent in 2012, may be wondering what his future holds. Rumors are Ethier and manager Don Mattingly don't quite see eye to eye and that Ethier's good friend, the Red Sox Dustin Pedroia, has talked to Andre about one day roaming the outfield of Fenway Park.
Obviously, McCourt knows he won't be cutting the checks but the fact the Dodgers could pull this off in spite of all the turmoil may be penultimate signal that Frank is looking to leave the team with a modicum of class. But why would Kemp want to sign with a team in disarray when perennial contenders like the Red Sox and Yankees probably would have been calling him after the 2012 season?
"The East coast, to me it's too cold over there. I like the West Coast. The West Coast is sunny," Kemp joked.
Uh, do the Molinas have any more brothers?
Current Pittsburgh Pirates catcher and free agent Ryan Doumit, 30, turned down a one year, $3 million contract offer from the Dodgers. Doumit (.303 BA in 2011) may be the most sought after catcher this off-season. Doumit just got married this past weekend so my hunch is a multi-year deal would sit better with the new wife.
If the season started today, the Dodgers would not have a proven catcher.  A.J Ellis Ellis has been toiling in the Dodgers farm system since 2003 and has played in only 85 major league games.  His one claim to fame, so to speak, came in August of 2010 when an injury to catcher Russell Martin saw Ellis be named the starting catcher for the first time in his career.  Ellis went on to become the "feel good" story of the Dodgers season when his wife, who was expected to give birth just as the Dodgers embarked on an East Coast road trip, publicly told her husband it was okay to miss the big moment just so he could live out his major league dream.
Fedorowicz, acquired from the Red Sox minor league system last August,  played in seven major league games when the Dodgers were able to expand their roster.
Carroll Jumps to the Lake
Infielder Jamey Carroll is taking his skills to the Land of a 1,000 Lakes in Minnesota after playing out the two year deal he signed with the Dodgers in 2009. The combination of the ownership turmoil, Carroll's age (he'll turn 38 in February), plus the focus on Kemp made it unlikely the Dodgers would match the 2 year, $7 million deal the Twins offered him.
In 2010, Carroll became one of the most popular Dodgers when injuries to others turned him from a utility man to a full time player. He was a "sparkplug" of sorts when he hit .327 over the final two months of the season, in spite of the Dodgers falling out of the postseason race.
Carroll's departure prompted the Dodgers to sign free agent second baseman Mark Ellis.  Ellis, 34, played for Oakland from 2002 until the middle of last season. He was traded to the Rockies at the end of June and appeared to get "in sync" with shortstop Troy Tulowitzki very quickly.  Statistically, the two were rated the fourth best double play combination in the National League.  Ellis has a lifetime batting average of .266 but has seen his power numbers fall off dramatically. He hit 19 home runs in 2007 yet has averaged just six over the last two seasons.
Original Story:
http://isportsweb.com/2011/11/15/los-...
THE BACKYARD
BEST OF MAXIM
RELATED ARTICLES
The Dodgers, in the midst of a difficult transition period and sale, may have trouble getting approval to sign a big-ticket free agent. That doesn't mean they can't affect change in the free agent market place. As the team engages their 27-year-old once-maligned center fielder in extension discussions, they might be preparing do just that. Will the rumored numbers that will keep...
Kemp and Dodgers reportedly are close to finalizing an eight-year, $160 million deal that would be largest in team history and seventh-largest in baseball history.
Hooray! The Dodgers are going to sign superstar Matt Kemp to an eight-year, $160 million contract extension!!! Booo!  The Dodgers just gave middle-aged infielder Mark Ellis a two-year deal worth around $9 million!!! Oh, you silly Dodgers, your decision making is so befuddling paradoxical.  How can one team be so smart and yet so stupid at the same time.  I mean that literally...
Ken Rosenthal of Fox Sports is teetering in on a deal with the Los Angeles Dodgers and Matt Kemp working on a 8-year $160 million dollar extension that would keep the popular center fielder with the Dodgers into the next decade.The scary reality is a lot of the Dodgers long term investments have turned into a bust, however the MVP-caliber year of Kemp, on the cusp of his prime...
With news breaking today that Matt Kemp is close to signing an eight year, $160 million dollar deal with the Dodgers, one has to wonder what impact that will have, if any, on the Jose Reyes market? It's possible that the two may not end up correlating, but it's rare that long-term, big dollar contracts get looked at in a vacuum by Major League front offices. Executives are prone...
It looks like the Dodgers are about to make Matt Kemp a very rich man. Matt Kemp is on the verge of signing a long-term deal with the Dodgers that would be the largest contract in team history. Multiple reports have pegged the deal at eight years and $160 million. The Dodgers are scheduled to unveil a new Dream Field this afternoon in Compton and Kemp, who was not originally scheduled...
The Los Angeles Dodgers are close to securing their star and face of the franchise for the foreseeable future. Free agent outfielder Matt Kemp and the Dodgers are close to an 8-year, $160 million contract according to multiple sources, including Fox Sports Ken Rosenthal: Kemp is a front runner for the NL MVP award after a career [...]
According to Ken Rosenthal of FOXSports, Matt Kemp has agreed to an eight-year, $160mm extension with the Dodgers. The deal also includes a full no trade clause, Jon Heyman of SI.com reports. Dodgers' GM Ned Colletti had set signing Kemp to an extension as a top priority this Winter as Kemp had indicated that he did not want to negotiate during the season. The signing of Kemp...
The Los Angeles Dodgers are opening the pocket book, even though their owner situation is up in the air. Many didn't expect them to be a presence in the free agent market. To begin their free agent frenzy, they've made a real splash… Mark Ellis. The team signed him to a 2 year, $8.75MM deal. Ellis will be the starting second baseman; he played last year with Oakland and...
Most Valuable Player candidate Matt Kemp and the Los Angeles Dodgers are on the verge of agreeing to a new eight-year, $160 million contract, sources told ESPN The Magazine's Buster Olney on Monday.
This week, Fired Up examines Matt Kemp's extension with the Dodgers and Jonathan Papelbon's record contract with the Phillies.
Thanks to Dusty for the link to this interview with Dodgers head athletic trainer Sue Falsone at the Huffington Post. An excerpt: What is the most surprising part of your job? I think people would be surprised to know the amount of education it takes to become a physical therapist and an athletic trainer. The requirements have changed over the years, but it is now about seven years...
Dodgers News

Delivered to your inbox

You'll also receive Yardbarker's daily Top 10, featuring the best sports stories from around the web. Customize your newsletter to get articles on your favorite sports and teams. And the best part? It's free!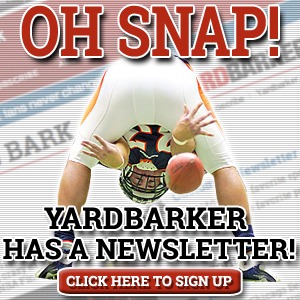 Latest Rumors
The Backyard

Today's Best Stuff

For Bloggers

Join the Yardbarker Network for more promotion, traffic, and money.

Company Info

Help

What is Yardbarker?

Yardbarker is the largest network of sports blogs and pro athlete blogs on the web. This site is the hub of the Yardbarker Network, where our editors and algorithms curate the best sports content from our network and beyond.