Found April 15, 2013 on ChadMoriyama.com:
PLAYERS:
Sean Burroughs
,
Zack Greinke
,
Carlos Quentin
,
Matt Kemp
,
Tim Federowicz
,
Chad Billingsley
,
Ramon Hernandez
,
AJ Ellis
,
Shawn Tolleson
,
Ted Lilly
,
Don Mattingly
,
Chris Capuano
,
Jerry Hairston jr.
TEAMS:
Los Angeles Dodgers
,
San Diego Padres
The Zack Greinke/Carlos Quentin/Dodgers/Padres debacle led to a lot of discussion and a couple of suspensions/fines: one for Quentin and one for Jerry Hairston Jr. While Zack Greinke is expected to miss eight weeks after surgery to repair his broken left collarbone, Carlos Quentin of the Padres will miss eight games. Jerry Hairston, who ran toward the Padres dugout after the initial melee died down, was suspended for one game. Both Quentin and Hairston were fined an undisclosed amount, and both are appealing their suspensions. Both are starting in left field for their respective teams Friday night. Neither Greinke nor Matt Kemp, the other two players ejected, will be suspended. For the best interests of both teams, MLB suggested to Quentin that he drop the appeal, and it was reported that he would. Yesterday, he did exactly that, and he will be suspended during the upcoming series. —– Tim Federowicz, as expected, was optioned to AAA to clear room on the 25-man roster for the returning Chad Billingsley. "It's tough. It's one of those things as a young player. I have options left, and that's just the way it is," Federowicz said before Tuesday's game. "You need some protection at the catchers spot if someone were to get hurt. We only had two on the roster, so they figured they had to do something." Ramon Hernandez will now serve as A.J. Ellis' backup, but give me Timmy every day of the week and twice on Sundays. —– Shawn Tolleson was recalled from AAA to replace the injured Greinke. His stay on the team depends on what the Dodgers decide to do with Ted Lilly… …and speaking of the devil, Lilly refused an assignment to continue rehabbing in the minors. The Dodgers on Saturday asked Lilly to continue his Minor League rehab assignment with two more starts and he declined. He can't be sent out without his permission and he declared himself healthy and ready to pitch in the Major Leagues. The club disagrees. "We laid out a plan and, obviously, he just didn't like the plan," said manager Don Mattingly, who put Chris Capuano in the starting rotation, and not Lilly, to replace the injured Zack Greinke. "From a baseball standpoint, we felt he wasn't quite ready for what we want him to do, to start." "We laid out a plan and Teddy doesn't want to be part of the plan. It's out of my hands. We didn't feel he was ready to pitch at the Major League level. For me, it's a baseball decision. It's nothing personal in any way, shape or form. We're giving him our baseball thoughts, what we think is best for him and the team." In two rehab starts between the A+ and AAA levels, Lilly has a 7.50 ERA in 12 innings. Combine that with a horrible Spring Training and it's hard to disagree with the team here. But besides his performance why do they want to keep him in the minors, right? Well, Chris Capuano will make the start Tuesday in place of the injured Greinke. Capuano has pitched two games in relief, including Thursday night directly following Greinke after he broke his left collarbone in a brawl against the Padres. In 2⅔ innings, Capuano allowed only two hits, a walk, and no runs, with four strikeouts. Capuano was 12-12 with a 3.72 ERA in 33 starts for the Dodgers in 2012. So basically there's no room in the rotation for Lilly, and Capuano is the right choice here. —– The Dodgers signed first baseman Sean Burroughs to a minor-league deal. Frankly, it was surprising to find out he was even still in baseball. Just minor-league depth though. ===== Greg Zakwin is the founder of the site Plaschke Thy Sweater Is Argyle. Follow him on Twitter @ArgyledPlaschke.
Original Story:
http://feedproxy.google.com/~r/ChadMo...
THE BACKYARD
BEST OF MAXIM
RELATED ARTICLES
Zack Greinke has a broken left collarbone because Carlos Quentin is an imbecile. The initial timetable is eight weeks following surgery, and Greinke has traveled back to LA to visit with team doctor Neal ElAttrache and go under the knife. A CT scan of the left clavicle showed that Greinke needs a rod placed to stabilize and align the fracture. The surgery will be performed Saturday...
Few seem to believe Carlos Quentin's contention that he was justified to charge Dodgers right-hander Zack Greinke -- least of all Major League Baseball, which suspended Quentin but not Greinke for Friday's bench-clearing brawl. Well, Quentin might have a better argument than most of us initially perceived. Not an argument that excuses his reaction and breaking of Greinke...
  Devastating news for Dodgers fans, their $147 million pitcher Zack Greinke will now miss 8 weeks after suffering a broken collarbone in the bench clearing brawl  vs the Padres. Via CBSSports the right-hander will have surgery to repair his fractured collarbone on Saturday. A rod will be inserted into his clavicle to stabilize and align the fracture. He is slated to miss 8 weeks...
San Diego Padres slugger Carlos Quentin has dropped his appeal and is beginning an eight-game suspension for rushing the mound and inciting a brawl in which Los Angeles Dodgers pitcher Zack Greinke broke his left collarbone. With the suspension starting with Sunday's game against Colorado, Quentin will miss the Padres' three-game series at Dodger Stadium beginning Monday...
What happened on Thursday night in San Diego was unfortunate. Now get over it. Carlos Quentin's decision to charge the mound was dumb. The ensuing brawl led to a suspension for him and, more importantly, a broken clavicle for Dodgers pitcher Zack Greinke. But as unfortunate as Greinke's injury is, there's no reason it should have increased the suspension handed down to Quentin...
MLB doesn't want to see things get ugly between the Dodgers and the Padres on Monday, and Bill Center of the San Diego Union-Tribune reports that the league will try to make their ruling by the time the series rolls around. Major League Baseball is speeding up Carlos Quentin's appeal of his eight-game suspension — a suspension that stems from his recent dust-up with Dodgers...
Probably the biggest baseball story of last week was Carlos Quentin charging the mound after a hit-by-pitch and in the process badly injuring Zack Greinke. At first it looked like Quentin had done something completely stupid, then after some additional consideration, it looked like Quentin had done something completely stupid and Greinke also hadn't helped himself. (Nuance.) The...
Los Angeles Dodgers right-handed starting pitcher Zack Greinke will undergo surgery on his broken collarbone today which will see a rod placed in his clavicle to stabilize and align the fracture, according to Ken Rosenthal of FOX Sports. Rosenthal adds that the procedure is supposed to carry with it a recovery period of eight weeks. #Dodgers: Greinke will undergo surgery tomorrow...
After a disappointing loss last night on Jackie Robinson night, the Dodgers will look to get things back on track in game two of the three game series with the San Diego Padres. This will be the Dodgers' first look at what life will be like for the next couple months without Zack Greinke in their rotation. That starting pitching depth is looking pretty good now, right? After...
MLB News

Delivered to your inbox

You'll also receive Yardbarker's daily Top 10, featuring the best sports stories from around the web. Customize your newsletter to get articles on your favorite sports and teams. And the best part? It's free!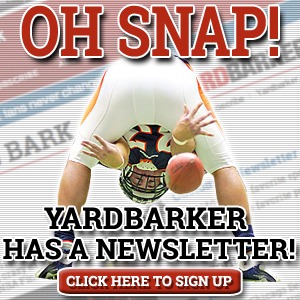 Latest Rumors
Best of Yardbarker

Today's Best Stuff

For Bloggers

Join the Yardbarker Network for more promotion, traffic, and money.

Company Info

Help

What is Yardbarker?

Yardbarker is the largest network of sports blogs and pro athlete blogs on the web. This site is the hub of the Yardbarker Network, where our editors and algorithms curate the best sports content from our network and beyond.