Found April 26, 2013 on Fox Sports:
PLAYERS:
Jack Zduriencik
,
Josh Hamilton
,
Mike Zunino
,
Nick Franklin
,
Danny Hultzen
,
James Paxton
,
Taijuan Walker
,
Jesus Montero
,
Dustin Ackley
,
Justin Smoak
,
Cliff Lee
,
Michael Pineda
,
Kyle Seager
,
Stephen Pryor
,
Carter Capps
,
Doug Fister
,
Jason Vargas
,
Hisashi Iwakuma
,
Eric Wedge
,
Torii Hunter
,
Justin Upton
,
Josh Lueke
,
Felix Hernandez
,
Ted Simmons
,
Billy Beane
TEAMS:
Seattle Mariners
,
Los Angeles Angels
,
Philadelphia Phillies
,
New York Yankees
,
Detroit Tigers
,
Atlanta Braves
,
Tampa Bay Rays
,
Oakland Athletics
Time. General managers in trouble always want more time. Time for prospects to develop. Time for injured players to heal. Time for the GM's blueprint to become a fully formed vision of a championship contender. Mariners GM Jack Zduriencik is running out of time. The M's are 9-15 in a season in which they were expected to at least continue their recent incremental improvement, from 61 to 67 to 75 wins the past three years. And while the schedule is still less than 15 percent complete, the Mariners again are last in the AL in runs per game - a position they held in each of Zduriencik's first four years as GM. Zduriencik was talking about the need for more time Thursday, referencing injuries to three pitchers and each of the Mariners' starting outfielders, pointing out that his front office has had only four drafts, explaining that some of the top prospects from Triple-A will be in the majors before the end of the season. His argument makes sense only if you believe that Zduriencik and his front office are properly evaluating players, something that is very much in question. I mentioned to Zduriencik that fans, waiting for the Mariners' first playoff appearance since 2001, aren't necessarily in the mood to be more patient. "Of course. I get it. Nobody feels it more than I do," Zduriencik said. "I sit here and would love to deliver to the fans. But this is what we said we were going to do. We haven't really deviated from Day One. "I said we were going to build the minor league system, we were going to try and get these guys here at the right time and then I would expect owners to step up and allow us to do some things. "Well, this winter, they allowed us to go after Josh Hamilton. It fell short. But going forward, we'll be in better shape next year than we are this year, no question about it." Again, on the surface, the argument makes sense. The Mariners rank second in Baseball America's organization talent rankings, behind only the Cardinals. Catcher Mike Zunino, infielder Nick Franklin and left-handers Danny Hultzen and James Paxton are all at Triple-A, bearing down on their first major league promotions, and right-hander Taijuan Walker is at Double-A, not far behind. Here's the problem: Three of Zduriencik's building blocks -- catcher Jesus Montero, second baseman Dustin Ackley and first baseman Justin Smoak -- still are struggling to establish themselves as major leaguers. And if those three prove to be busts, why should anyone be confident in Zduriencik's next wave? It's not too late for Montero, Ackley and Smoak to snap out of it -- Zduriencik said that he was encouraged by the hitting of all three in the Mariners' most recent series against the Astros. But in each case, this is no longer a question of small sample size. Smoak, the centerpiece of the Cliff Lee trade in July 2010, has a .678 OPS in 1,515 major-league plate appearances. Ackley, the No. 2 overall pick in the 2009 draft, has a .662 OPS in 1,127 PAs. Montero, the principal return for righty Michael Pineda, has a .701 OPS in 678 PAs. "They have things to prove," Zduriencik acknowledged. "I'm not going to sit here and say, 'Boy, oh boy, these guys are going to be superstars.'" Well, that was the original idea. Zduriencik has had his share of successes in the draft -- third baseman Kyle Seager, relievers Stephen Pryor and Carter Capps, and presumably others to come. He made a dismal trade for Lee and received too little for right-hander Doug Fister, but also scored with deals for outfielders Michael Morse and left-hander Jason Vargas, whom he later turned into first baseman Kendrys Morales. His signing of Japanese free-agent righty Hisashi Iwakuma in January 2012 qualifies as a coup. The eventual promotion of Zunino will liberate Montero from the mental rigors of catching, perhaps enabling him to take off offensively. Manager Eric Wedge continues to express confidence that Smoak and Ackley will be quality major leaguers. But if the Mariners are wrong on even two of the three, then where are they? They've got no shortstop; Franklin might be better suited for second. Morse and Morales both are potential free agents. And while ownership clearly is willing to invest in big-ticket items, top players repeatedly spurned the Mariners last offseason for better options. Hamilton and outfielder Torii Hunter signed with the Angels and Tigers, respectively, as free agents. Outfielder Justin Upton rejected a trade to the M's and later went to the Braves. The question now is how the team's historically inert ownership will react if things get ugly. Zduriencik expressed support for Wedge on Thursday, but at this point, who knows if ownership would even allow him to hire another manager? Or, for that matter, make trades before the non-waiver deadline on July 31? While Zduriencik says the team has not deviated from its plan, the turnover in his front office has been significant since he took over in October 2008. The Mariners fired professional scouting director Carmen Fusco in September 2010, two months after acquiring Josh Lueke, who had pleaded no contest to a charge of false imprisonment with violence against a woman, in the Lee trade. More recently, Zduriencik greatly reduced the responsibilities of special assistant Tony Blengino, a statistical analyst who helped make the GM a darling of the sabermetric community early during his tenure. Blengino, after returning home to Milwaukee, remains on the team's masthead. But when I asked Zduriencik if Blengino is a contributing member of the front office, the GM replied: "Tony does his statistical analysis. That's what his position is. That's what his job is. We'll continue to see how this thing unfolds." Bob Engle, the Mariners' vice president of international operations and the man responsible for signing Felix Hernandez, left the organization at the end of last season. Zduriencik also has hired a number of highly regarded baseball people, including Ted Simmons, Pete Vuckovich and Joe McIlvaine. His shift to a seemingly more scouting-oriented operation will either save him or prove his last gasp. Sports Illustrated recently took an optimistic view of the Mariners, proclaiming them to be "The Next Nats." That forecast still may come true, but SI was similarly positive in March 2010, portraying the M's as an organization on the vanguard of run prevention. Writer Albert Chen quoted Blengino extensively in that story and said Zduriencik "has been hailed as the second coming of Billy Beane." Well, the Mariners' 85 wins in 2009 proved an illusion, and the team hasn't had a winning record since. A breakthrough is needed -- and soon. Time no longer is on Zduriencik's side.
Original Story:
http://msn.foxsports.com/mlb/story/Ma...
THE BACKYARD
BEST OF MAXIM
RELATED ARTICLES
As the Mariners departed for Texas, they were coming off a solid home stand where they went 4-6.  Texas was not as kind to the Mariners as they were swept by the Rangers and lost two out of three to the Astros, their second series loss to the Astros this season.  At 8 up and 15 down, the Mariners are hardly at the stage they hoped to be at this early in the 2013 season.  After...
Mariners general manager Jack Zduriencik called it "a perfect storm in a negative way." Six players injured, including three pitchers and three starting outfielders. Young hitters getting off to slow starts, then pressing to end their slumps. The result is that the Mariners, after going 22-11 in spring training, are one of baseball's biggest disappointments in April...
Seattle Mariners manager Eric Wedge is mad as hell and he's not going to take it anymore. At least that's how he seemed after his team's 10-3 loss to the Houston Astros Wednesday night. That gave the Mariners their second series loss of the season to the Astros, and it's only April. Houston was generally considered to be the worst team in MLB — if for no...
Seattle Mariners outfielder Eric Wedge told reporters -- including Greg Johns of MLB.com -- that the team is expecting to get outfielder Michael Saunders back from the disabled list next week. Saunders is set to head out on a minor league rehab assignment with Seattle's Triple-A club over the weekend. If all goes well during the rehab stint, Saunders should be activated...
M's win 6-0 Seattle 6, LA Angels 0 When: 10:10 PM ET, Thursday, April 25, 2013 Where: Safeco Field, Seattle, Washington Temperature: 66° Umpires: Home – Marty Foster, 1B – Scott Barry, 2B – Wally Bell, 3B – Mike Everitt Attendance: 13000 Boxscore Behind strong performances from young studs… A beautiful day in Seattle could only be followed by an amazing night...
The Seattle Mariners say a pre-recorded announcement that requested fans to evacuate Safeco Field before Thursday's Mariners-Angels game was a mistake. About two hours before the 7:10 p.m. game time, a technician pressed the wrong button and the unnecessary evacuation announcement was heard. There was no follow-up to the announcement, but there were few people in the ballpark...
SEATTLE (AP) -- Carlos Peguero hit a mammoth homer in his first at-bat of the season and Kyle Seager had a two-run homer to help the Seattle Mariners beat the Los Angeles Angels 6-0 on Thursday night. Peguero hit his solo shot on a 3-2 pitch from Garrett Richards (1-1) in the third, 451 feet to deep center. The only two longer home runs in the stadium's 12-year history were...
Carlos Peguero hit a mammoth homer in his first at-bat of the season and Kyle Seager had a two-run homer to help the Seattle Mariners beat the Los Angeles Angels 6-0 on Thursday night. Peguero hit his solo shot on a 3-2 pitch from Garrett Richards (1-1) in the third, 451 feet to deep center. The only two longer home runs in the stadium's 12 1/2-year history were 462 feet by...
Ben and Paul talk to Corey Dawkins about Chad Billingsley`s elbow, then discuss the Mariners` decision to start Robert Andino over Brendan Ryan and the state of Seattle`s organization.
We are nearing the time of the fantasy baseball season where you can sell on player who has had a hot start for maximum value, and still purchase struggling stars for a reasonable price. With that idea, here are several hitters you should be trying to ship out or import. Kyle Seager, Seattle Mariners: Kyle Seager is in the middle of a 14-game hitting streak and is really one of the...
It's still April and the samples are still small, but we're over 10 percent of the way into the 2013 season and a few statistics are beginning to stabilize. Approach-related statistics in particular are starting to reach the point where the regression can be a little less aggressive. Swing rate begins to tell a bit of a story after just 50 plate appearances, for instance. It's...
MLB News

Delivered to your inbox

You'll also receive Yardbarker's daily Top 10, featuring the best sports stories from around the web. Customize your newsletter to get articles on your favorite sports and teams. And the best part? It's free!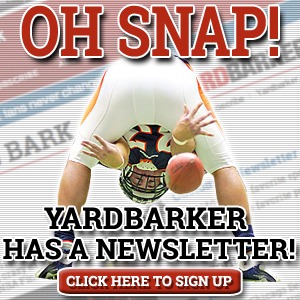 Latest Rumors
The Backyard

Today's Best Stuff

For Bloggers

Join the Yardbarker Network for more promotion, traffic, and money.

Company Info

Help

What is Yardbarker?

Yardbarker is the largest network of sports blogs and pro athlete blogs on the web. This site is the hub of the Yardbarker Network, where our editors and algorithms curate the best sports content from our network and beyond.