Found April 30, 2012 on NorthWest Sports Beat:
PLAYERS:
Jose Bautista
,
Chone Figgins
,
Miguel Olivo
,
Steve Delabar
,
Charlie Furbush
,
Jason Vargas
,
Eric Thames
,
George Sherrill
,
Brendan Ryan
,
Munenori Kawasaki
,
Justin Smoak
TEAMS:
Seattle Mariners
,
Toronto Blue Jays
Seattle Falls Under .500 at the Hands of Toronto The Headline: Toronto bests the Seattle Mariners in every way, limiting the offense while blowing up against the pitching.
Seattle Mariners 2, Toronto Blue Jays 7
When: 1:07 ET, Sunday, April 29, 2012
Where: Rogers Centre, Toronto
Temperature: 68 Degrees
Umpires: Home — Victor Carapazza, 1B — Gerry Davis, 2B — Greg Gibson, 3B — Manny Gonzalez
Attendance: 22,320
Love 'em 1. Controlling Bautista
The Blue Jays beat the Mariners with offense, plain and simple.
At least one player was made a non-factor by Mariner pitching. Jose Bautista, the 2010 and 2011 American League home run champ, went 1-4 on Sunday. That put him at 2-12 for the entire series with only 1 RBI and 1 walk. 2. Power Surge The Ms were only able to put up 2 runs in this game, but they still managed to hit the Jays hard. Chone Figgins and Miguel Olivo each had home runs on the day. Tacked on to that were four doubles by four different players. The extra bases didn't drive in any runs, but they didn't hurt either. 3. Bye-Bye Toronto Perhaps the best thing to come out of today's game is that it finishes up the Toronto series. The Mariners were outscored 11-19 throughout the weekend, with 9 of those runs coming in Friday's game. Take that out of the equation and the Mariners were beat 2-14 through Saturday and Sunday. Seattle now turns their heads towards Tampa Bay, as the head down for a three game series against the Rays. Steve Delabar and Charlie Furbush gave up 5 combined runs today, but at least Encarnacion got dinged! If anything else it should provide some exciting pitching match ups. Hate 'em 1. Offensive Deficiency The Mariner bats came into this series scorching hot, only to cool off Saturday. Things only continued into Sunday. The Mariners were 8-34, with only 3 walks, scoring 2 runs. Despite stringing together 4 doubles, Seattle managed to leave 18 men on base. 2. Backstop Woes Today was a rough day to be Miguel Olivo. The Mariners catcher did manage to go 2-4 with a home run, but is still only hitting .196 on the season. The big issues today was fielding. Olivo had two errors in the game, one on a pop fly and the other on a pickoff attempt. 3. Control Issues Control was a major concern for Seattle pitchers today. Starter, Jason Vargas, got through 6-innings, but took 111 pitches to do it. He finished with 4 strikeouts and 3 walks. The bullpen continued it's struggles as well. Steve Delabar and Charlie Furbush gave up 5 combined runs, needing 36 combined pitches to get through 2 innings.
Here's the BOXSCORE | and Our Managing Editor "Q" has his RECAP
NoteBook Vargas (3-2) held Toronto hitless until Eric Thames' two-out double in the fourth. Seattle announced that LH George Sherrill will undergo season-ending elbow surgery on May 4. Sherrill appeared in two games this year. Mariners SS Brendan Ryan, stuck in an 0 for 18 slump, was replaced in the lineup by Munenori Kawasaki. 1B Justin Smoak ( 2 for 27) also got the day off. Both are expected to start Monday at Tampa Bay. CLICK HERE TO CHECK OUT THE MARINERS BLOG IN OUR CLUBHOUSE TODAY AT NWSB! © Jonathan Irwin for North West Sports Beat, 2012. | Permalink | No comment | Follow NWSB on Twitter or join US on Facebook for real-time updates OR... | Share This on Twitter | Share NWSportsBeat.com on Facebook Post tags: boxscore, Game 3, Game One, Love Em Hate Em, Mariners post game, Mariners vs. Blue Jays, Matchup, MLB, MLB recap, Recap, Rogers Centre, Seattle Mariners, Seattle Mariners blogs, Seattle vs. Toronto, Stats, Toronto, Toronto Blue Jays
Original Story:
http://www.nwsportsbeat.com/mariners/...
THE BACKYARD
BEST OF MAXIM
RELATED ARTICLES
Grand slam in extra innings After last week, the Seattle Mariners needed some breaks to go their way. After the M's were playing catchup the entire game Friday afternoon in Toronto, Michael Saunders came through huge with first a game tying home run, and then the walk-off grand slam in the 10th to win the game. The M's finished that game with their 4th win in a row, but did...
Who's hot, who's not? The Seattle Mariners went on a tear this week, sweeping the Tigers before they finally cooled off and lost 2 of 3 in Toronto. The team was 4-2 this week overall and looked good. Those 4 wins yielded 30 runs for the Mariners while they only scored 2 runs combined in their 2 losses. Oh, the power of run support. Who's Hot Michael Saunders – OF Yeah, I...
We're hearing this morning from Eric Wedge that Seattle Mariners left hander bullpen guy George Sherrill will have surgery on elbow in early May and is "more than likely" done for the season.Per Geoff Baker of the Seattletimes Mariners manager Eric Wedge said this morning that "there's a lot going on" in the elbow and the timeframe for any recovery won...
The Seattle Mariners came into Toronto red-hot, coming off a sweep of the Tigers in Detroit. The Blue Jays were cold, having ended a seven-game road trip by losing three straight to Baltimore. Fortunes can switch quickly. Seattle rallied to win Friday night in extra innings, but the Mariners lost the last two games of the series to the Blue Jays being outscored 14-2. The losses sent...
Our weekly Monday statistical look at the good and the bad in the Seattle Mariners system from the past seven days. The Triple-A Tacoma Rainiers are struggling mightily early in the year as a team, while the California League yielded the Mariners some good pitching and a standout at the plate over the past week.
Toronto Blue Jays third baseman, Brett Lawrie, is the latest baseball player to promote the new team-themed offerings from Victoria's Secret PINK. Yesterday he joined model, Elsa Hosk at the Eaton Centre, a shopping mall in Toronto. The appearance was meant to help launch the 2012 VS PINK and MLB co-branded collection of female fan gear. The Blue Jays are among the new teams added...
Edwin Encarnacion hit his third home run in three games, Henderson Alvarez won for the first time since August and the Toronto Blue Jays beat the Seattle Mariners 7-2 Sunday. Jeff Mathis added a two-run homer as Toronto broke open a close game with a five-run eighth inning. Chone Figgins and Miguel Olivo hit solo homers for the Mariners, who lost their second straight. Encarnacion...
Hot News for RP George Sherrill
With his idol watching from the visitors' dugout, Henderson Alvarez ended a long wait between wins on Sunday. Edwin Encarnacion hit his third home run in three games, Alvarez won for the first time since August and the Toronto Blue Jays beat the Mariners 7-2. Alvarez (1-2) allowed one run and six hits in six-plus innings to win for the second time in 15 major league starts...
First of all, sorry about all the Blue Jays posts today. It just worked out that way. Don't think this is a trend. We know Canadian stories don't move the pageviews meter so plan on this being the last one for awhile. Anyway, Jose Bautista is such a little *****. You know how we know? He goes on Twitter and posts this stupid tweet about his haters. Like this guy doesn't have...
With the injury last night to Miguel Olivo the M's are in a bit of a catching dilemna. John Jaso, and Jesus Montero will now run the show, but you don't want to get Montero hurt as he's your best bat right now, so insert Mike Carp into the lineup, most likely at DH. The team hasn't announced it yet, but the man himself has: Mike Carp has been reactivated from the...
Tomorrow the calendar is going to turn to May. It isn't Memorial Day yet, but patience is running thin for a lot of fantasy owners. Obviously, where you are in the standings plays into that a lot. If you happen to be unlucky enough to be near the bottom of your league's standings, those "it's still early" chants are beginning to turn into sweat bands. Every...
MLB News

Delivered to your inbox

You'll also receive Yardbarker's daily Top 10, featuring the best sports stories from around the web. Customize your newsletter to get articles on your favorite sports and teams. And the best part? It's free!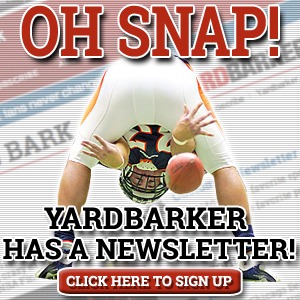 Latest Rumors
Best of Yardbarker

Today's Best Stuff

For Bloggers

Join the Yardbarker Network for more promotion, traffic, and money.

Company Info

Help

What is Yardbarker?

Yardbarker is the largest network of sports blogs and pro athlete blogs on the web. This site is the hub of the Yardbarker Network, where our editors and algorithms curate the best sports content from our network and beyond.