Found September 14, 2012 on Dempsey's Army:
I was working on this post but then I was at that game last Saturday night at OPACY when C.C. Sabathia hit Nick Markakis with a pitch and broke his thumb and it thoroughly bummed me out so I set this post aside. I'm going to post it anyway since I think his recent performance still hints at future greatness...
If I consider Nick Markakis' Oriole career disappointing, it's only because I had such high hopes. As early as 2007, I was comparing the young outfielder to Hall of Famers and All-Stars. But mostly, I compared him to Enos Slaughter, the Hall of Fame outfielder who chiefly played for the 1940's and 50's St. Louis Cardinals:
As the (2008) season went on, I became more convinced that Markakis is the second coming of Enos Slaughter. Both are/were lefties, both play(ed) rightfield and both are/were very good fielders with great arms, at least when young.

Their bats are very similar as well:



OPS+
Age 22 Age 23 Age 24
Markakis 106 121 134
Slaughter 105 122 133

Spooky, huh?

Slaughter's OPS+ at age 25 was 141. How do we get Markakis there? I'll say:
BA 2B HR OBP SLG OPS OPS+
Markakis '09 .315 40 29 .415 .520 .935 141
Using the Slaughter comparison beofore the 2008 season, I had fairly accurately predicted Markakis' offensive output. I assumed this steady improvement would continue in 2009 but I was wrong.
As it turned out, 2008 was the offensive peak for Markakis thus far. From 2009-2011, his OPS+ was 116 and only 2010 could be pointed to as "not disappointing". I was never a huge believer in Nick's ability to be a 30+ homer guy but 20-25 homers, load so doubles, a perennial .300 batter and a stellar walk rate figured to be in his future.
Instead, he never hit even 20 homers again, his hit tool has not proved to be as formidable as I thought and the walk rate has been good but not outstanding. He was becoming Mr. Average at the plate. A guy who did several things well but excelling at none.
Before his first injury, Markakis was going about his season at a 110 OPS+ clip, about what he had averaged over the last three seasons. But upon his return and subsequently taking on the role as leadoff man, he has done what I predicted back in 2009:
2B HR BA OBP SLG OPS
Markais (leadoff) 15 5 .335 .390 .489 .879
Markakis, in the 54 games since his return, is hitting at what would be about a 140 OPS+ and even taking his season in total, he ranks 21st among American League hitters in OPS+. His BABIP is a little higher than his career totals but nothing abnormal.
What I'm saying is that in the leadoff spot, as I've discussed before, Markakis has found the elevated level of talent that I and many others projected for him after those first three great seasons. Sure, 54 games is a small sample size and I would feel a lot better about all of this if Nick hadn't broken his thumb and could keep this momentum going but if I believed in the talent before, I have to believe in it now. Nick is Enos Slaughter reborn, even if he is three years behind schedule.
Original Story:
http://dempseysarmy.blogspot.com/2012...
THE BACKYARD
BEST OF MAXIM
RELATED ARTICLES
  Eventually, we're going to run out of ways to describe the incredible ways in which this 2012 Orioles team continues to win. On Wednesday night, it looked like the Tampa Bay Rays had the O's against the ropes. With closer Jim Johnson on to try to extend a 2-2 tie into the bottom of the ninth, Tampa appeared to have covered the corners with two outs on an Evan Longoria infield...
Office Space FTW! Your mission (should you choose to accept it) consists of explaining how in the world the Baltimore Orioles reached mid-September with a statistically plausible chance at making the playoffs.  How exactly does a team that ranks 16th in runs scored, 21st in batting average, 23rd in OBP, and 12th in slugging hang with the big bad wolves of the AL East?  More importantly...
Baltimore Orioles third baseman Manny Machado fakes a throw to first to catch the Tamba Bay Rays' Rich Thompson rounding third in the ninth inning of a tie game. Your browser does not support... Full story at Bob's Blitz ~ http://www.bobsblitz.com
Baltimore Orioles rookie third baseman Manny Machado made a play Wednesday night that wouldn't be expected from a 20-year-old in his first full month in the majors -- playing a position entirely new to him, too. The Orioles and Tampa Bay Rays were tied 3-3 with two outs in the top of the ninth inning and the go-ahead run at second. Machado charged a grounder from the bat of...
Manny Machado singled in the winning run in the 14th inning, and the Baltimore Orioles beat the Tampa Bay Rays 3-2 Thursday to complete a three-game sweep and remain atop the AL East. With their 81st victory -- and 13th in a row in extra innings -- the Orioles formally ended a franchise-record run of 14 consecutive losing seasons. Baltimore (81-62) started the day in a first-place...
Before Babe Ruth became one of the most famous athletes to ever walk planet Earth, the slugger was born in Baltimore and signed with the then-minor league Baltimore Orioles. Ruth was eventually sold to Boston and subsequently to New York, but the city of Baltimore knows where it all began. Ruth's birthplace has actually been turned into a shrine, with many of his personal belongings...
Though I was in attendance for the first 10 innings of the Rays-Orioles series finale on Thursday afternoon, I unfortunately had other obligations that forced me to leave before the game had concluded. I'm bummed about that, because I really wanted to be in the stands at Oriole Park at Camden Yards when the O's officially put an end to their streak of 14 consecutive losing seasons...
From the good folks at the Baltimore Orioles...  ***   Due to an overwhelming response and positive fan feedback, the Orioles have extended throwback pricing for select locations during the Orioles' series against the Toronto Blue Jays, September 24-26. The promotion celebrates the team's push for the postseason in this 20th Anniversary season of Oriole Park at Camden Yards...
Yoenis Cespedes hit a two-run homer while playing with a sore right wrist, and the AL wild card-leading Oakland Athletics beat Baltimore 3-2 on Friday night to prevent the Orioles from moving into sole possession of first place in the AL East. Jonny Gomes hit a go-ahead RBI single in the fifth to back A's rookie Tommy Milone in the opener of a key series between playoff contenders...
Manny Machado led off the ninth inning with a single and scored the winning run on a single by Nate McLouth, and the Baltimore Orioles beat the Tampa Bay Rays 3-2 Wednesday night to retain a share of first place in the AL East. The rookie also made a key defensive play in the top of the ninth for the Orioles, who moved 18 games over .500 (80-62) for the first time since the end...
It's appropriate that the first game of the Oakland A's series versus the Baltimore Orioles will be followed by a Star Wars themed fireworks show because the series has a definite turn-back-the-clock feel. Two franchises that dominated in the '70s but have faced tough times lately will square-off in Oakland looking to solidify their spot in the post-season chase. Chris...
The Orioles lost last night, meaning they have only 18 games remaining in their remarkable season to get to the next level. To me the magic number is 90 wins, meaning the Orioles need only go .500 the rest of the way to meet my playoff threshold. The scenario as I see it. This is, of course, barring any unforeseen nonsense or any team getting ridiculously hot/cold. One wild...
MLB News

Delivered to your inbox

You'll also receive Yardbarker's daily Top 10, featuring the best sports stories from around the web. Customize your newsletter to get articles on your favorite sports and teams. And the best part? It's free!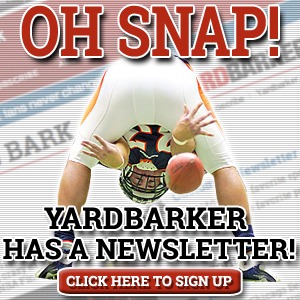 Latest Rumors
Best of Yardbarker

Today's Best Stuff

For Bloggers

Join the Yardbarker Network for more promotion, traffic, and money.

Company Info

Help

What is Yardbarker?

Yardbarker is the largest network of sports blogs and pro athlete blogs on the web. This site is the hub of the Yardbarker Network, where our editors and algorithms curate the best sports content from our network and beyond.