Posted September 23, 2013 on AP on Fox
PLAYERS:
Wilson Ramos
,
Chris Coghlan
,
Eury Perez
,
Christian Yelich
,
Steve Cishek
,
Mike Redmond
,
Justin Ruggiano
,
Jayson Werth
,
Bryce Harper
,
Ian Desmond
,
Stephen Strasburg
,
Tyler Clippard
,
Rafael Soriano
,
Tom Koehler
,
Todd Jones
,
Danny Haren
TEAMS:
Miami Marlins
,
Washington Nationals
,
Chicago White Sox
,
Atlanta Braves
,
St. Louis Cardinals
,
New York Mets
The Miami Marlins finally got a win at Nationals Park, then guaranteed themselves the National League's worst road record in the same day. Wilson Ramos' ninth-inning grounder bounced off third baseman Chris Coghlan's leg for a game-ending error that allowed pinch-runner Eury Perez to score from third, and the Washington Nationals beat the Marlins 5-4 Sunday night for a split of a day-night doubleheader. After dropping their first eight games in Washington, the Marlins beat the Nationals 4-2 in the opener as Giancarlo Stanton and Christian Yelich homered and Steve Cishek tied a team record by converting his 27th consecutive save chance. ''He's been tremendous down there,'' Marlins manager Mike Redmond said of Cishek. ''I think there's not a guy on this team that doesn't have all the confidence in the world in him and his abilities, and when he gets out there, we feel like that game's over. It's been fun to see him adjust.'' Justin Ruggiano connected for a home run early in the second game. But the Marlins still finished the road portion of their schedule with a 26-55 record. Miami could finish with the worst road record in the majors if the Chicago White Sox win at Cleveland on either Tuesday or Wednesday. Meanwhile, the Marlins' afternoon win clinched playoff berths for the Atlanta Braves and St. Louis Cardinals, and left the Nationals five games behind NL wild-card co-leaders Cincinnati and Pittsburgh with six to play. ''I know we had the chance to be spoiler here with these guys trying hard to make a push at the playoffs,'' Yelich said. ''We kind of took the approach, as we have with all our other games, play hard and get a W, but with the crowds and all that it was a cool atmosphere to play in front of.'' In the second game, Sam Dyson allowed Jayson Werth's double to lead off the ninth inning, Bryce Harper popped to second, and after Dyson intentionally walked Ian Desmond, pinch runner Eury Perez and Desmond executed a double steal to put runners on second and third. Ramos then grounded sharply to Coghlan, who couldn't corral it. Television replays appeared to show Coghlan would've had time to throw Perez out at the plate, and Ramos was not credited with an RBI. The Marlins tagged Nationals starter Stephen Strasburg for three runs in six innings, then scored a game-tying run off reliever Tyler Clippard in the eighth when Yelich and Stanton connected for back-to-back doubles. ''We put some good at-bats together, battled and pushed one across,'' Yelich said. ''We were in position to take the lead and that's all you can ask for.'' But Rafael Soriano (3-3) pitched a scoreless ninth inning to win Washington's regular-season home finale. Before Sunday's opener, Miami starter Tom Koehler (4-10) had been 0-4 in eight starts since Aug. 1. But Koehler allowed two runs and three hits in six innings, and Cishek pitched a perfect ninth for his 32nd save in 34 chances, completing a four-hitter and a scoreless afternoon for the Marlins' bullpen. ''You know it's crazy,'' Cishek said. ''Out there I had a little more adrenaline pumping. It felt like a playoff atmosphere. The fans are really into it and those guys are digging in there and every at-bat was huge for them. It felt good to come out and win a game like that.'' Cishek, who has earned 32 of his 50 career saves this season, began his streak June 8 in a 2-1 win at the New York Mets. He tied a mark set in 2005 by Todd Jones. Dan Haren (9-14) lost to Miami for the third time this year, giving up three runs and eight hits in six innings. Stanton's 24th homer, a two-run drive after Yelich doubled, put the Marlins ahead in the first. ''I know there's a base open, but it's the first inning,'' Haren said. ''I guess in hindsight I could have just walked him. I wasn't trying to just challenge him, I was trying to get a good pitch down and away it just got a little too much plate.'' Yelich added a solo shot in the third. NOTES: The Marlins last swept a pair of games played on the same day when they beat San Francisco twice on May 25, 2008. ... The Nationals began Sunday with a ceremony honoring retiring manager Davey Johnson that included a pair of video tributes and the presentation of an engraved Tiffany crystal keepsake. ... Stanton has hit safely in 23 of 29 games at Nationals Park with 13 home runs.
Original Story:
http://msn.foxsports.com/mlb/story/Ma...
THE BACKYARD
BEST OF MAXIM
RELATED ARTICLES
2 1/2+ hours after a scheduled 7:05 start Saturday night, the Nationals seemed to be holding out hope for a game: We're still waiting out the delay here at Nationals Park, hoping to get tonight's game in — Washington Nationals (@Nationals) September 22, 2013 3 1/2+ hours into the rain delay, Bryce Harper Tweeted a photo of himself (above) dressed as a construction...
MIAMI -- Nathan Eovaldi has spent this season among the Miami Marlins rotation's supporting cast. With leading man Jose Fernandez earning top billing -- and perhaps the National League Rookie of the Year Award -- by going 12-6 with a 2.19 ERA, Eovaldi was among Miami's "other" starters. But as the Marlins began the season's final homestead on Monday night...
The Phillies and Marlins will meet for the final time in 2013 beginning on Monday. (Howard Smith-USA TODAY Sports) The Miami Marlins finished just 2-9 on their final road trip of the year as they return home to conclude the 2013 season with six games. The final homestand will begin on Monday with the first of three games against the Philadelphia Phillies. The Marlins enter the series...
APNewsNow. Will be updated. With AP Photos. The Washington Nationals have honored Davey Johnson, paying tribute to the 70-year-old manager who will retire at the end of the season. Johnson was feted during a 15-minute ceremony on Sunday that featured video tributes and highlights of his playing and managing career. The team presented Johnson with an engraved Tiffany crystal. The...
The Marlins' 2013 Nationals Park record won't be pretty but at least it won't have a zero in it. Winless in their first eight games in the nation's capital the Marlins upended the Nationals 4-2 Sunday afternoon in the front end of a split doubleheader. Tom Koehler tossed six strong innings for his first win in more than a month and Giancarlo Stanton and Christian...
The Nationals began Sunday with a ceremony honoring retiring manager Davey Johnson. By the end of the night, their playoff hopes were just about dashed. Giancarlo Stanton and Christian Yelich homered to lift the Miami Marlins to a 4-2 win in the opener of Sunday's day-night doubleheader, a result that clinched playoff berths for the Atlanta Braves and St. Louis Cardinals. Washington...
Giancarlo Stanton and Christian Yelich homered to lift the Miami Marlins over the Washington Nationals 4-2 in the opener of Sunday's day-night doubleheader, a result that clinched playoff berths for the Atlanta Braves and St. Louis Cardinals. Washington can win no more than 90 games, ensuring Atlanta (91-63) its first NL East title since 2005. St. Louis (91-64), which leads...
The Washington Nationals simply took too long to get started this season. Despite an NL-best record of 30-13 since Aug. 9, the Nationals were eliminated from playoff contention Monday night with a 4-3 loss to the St. Louis Cardinals. After winning 98 games last year, the defending NL East champions could not overcome a slow start. ''If we would have played the way we played...
Saturday's Nats and Marlins game was delayed for several hours before it was eventually called off. While the two team's waited to see if play would start in the Nation's Captital, Giancarlo Stanton and Bryce Harper spent their time playing dress up and pretending to walk the runway. [Nats Enquirer]
In a final-week series at Marlins Park between teams going nowhere but home the objective for the Marlins and Phillies is to go out with heads held high. Marlins right-hander Nathan Eovaldi certainly could Monday after holding the Phillies to no runs and three hits for 7 2/3 innings in a 4-0 victory. Not so Phillies' two-time Cy Young Award winner Roy Halladay who walked off...
As they pursue their uphill wild-card bid into the season's final week, the Nationals had another opponent to contend with Saturday night: Mother Nature. After a lengthy wait, persistent rain finally forced the postponement of the Nationals game against the Miami Marlins on Saturday night. The teams, and a few thousand fans, waited nearly four hours from the 7:05 scheduled...
There will be plenty of opportunities now that the Nationals officially have been eliminated from playoff contention to dissect this disappointing season and try to figure out why it produced the result it did. Were the Nats done in by an unproductive lineup? Shoddy defense? An unbalanced bullpen? The weight of expectations? All surely were factors but let's start today with...
MLB News

Delivered to your inbox

You'll also receive Yardbarker's daily Top 10, featuring the best sports stories from around the web. Customize your newsletter to get articles on your favorite sports and teams. And the best part? It's free!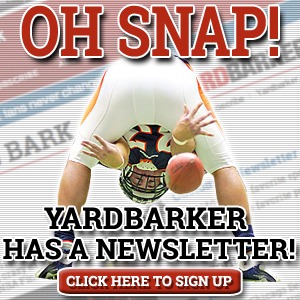 Latest Rumors
The Backyard

Today's Best Stuff

For Bloggers

Join the Yardbarker Network for more promotion, traffic, and money.

Company Info

Help

What is Yardbarker?

Yardbarker is the largest network of sports blogs and pro athlete blogs on the web. This site is the hub of the Yardbarker Network, where our editors and algorithms curate the best sports content from our network and beyond.