It's reminiscent of the Republican witch hunt for President Barack Obama's birth certificate that would validate their suspicions that he was born outside of the United States. All-star slugger Albert Pujols is this offseason's heavily courted free agent, drawing large interests and even larger amounts of cash offers from the Miami Marlins and the Chicago Cubs. However, baseball people are calling for his long-form, not concerned with where, but when. At least they should be. Today, the Miami Marlins offered Pujols a ten-year deal worth more than $200 million with no request of a long-form birth certificate from the allegedly-31-year-old Pujols, his people, or the Dominican government. It is hard to see exactly why the Marlins would not ensure their 10-year, $200 million investment with a simple birth certificate request. The only downside of such a request would be the potential pestering of Pujols whom may view the request as a question of his integrity. If Pujols is indeed turned-off by the request, the Marlins can then send that 10-year deal, a deal that Pujols would not be seeing from any other team without a birth certificate, to Prince Fielder. Pujols then faces the possibly of being seen as a man trying to hide something, much like Pacquiao when he refused the Olympic-style drug testing for the Mayweather fight. No birth certificate means the possibility of paying a player nearly $20 million dollars in 2021 when he is 44 years old; which, in baseball years, is decades away from 41. Oddly enough, many believe that the Marlins organization agree that Pujols is indeed older than 31. So, maybe the Marlins' insistence of signing Pujols and being wary on scaring him away with a probe has a lot more than meets the eye. Why would they risk throwing away a lot of money on Pujols when they can offer that money to a much younger Prince Fielder who produces as well as Pujols? The city's 70% Hispanic population could have a lot to do with it as the franchise aims to put butts in seats with the opening of their new stadium. Pujols would draw more than Fielder in Miami's Hispanic-driven society. That gives Miami the large upper-hand in the Pujols race because other interested teams — namely Chicago — would have nothing to lose in demanding the long-form certificate. Why should Pujols walk away from easy money without having to prove his age? The Marlins may not be exercising smart baseball sense in offering Pujols ten-years, but they certainly are working the business side. The Other Miami Big Three of Pujols, Hanley, and Reyes could easily pay for a new stadium based on their ethnicity alone.  
Original Story:
http://thediamondsedge.com/?p=503
MORE FROM YARDBARKER
MLB News

Delivered to your inbox

You'll also receive Yardbarker's daily Top 10, featuring the best sports stories from around the web. Customize your newsletter to get articles on your favorite sports and teams. And the best part? It's free!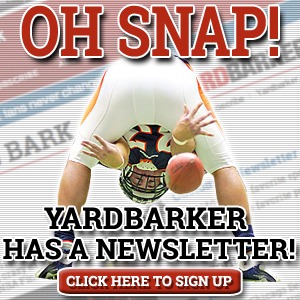 Latest Rumors
Best of Yardbarker

Today's Best Stuff

For Bloggers

Join the Yardbarker Network for more promotion, traffic, and money.

Company Info

Help

What is Yardbarker?

Yardbarker is the largest network of sports blogs and pro athlete blogs on the web. This site is the hub of the Yardbarker Network, where our editors and algorithms curate the best sports content from our network and beyond.