Found October 25, 2012 on Fox Sports Midwest:
ST. LOUIS Barely two days after being eliminated with a Game 7 loss to the San Francisco Giants, Cardinals manager Mike Matheny couldnt help but turn on the TV Wednesday night to watch Game 1 of the World Series. And when he saw Giants lefty Barry Zito fool the Tigers like he did his powerful offense a few days earlier, he couldnt help but feel a little bit better about what had happened. After all, it was Zito who provided the turning point in the NLCS when he came out of nowhere to shut out the Cardinals on just six hits in 7 23 innings in Game 5. Despite using a fastball that hovered around 85 MPH, Zito sent the series back to San Francisco where the Giants ultimately completed the comeback. It was almost a little more reassuring watching Zito stick it to those guys too, Matheny said Wednesday during an end of season chat with reporters at Busch Stadium. Because were watching it and you guys are watching it and youre watching the radar gun thinking how is this happening? But he was making quality pitches and hes not making that many mistakes. That Game 5 was real pivotal. Matheny spoke with reporters in his office for nearly 45 minutes Thursday, reflecting on a disappointing finish to what will ultimately be remembered as a successful season. The Cardinals led the Giants 3-1 in the series before losing the final three games and by a 20-1 margin to fall just short of a second straight trip to the World Series. Proud of how they competed, Matheny said of his team. There were plenty of ups and downs. It was kind of hard to get your hands around how to classify this team because you saw flashes of brilliance and then times like how we ended the last three games where you just scratch your head. Were going to obviously try to address through the winter what could potentially be done to get a little more consistency, to bring that brilliance out a little more often, but overall, I couldnt have been any more pleased with how they went about their business. But as Matheny talked, the conversation kept coming back to Game 5. The Cardinals were at home, needing a win to advance to the World Series, against a pitcher who had become a shell of his previous Cy Young winning self. With the Giants best two pitchers, Ryan Vogelsong and Matt Cain, waiting to start for the Giants back in San Francisco in Games 6 and 7, the Cardinals knew they were better off taking care of business at home and not having to travel west. Weve had trouble with Vogelsong so we knew that was going to be a tough battle, Matheny said. Thats not our message as were talking to the guys, were saying, This is our game, lets do this, weve hit this guy in the past, a long time ago, and then realizing that Game 7 is just Game 7. I think that Game 5 was a turning point for certain, because you could just see the frustration on everybody, knowing it was right there to be able to put it away and be able to do it at home and your not facing Cain, Lincecum, Vogelsong, but thats the way this game works. The beginning of the end came for the Cardinals in the second inning of Game 5, when they put runners at second and third base with no outs for No. 7 hitter Dan Descalso. When just putting the ball in play probably gives the Cardinals the lead and the momentum of the home crowd, Descalso struck out. After the Giants walked Pete Kozma, pitcher Lance Lynn hit into a double play to end the inning. Instead of busting the game open, the Cardinals were left scoreless. And the Giants capitalized with four runs just two innings later to take the lead and eventually the series. We had opportunities like we had all season long and thats what it all came down to, that big hit, Matheny said. If somebody gets that big hit theres a good chance Zito is chased from that game. We get the bases loaded there, strikeout, double play. We get a big hit and put up some runs and I guarantee their bullpen is hot. Danny came through so many big times this postseason and the September stretch, you know that guy can do it. Its just a tough game. Asked about not changing up his lineup late in the series despite a number of his players struggling at the plate, Matheny said, You could try to panic and throw a different bunch of guys in there but that whole stretch we had in September and October, we were really riding a few guys and while youre doing that, your bench is going really stale to where you cant expect them to come in in a big situation and be productive. Because we stuck with that lineup so long and it was being so productive, we really tied our hands to who we could use at that point. It hurt us, but you could also argue fact that we had to do what we had to do to get us where we were. The Cardinals inconsistent offense returned at the wrong time, combining with a suspect defense and poor starting pitching to form the perfect storm in the final three games. But in a season where the Cardinals moved on from Albert Pujols and transitioned from Tony La Russa to Matheny, finishing one win shy of the World Series is nothing to be ashamed of. Despite how much it stung to not finish the job. We were sitting here going into Game 5 in a really nice spot and you cant help but think about that could be us right now, Matheny said of the World Series. But guess what? When we were playing Game 1 of the NLCS, there were a whole bunch of teams saying that could be us. Summing up the season, Matheny added, Grateful, but not content by any means. I think thats probably the same feeling that all our guys have.
Original Story:
http://www.foxsportsmidwest.com/10/25...
THE BACKYARD
BEST OF MAXIM
RELATED ARTICLES
The St. Louis Cardinals won't renew the contract of bullpen coach Dyar Miller, the team announced Thursday. The rest of manager Mike Matheny's coaching staff will be offered an opportunity to stay, general manager John Mozeliak said. That includes Mark McGwire, Derek Lilliquist and Jose Oquendo. Mozeliak prefers to fill the bullpen position from within the organization...
Barry Zito is playing his part in this World Series, all right. After years of being labeled baseball's most overpaid pitcher, Zito took the ball Wednesday night and thoroughly outshined reigning AL MVP and Cy Young Award winner Justin Verlander to lead the San Francisco Giants to an 8-3 victory over the Detroit Tigers that sent the orange-crazed home fans into a Zito-fueled...
SAN FRANCISCO -- Barry Zito was a bystander two years ago when the Giants made history by winning its first World Series since moving to San Francisco from New York in 1958. Wednesday night, the left-hander will be the Giants' starting pitcher when they open the World Series against the Detroit Tigers and ace Justin Verlander at 8:07 p.m. ET at AT&T Park. The $126-million...
Yesterday's game was all sorts of crazy, and I think that's best illustrated by the fact that the following sentence is a perfectly valid, accurate arrangement of words: Barry Zito singled off Justin Verlander in the fourth inning to give the Giants a 1-0 lead in Game One of the World Series. Let's see here… Barry Zito started Game One of the World Series for the Giants...
The 2012 World Series gets underway tonight in San Francisco with Justin Verlander and Barry Zito taking the mound for the Detroit Tigers and San Francisco Giants. The Tigers have taken the American League by storm after being out of the playoff picture with two weeks remaining in the season. The Giants have played much of the Postseason with their backs to the wall, rallying from...
GREAT STORY
The MLB has been great all season in supporting their 'Welcome Back Veterans' program, and on Thursday Marine Corporal Nicholas Kimmel threw out the ceremonial first pitch for World Series Game 2. Kimmel was a former high school baseball star at Moses Lake High School in Washington and lost both legs and his left arm in an explosion while on his second tour of duty in Afghanistan...
Justin Verlander does not have much of a history against the San Francisco Giants hitters that he'll see on Wednesday night in Game 1 of the 2012 World Series. Continue reading →
4 games to go. What a tremendous season: AL Central Division Champs. AL Division Series Champs. AL Pennant. Triple Crown Winner. Perhaps another Cy Young winner. But you know what? It's not enough. The D deserves more.  And we're gonna get it. ************************* Now, as I'm sure you have all see, there is an abundance of Tigers media out there right now. It's starting...
Forget for one moment that Barry Bonds is the poster-child for PEDs. He is probably the most well-known San Francisco Giants player of all-time, outside of Willie Mays. Okay, now add back the whole steroids narrative. Barry Bonds is the … Continue reading →
Here we are, down to the final series. The Detroit Tigers. The San Francisco Giants. Who's going to win? George Bowles: First off, I feel I need to say I don't know what the hell happened to the Cardinals but the wheels fell off really quickly as they couldn't win one of three games vs a team that was not real good. I wouldn't go so far to say that they "choked", but...
The World Series begins today...finally. The last series of the year has arrived, and in the next four to seven games, we're going to have our champion of baseball. We'll have a full preview of the series between the Tigers and Giants coming later today. But what else have you missed today? After the Cardinals were eliminated on Monday evening, we posted their post-mortem...
Ah, the Fall Classic is finally here, and while we personally don't give a damn which team wins—hey, that's what happens when you're an Indians supporter—as sports fans, we're pretty stoked about the first pitch tonight. As with any playoff series, it all comes down to matchup's. In baseball however, there's very few things that carry over from day-to-day. A guy could...
MLB News

Delivered to your inbox

You'll also receive Yardbarker's daily Top 10, featuring the best sports stories from around the web. Customize your newsletter to get articles on your favorite sports and teams. And the best part? It's free!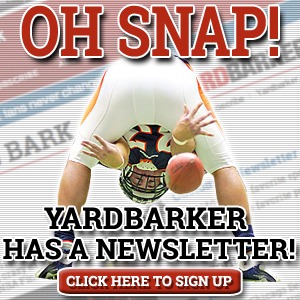 Latest Rumors
The Backyard

Today's Best Stuff

For Bloggers

Join the Yardbarker Network for more promotion, traffic, and money.

Company Info

Help

What is Yardbarker?

Yardbarker is the largest network of sports blogs and pro athlete blogs on the web. This site is the hub of the Yardbarker Network, where our editors and algorithms curate the best sports content from our network and beyond.