Found April 28, 2012 on Mets Merized Online:
Baseball America's Prospect Hot Sheet for the period April 20-26 has Mets top prospect RHP Matt Harvey ranked #6 and 3B Wilmer Flores gets an honorable mention. Regarding Flores BA Writes: For as long as he's been around, it's easy to forget that Wilmer Flores is still just a 20-year-old in the high Class A Florida State League. Now playing third base for the Mets, Flores is off to a .323/.355/.523 start through 19 games, including an 11-game hitting streak. With international prospects, it pays to be patient. Last week, BA also ranked a Met prospect, Zack Wheeler, #6. I say we shoot for No. 5 or better next week so we can avoid that whole 666 thingy.
Original Story:
http://metsmerizedonline.com/2012/04/...
THE BACKYARD
BEST OF MAXIM
RELATED ARTICLES
When Scott Hairston went into the off-season after his first year with the Mets last season, the club was not shy regarding its willingness to bring him ba During blogger day at Citi Field on Wednesday, the Daily Stache spoke to Hairston regarding his decision to re-sign with the Mets and also what it means to lose a guy like Jason Bay to the disabled list. "I wanted to sign with...
Recap: Dillon Gee took the hill to square off against the Rockies rookie hurler Guillermo Moscoso in the second game of the three game set in the Mile High City. Gee, coming off an awful start, came to play tonight, hurling seven frames allowing four runs (3 earned) on seven hits while punching out seven, picking up his second win of the year. Moscoso however didn't enjoy the...
The 2012 Mets need Ike Davis and Lucas Duda to be healthy and productive in the middle of the order to have a successful season. Unfortunately, both of these players started off the year hitting poorly. Here were their numbers through April 13th: ID – 1-23 with 9 Ks in 26 PA (34.6 K%) LD – 3-25 with 9 Ks in 28 PA (32.1 K%) The Mets were able to stay afloat thanks to surprisingly...
Jon Matlack's career record of 125-126 may be as mediocre as you can get, but Matlack was a much, much better than average major league pitcher. In fact, he was one of the very finest lefthanded pitchers ever developed by the Mets' organization. His other career marks – 3.18 lifetime ERA (better than Steve Carlton, who was considered the best lefty of his generation), 97 complete...
Ok, I've reached into the Ask Petey mailbag, but since I was tightly gripping a Labatt's Blue, I only managed to pull out two questions. Oh well, I'll try to do better next time. Or I could make up a few questions from imaginary readers….hmmmm maybe I will. Desperate times call for desperate measures. Petey:  Our first Mets minor league mailbag question comes from little...
Mets bounce back strong with hot sticks to beat the Rockies 7-5. The Blob wants to enjoy the win and the rest of Saturday night with a Happy Nightcap, and keep this brief. The Mets have done it at the plate in the first 2 games in Colorado putting up 16 runs. The Mets face the 206 year old lefty Jamie Moyerthuselah in the rubber match while the Mets have Santana on the hill. The Blob likes out
The New York Mets allowed a total of 4 runs against the Miami Marlins in their sweep of the floundering fish this week. Tonight, the club multiplied that 4-run total by 4 and added 3, just for good measure.The New York Mets (11-9) dropped the series opener against the Colorado Rockies (10-9) 19-8 tonight behind atrocious pitching and a few defensive mishaps. After the Mets jumped...
Johan Santana will start today for the Mets. Santana is coming off a great start against Marlins. Hopefully the Mets offense will actually score a run for their lefty ace. The Rockies will send Methuselah, Jamie Moyer to the hill. The 49 year old Moyer is 1-2 with a respectable 2.28 ERA. Also in the news it sounds like Andres Torres will be back this week, and will be given the CF and
This afternoon, the New York Mets will look to take the rubber match against the Colorado Rockies in a series that has proven to be a battle of the braun . Over the course of the first 2 games of the series, 38 men have crossed the plate in a series of back-and-forth slugfests.The rubber match will ultimately be a battle of 2 elite pitchers, although their status as elite comes under...
This season Jose Reyes is making $10 million. Ruben Tejada is making $491 thousand. Or, $625,000 per Reyes hit this year. $17,500 something per Tejada hit. — 213 Miles From Shea (@213MFS) April 29, 2012 Moneyball. Why pay $625K per hit when you can pay $17.5K per hit? Good job Mr. Alderson. Thanks for not giving a bad contract to Jose Reyes.
As their first manager, Casey Stengel, might have said: Simply Amazin'. The New York Mets are the subject of a three-day academic conference taking place at Hofstra University. The conference takes a look at the team's 50-year history in New York. The Mets were created just four years after the Brooklyn Dodgers and New York Giants fled to California in 1958. The conference...
The New York Mets (11-8, 3-3 away) will kick off a three game series tonight against the Colorado Rockies (9-9, 5-4 home) at Coors Field in Denver. First pitch will be at 8:40 PM EDT. Tonight's Starting Lineups:   Friday lineup at Colorado: Nieuwenhuis-CF, Tejada-SS, Murphy-2B, Wright-3B, Hairston-LF, Duda-RF, Lutz-1B, Nickeas-C, Schwinden-RHP — New York Mets (@Mets) April...
Mets News

Delivered to your inbox

You'll also receive Yardbarker's daily Top 10, featuring the best sports stories from around the web. Customize your newsletter to get articles on your favorite sports and teams. And the best part? It's free!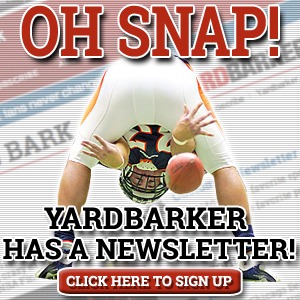 Latest Rumors
Best of Yardbarker

Today's Best Stuff

For Bloggers

Join the Yardbarker Network for more promotion, traffic, and money.

Company Info

Help

What is Yardbarker?

Yardbarker is the largest network of sports blogs and pro athlete blogs on the web. This site is the hub of the Yardbarker Network, where our editors and algorithms curate the best sports content from our network and beyond.